Departmental Research
The Department of Radiation Oncology at the Brown Cancer Center continues to be a national leader in clinical research. We are a full member site of the NRG/RTOG. We are a top enroller of Head and Neck cancer trials through the cooperative group setting, thus earning us a national reputation for Head and Neck Oncology. We also have a strong presence in investigator initiated clinical trials focusing on lung, breast, pancreatic and liver malignancies. We also have a strong interest in re-irradiation protocols using stereotactic body radiation therapy (SBRT).
Our robust physics department has also led to collaborative research endeavors within the department. We have ongoing investigations comparing different treatment platforms including arc-based SBRT and robotic systems. We have also developed collaborations with the Department of Bioimaging investigating lung function in the setting of thoracic radiation for early diagnosis of radiation pneumonitis and prevention. We are currently developing protocols for analyzing tumor morphology for both diagnosis of early stage tumors and assessing tumor response.
Faculty and residents present research findings on a national level. Over the past 5 years, highlights have included the ASTRO annual meeting, the ASTRO Multidisciplinary Thoracic Oncology Conference, the  ASTRO Multidisciplinary Head and Neck Conference, Radiosurgical Society Meeting, European Society of Therapeutic Radiation Oncology (ESTRO) International Conference on Innovative Approaches in Head & Neck Oncology (ICHNO), 4thAnnual World Conference on Lung Cancer in Beijing, China, and the annual ACRO meeting.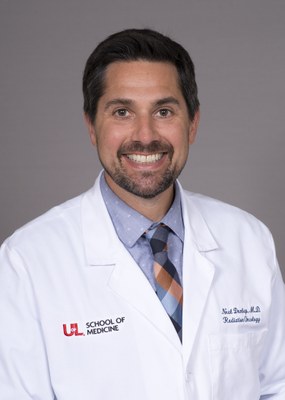 Professor & Chairman