Superfund Program announces KC Donnelly Externship Award Winner and Posts Information Film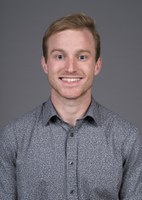 The Superfund Research Program congratulates Breandon Taylor on receipt of a K.C. Donnelly Externship Award.  Breandon is enrolled in the pharmacology and toxicology PhD program working in the laboratory of Professor Sanjay Srivastava.  With funds awarded through the externship, he will travel to Louisiana State University to continue his studies into the role of volatile organic compounds (VOCs) on cardiovascular disease.  Specifically he will assess the toxicity of 1,3-butadiene using a state of the art air-liquid cell interface exposure system.
The UofL Superfund's focus on VOCs is unique among the national Superfund Research Centers.  It includes biomedical, environmental, detection, and remediation research as well as extensive community engagement, translation, and predoctoral and postdoctoral training.  A superb video describing the UofL Superfund Research Program is available on its website at https://louisville.edu/enviromeinstitute/superfund.