2022 Excellence Award Winners
Each year the University of Louisville recognizes the incredible work of faculty and staff with the annual presidential excellence awards. Congratulations to our winners in 2022! 
Cardinal Principles Champions  |  Distinguished Faculty Awards  |  George J. Howe Distinguished Staff Award  |  Outstanding Performance Awards  |  Outstanding Supervisor Award  |  Team Impact Award
Cardinal Principles Champions
The Cardinal Principles Champions award is designed to honor our faculty and staff who have demonstrated one of the Cardinal Principles at the highest level of impact.
Kathy Meyer, Community of Care
Kathy Meyer, Office of Student Involvement, Associate Director of Student Activities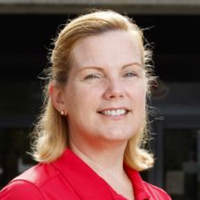 From the nomination:
"Kathy has also been instrumental in the development and support of serving some of the most vulnerable students here at the University of Louisville. Kathy was crucial in securing the gift from Commonwealth Credit Union to renovate the Cardinal Cupboard, the campus food panty that supports students, staff, and faculty. Through design, construction, renovation, and opening Kathy has been intentional and detail oriented to ensure that every aspect of the Cardinal Cupboard is meeting the needs of our users. The operations have continued to be refined through this first year of operating the new space. I cannot champion Kathy enough; I am appreciated of how she gives of herself wholeheartedly and sets high expectations for herself and others. Kathy does not only teach servant leadership, but she also models it every day."
Asma Addarrat-Edwards, Accountability
Asma Addarrat-Edwards, University Advancement, VPUA Development, Director Development
From the nomination:
"Asma represents every one of the Cardinal Principles at the highest level, but Accountability particularly comes to mind. She keeps her focus on what is important in her work at UofL – being accountable to our donors and the gifts they generously give us – and consistently remains positive while always trying to make this University better. She is a true teammate, and she steps up to the plate even when hers is full; Asma is simply the type of colleague every person wants. She meets others where they are by building trusting relationships internally and externally and, most importantly, successfully raises money for our students, faculty, and mission. She is selfless, intelligent, flexible, resourceful, a leader, and unfailingly kind. She deserves to be recognized for her hard work and commitment to A&S and to all of UofL. Her thoughtful and intentional way of approaching and building long-term relationships with donors and stakeholders shows her respect for and accountability to others in every interaction she has."
Leondra Gully, Cultural Center, Director of Cultural Center
From the nomination:
"Leondra embodies "respect" through her commitment and dedication to the University of Louisville, our students, faculty and staff. Her work with students makes a life-long impact, with former participants commenting how Leondra changed their college trajectory and helped them succeed as a student. Leondra provides the same level of dedication and commitment to faculty and staff, that she does to students. Evidence of this commitment are the leadership roles she holds in staff senate, CODRE, COSW, and her ongoing mentorship of young professionals. In each setting, Leondra contributes her gifts and talents to support her colleagues and inspires them to work collectively to help the university truly be a great place to learn, work and invest. Leondra is so well respected that it is impossible to walk across campus and not have students, faculty or staff call out to greet her."
Nakia Strickland, Diversity and Inclusion
Nakia Strickland, Alumni Relations, Associate Director of Alumni Relations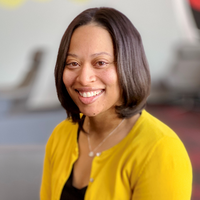 From the nomination:
"Nakia's work toward diversity and inclusion is remarkable. After years of advocating for a position focused on diversity engagement in Alumni Relations, her new role was created this past year, and she dove in. In particular, this past year she initiated the first in-person Black Alumni Summit during Homecoming 2021. BAS aims to provide opportunities for Black alumni to reconnect with old friends, meet new faces, recall memories, and build our community. Nakia engaged over 250 alumni, brought in over $24,000 in sponsorships, and strengthened so many relationships with UofL. She went to great lengths, alongside a committee of 18 Black alumni, to ensure this event was welcoming, even using Black-owned businesses as vendors when able. Additionally, she has reinvigorated our Women's Alumni Council and African American Alumni Council (with our Pride Alumni Council next on the list). Louisville Alumni's engagement with diverse alumni is thriving because of Nakia."
Avery Kolers, Integrity and Transparency
Avery Kolers, Professor and Acting Chair of the Department of Philosophy
From the nomination:
"Avery is a tireless advocate for faculty staff and students, consistently and regularly arguing for transparency in administrative decision making. As acting department chair, and as an active member of the University community, he leads by example by modeling integrity through his actions and deliberative decisions. In the past several years, Arts and Sciences has undergone leadership changes, and with each one Avery has stayed constant in his fight for fair and transparent processes and representation from all parts of the university. His unwavering concern for the interests of the entire university community and unwavering push for fair and transparent governance over the 20+ years that he has been at UofL is what this Cardinal Principle is all about."
Mani Vangalur, Noble Purpose
Mani Vangalur, Speed Technology Solutions, Web Developer Sr.
From the nomination:
"Mani is the embodiment of noble purpose. He picks up his team with his humility and desire to see us all succeed. He is self-sacrificing in his drive to support his coworkers and our students. He is an integral part of many teams and works late hours and weekends on our website and datacenter to ensure coworkers and students have the resource and support they need. Speed School has one of the most successful websites and analytics divisions because of him and he often aids other university teams. Mani also serves on the staff senate, and he is a representative for CODRE. There are many other examples of the noble purpose in Mani's work. Times when he found a problem was not his and, instead of ignoring it, worked with others for a solution. Times when he picked up the entire team with his attitude showing us that we also have an important impactful noble purpose."
Cecilia Peredo, CEHD-Innovation & Strategic Partnerships
From the nomination:
"Cecilia is deserving of recognition as a Cardinal Principles Champion for ALL categories but especially AGILITY. Cecilia rolled-up her sleeves (metaphorically and literally) to ensure that no researcher in the College of Education and Human Development would receive reduced services when 50% of the staff from the office was gone. She participated in meetings for grant prospecting; engaged with our partners to spark innovative ideas for grant submissions; offered professional development to the faculty; communicated regularly with our college community by designing a monthly newsletter; learned new systems such as PIVOT; developed new lessons about budgeting, accounting, billing, and federal reporting; and figured out ways to support our researchers within federal guidelines and university processes so the projects would be successful and compliant."
Dwayne Compton, Leadership
Dwayne Compton, School of Medicine, Office of Community Engagement, Instructor Term
From the nomination:
"Dr. Dwayne Compton demonstrates a high level of commitment to the university, his community and most importantly students. Discerning the individual needs and support that his staff needs, he constantly works to ensure their professional growth. From student workers to custodial staff, Dr. Compton makes everyone that he works with feel part of the team. Working as one, he understands that everyone has a role to play in the SOM's goal of helping students develop into successful doctors. Dr. Compton has been and will continue to be a great leader and ambassador for UofL. Whether it's his presence at events on Belknap and the Health Sciences campus, his giving personality that pushes him to always go above and beyond for prospective and current members of the UofL family, his commitment to making a difference in someone's life each, Dr. Compton is the epitome of the cardinal principles."
Distinguished Faculty Awards
Every year, the University honors faculty who bring distinction to the university through their commitment to the areas of service, teaching, and outstanding scholarship, research, and creative activity.
Outstanding Scholarship, Research and Creative Activity
Jun Yan
School of Medicine 
Basic and Applied Sciences
From the nomination:
Dr. Yan is a full professor in the Department of Surgery, with associate appointments in the departments of Microbiology and Immunology and Pharmacology and Toxicology; additionally, he is the Endowed Chair in Translational Research. Dr. Yan is Director for the recently created Division of Immunotherapy in the Department of Surgery. Under his leadership, the Division of Immunotherapy is leading the way to improve our understanding of the role of the immune system in the treatment of cancer and other diseases. His exemplary leadership of the program is evident. The Division of Immunotherapy has been successful in several recent federal grant applications, has collaborated with other investigators across UofL in an interdisciplinary fashion and has developed many innovative translational research projects directly related to improving patient care using the immune system. Dr. Jun Yan has devoted his career to this University, mentoring scores of students, residents and junior faculty along the way. He is considered by many of his peers to be one of the very best — if not the best – scientists at the University of Louisville.
Kristi Maxwell
College of Arts and Sciences
Creative and Performing Arts
From the nomination:
Dr. Maxwell has published seven full-length books of poetry with prominent presses, two of them the recipients of prizes. She has also published two poetry chapbooks and many, many individual poems in well-respected, juried literary journals. Even though she is a poet and this is what she does, she has also published numerous essays in scholarly books and journals, including one book chapter on pedagogy. She is also deeply involved and engaged in her field through a very active practice of giving papers at scholarly conferences—generally two to three a year—along with readings of her poetry in all sorts of venues and editing and reviewing her colleagues' work. The quality of her poetry and the esteem it elicits in her field is proven by the many, many awards and grants she has received—including some here at UofL—and others for which she was a finalist. Just within the last three years, for instance, she has been offered three grants and two fellowships.
Donald Miller
School of Medicine
Career Achievement
From the nomination:
Dr. Miller's Illustrious career in academics, medicine, and research has spanned more than 50 years. He obtained his PhD and MD from Duke University in the 1970's, but his career in research actually began in the late 1960's. In fact, Dr. Miller contributed to six publications before he even obtained his PhD. After completing his studies, Dr. Miller held several academic and clinical positions and by 1984 he was already Chief of Hematology/Oncology at Birmingham VA Hospital and Director of Human Molecular Biology Group, Comprehensive Cancer Center at University of Alabama at Birmingham. After serving as the Deputy Director of the University of Alabama at Birmingham Comprehensive Cancer Center (1995‐1999), he was recruited to UofL in 1999 to serve as Director of the James Graham Brown Cancer Center, a position he held until 2017. He currently serves as the Director Emeritus of the James Graham Brown Cancer Center. Dr. Miller's achievements in the laboratory are nothing short of amazing. Dr. Don Miller epitomizes the successful, life‐long cancer clinician‐scientist. His lifelong track record of research accomplishments and continued contributions have not only resulted in countless accolades to our School of Medicine, but also to the University of Louisville, as well as people everywhere.
Manju Ahuja
College of Business
Social Sciences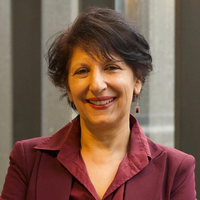 From the nomination:
Dr. Ahuja joined the College of Business faculty in 2007 and held the appointment of University Scholar from 2012 to 2019. In 2019, she was named the Frazier Family Professor of Computer Information Systems in recognition of her significant research accomplishments. Dr. Ahuja has built a career of true distinction at the University of Louisville, and is an internationally renowned scholar, with expertise in innovation research as well as workforce issues such as remote and hybrid work, mobile device addiction, work-life balance, technology enabled teamwork, diversity and inclusion in the IT workforce. Dr. Ahuja has engaged in impactful research that is interdisciplinary in nature, involving subject areas of information systems, entrepreneurship, and innovation. As a prolific researcher, her willingness to be open to collaborations with junior faculty has repeatedly influenced numerous researchers in both the university and the community for many years. She always mentors junior faculty and repeatedly promotes in conferences to help expand the network. Her interdisciplinary research agenda continues to make a great impact on the research culture not only in the department, but also across the college and university.
Andrew Rabin
College of Arts and Sciences
Humanities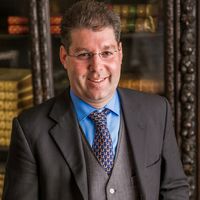 From the nomination:
Professor Rabin's field ranges across Anglo-Saxon Studies to early medieval law and he likes to joke that no one else in the department covers such a chronological range. In the past five years, he has had publications including four books, one edited collection, nineteen book chapters and articles, four reviews, and details of eleven invited lectures and seminars. He published two monographs in 2020 alone: one with Harvard University Press and another with Cambridge University Press; surely two of the most prestigious academic publishers in the world. Professor Rabin has established himself as one of the foremost scholars of law and legal culture in early medieval England and that, in addition to his own work, Professor Rabin has been responsible for shepherding a generation of younger scholars in edited work that truly represents some of the best and most innovative scholarship in early English legal studies. 
Distinguished Service
Chris Fitzgerald
School of Music
Service to UofL
From the nomination:
As Associate Professor of Jazz Bass in the School of Music, Mr. Fitzgerald's service to the University of Louisville is highlighted by his extended participation in two of the unit's most prominent committees, his extraordinary student support activities that are well above and beyond the requirements and descriptions of his position, and by his activities representing the university on local, national, and international levels. During the pandemic, he also coordinated and produced over twenty-five asynchronous recording projects involving students, including an international outreach video recording project featuring students from the UofL Jazz Studies program playing alongside students from the Universidad El Bosque in Bogota, Colombia. This extracurricular collaboration was the subject of a feature article in UofL News in July of 2021. He is currently serving his 7th consecutive year on the school's Faculty Committee, with this year being his third consecutive as chair. Under his guidance, the committee has completed a complete revision of the school's Faculty Policy Manual, which is completed and submitted for faculty review at the end of the Spring of 2022. The breadth of Professor Fitzgerald's service is profound and illustrates a deep and sustained commitment to service to the students of UofL.
Fannie Cox
University Libraries
Career of Service
During her 23 years as a faculty member at the University of Louisville Libraries, Prof. Cox has maintained an unparalleled commitment to advancing the university's goal of community engagement. Particularly since 2006 when her role in the University Libraries shifted from Electronic Resources Coordinator to Outreach and Reference Librarian, Prof. Cox has been laser-focused on aligning her efforts with this essential aspect of the University's mission and strategic directions.
In addition, she has been a significant contributor to professional organizations at the local, regional and national levels serving in leadership roles and as a member of high-profile committees. Lastly, she has been a highly visible member of numerous campus initiatives related to student success and equity issues. The thread that weaves through all her service endeavors is advocacy for underserved populations and giving back to organizations that have been foundational in her own growth. Her record of achievement shines in terms of sheer numbers and the broad array of organizations she has served, and the consistency of her involvement. But the real strength of her service and the rationale for this nomination is the positive impact she has made in so many arenas. Prof. Cox is a remarkably dedicated member of the University community who has demonstrated a commitment to service at the highest level over a 23-year period. She has served with distinction in the community, the profession and the university, and has been involved with transformational projects in all three domains. She is a leader who brings positive visibility to the University and improves organizational performance whenever she is involved.
Jose Fernandez
College of Business
Service to the Profession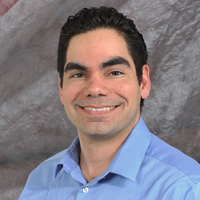 From the nomination:
Dr. Fernandez has an impressive impact on the discipline of Economics, with a special focus and impact on BIPOC and women in economics. He is the president of the American Society of Hispanic Economist and a fellow of the Diversity Initiative for Tenure in Economics. Additionally, he is a member of the American Economic Association's Committee on the Status of Minority Groups in the Economics Profession. One of Dr. Fernandez's greatest contributions to both the field of economics and his passion for advocating for the people of color is the development of a database of under-represented scholars. Dr. Fernandez recognized the need and acted on this gap. He developed a website for scholars of color and women in the economics sector to share their information as panelists and speakers. This database is searchable and has been made available to seminar organizers a the top 50 programs in economics. At the University level, most notably Dr. Fernandez has been a leader of the Hispanic/Latino Faculty and Staff Association (CO-President 2014-2018), where he was responsible for numerous initiatives that made a positive impact on Hispanic and Latino faculty, staff, and students. He also served two terms of the Cardinal Core Curriculum Committee (2013-2019), was an ex-officio member of the Commission on Diversity and Racial Equality, and recently was appointed to the Provosts' Ad Hoc committee on Advising.
Anne Wallis
School of Public Health and Information Sciences
National/International Service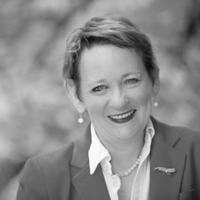 From the nomination:
Dr. Wallis was hired as a full-time Associate Professor in the School of Public Health & Information Sciences in 2015. Prior to this, she was an Assistant Professor at the University of Iowa College of Public Health, and James Madison University, School of Allied Health Sciences. She earned MHS (1997) and PhD (2003) degrees at Johns Hopkins University, Bloomberg School of Public Health. Throughout her career, Dr. Wallis has specialized in two critically important areas of public health: maternal-child health, and international/global health. She has been recognized nationally and internationally for her research expertise and service in these areas, with over 87 journal publications, book chapters, monographs, and professional presentations, and numerous awards. She has acted as Principal Investigator, Co-Investigator or Key Consultant on numerous grants and contracts, including funding from the Centers for Disease Control & Prevention, National Institutes of Health, USDHHS/SAMHSA, the Gates Foundation, and the World Bank. She has provided her expertise in maternal-child health selflessly to students and public health workers across the globe, and particularly in low-income countries and rural settings.
Sharon Moore
Kent School of Social Work and Family Science
Service to the Community, the Commonwealth and/or the Region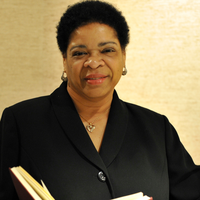 From the nomination:
Dr. Moore has coauthored four books, seven book chapters, served as a guest editor on six occasions for peer-reviewed journals, made 68 professional presentations, has 55 peer-reviewed publications, and has received requests for her published work from Hong Kong, Toronto, Ontario, Nairobi, Kenya as well as various places within the U.S. Perhaps most notable is a request from famed psychologist Albert Bandura, who requested a copy of Dr. Moore's article, "Adolescent Black males; Drug trafficking and addiction: Three theoretical perspectives." Dr. Moore's research is solution-based and has primarily focused on informing the community of learners and scholars (students, practitioners/policy makers, educators, and researchers) about the African American experience. Dr. Moore is one of few scholars who have successfully balanced the symbiotic relationship between research, teaching, and service. For her, community well-being is at the center of all three domains.
Distinguished Teaching Professor
Matthieu Dalle
College of Arts and Sciences
Full-time
From the nomination:
Dr. Dalle began teaching at UofL in 2002 and received tenure and promotion to Associate Professor in 2008. Dr. Dalle has taught 98 sections of 19 different courses at UofL, from the Introductory class French 121, to French 699 (Final Research Project), including courses in language, conversation, literature, culture, civilization, and media. He has created five new classes for the French department and substantially revised eight courses. Moreover, he has taught an impressive 28 Independent Studies, on topics as varied as French World War II and Holocaust Literature, Literature and Cinema in Senegal, and Minority Representations in French Media. Dr. Dalle's long-standing promotion of French cinema also engages students outside of the classroom. Since 2009, he has organized the annual French Film Festival, bringing over 75 films to UofL campus, including two U.S. premieres. He often brings in speakers to discuss the films, from film scholars and critics to local community leaders, such as an Imam for a film on Islamic culture in Mali. He also involves students in the festival, as post-screening discussion moderators, in opportunities to interact with the featured speakers, and in completing assignments that analyze films
Speed School of Engineering
Full-time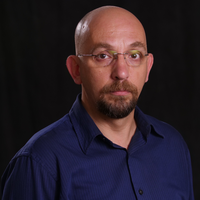 From the nomination:
Dr. Inanc has been a faculty member at the Electrical and Computer Engineering Department since 2004 after completing a two-year Postdoctoral Scholar training at the Control and Dynamical Systems Department at Caltech, Pasadena, CA. In the last 18 years, Dr. Inanc has been teaching variety of classes in the fields of autonomous robotics, control systems and signal processing. Dr. Inanc demonstrates excellence in teaching. He received the 2006 Kentuckiana Metroversity Instructional Development Award, the 2008 Delphi Center, "Innovations in Technology Awards for Teaching and Learning", acknowledgement at the Community Engagement Award Ceremony in 2014 and 2015 and The Speed School Excellence in Teaching Award in 2021. His ECE564/565 Final Robotic Competition "Robotic Box Sorting in Warehouses" as part of one of his well-received classes was broadcasted on WHAS-TV, Great Day Live on Monday, Jan. 16, 2017 – "who says engineering can't be fun? Not students at UofL's Speed School of Engineering who engage in a competition with robots they built but can't control". He has also been selected numerous times as a UofL Faculty Favorite by his students and he consistently receives high ratings and remarks in his student evaluations.
Kimcherie Lloyd
School of Music
Full-time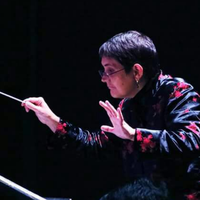 From the nomination:
Professor Lloyd is in her 28th year of teaching at the University of Louisville, where she serves as the Director of Orchestral Studies and Director of Opera Theatre. She is well-regarded as a student champion and currently serves as the UofL School of Music Chair for Undergraduate Studies. She earned the rank of full professor in 2013 and is the recipient of the 2002 Alumni Achievement Award from her alma mater, Eastern Michigan University. Under her direction, the University of Louisville Symphony Orchestra has achieved unprecedented levels of historical success. Professor Lloyd led the UofL Symphony Orchestra (USO) to perform at the 2021 Midwest International Band and Orchestra Clinic, a first in the history of UofL ensembles. Professor Lloyd is a widely sought-after educator, clinician, and conductor whose engaging teaching style and musical excellence have brought her recognition at the international and national levels. The breadth and variety of her professional conducting invitations bear witness to her reputation for pedagogical and musical excellence. She has lead orchestras on multiple continents including the Loja Symphony Orchestra in Loja Ecuador (2017), the Quito Youth Orchestra in Quito Ecuador (2017), the Recife Children's Orchestra in Recife, Brazil (2014), and was the first woman conductor to be invited to lead the Karol Szymanowksi Academy of Music Orchestra in Katowice, Poland. Additionally, she will serve as the guest conductor for the 2024 Florida Music Educators Association All-State Orchestra. An enthusiastic conducting pedagogue, she also provides masterclasses to aspiring young conductors wherever she is conducting.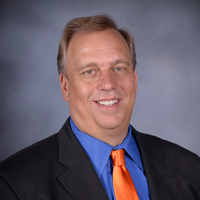 From the nomination:
Dr. Wise is a tenured, full professor in the Department of Pharmacology and Toxicology in the School of Medicine and a Distinguished University Scholar. He graduated from George Mason University, Fairfax, Virginia, with a BS in Biology and with High Distinction and Recognition in 1990, received his PhD from The George Washington University in Washington DC in 1994, and completed his Post‐Doctoral Fellowship in Molecular Epidemiology at The National Cancer Institute in Bethesda, MD, in 1996, before arriving at the University of Louisville in 2015 and establishing The Wise Laboratory of Environment and Genetic Toxicology. Dr. Wise has received 2 prestigious education awards over the past 5 years, from Society of Toxicology and Environmental Mutagenesis and Genomics Society, while his learners have received over 30 awards. Dr. Wise is a metal toxicology and cancer research expert renowned both nationally and internationally. He has consistently maintained major grants throughout his tenure, here at the School of Medicine. As a PI on more than $8.9M in active grants, and more than $9M as Co‐PI, most are NIH/NIEHS or NIH/NCI grants. He regularly publishes in top biomedical journals such as Cancer Research, Chemosphere, and Aquatic Toxicology, among others. He has been the lead author or involved with more than 50 publications, more than 120 reports, and more than 40 presentations over the last 5 years. His teaching accomplishments are even more impressive when considering his extensive funded research career, using his research lab as an avenue for his teaching. Dr. Wise's dedication to his research and passion for teaching is well documented through his learners' and his own level of productivity.
Kent School of Social Work and Family Science
Part-time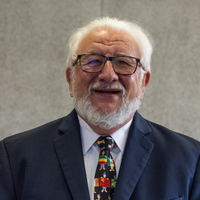 From the nomination:
Mr. Mansilla grew up in the outskirts of Buenos Aires, Argentina. With advanced degrees in both theology and social work, he spent most of his professional life serving low-income families both in Argentina and in the United States and most recently as the Executive Director of Americana World Community Center. Mr. Mansilla has brought an exceptional range and depth of professional experience to his role as an instructor at UofL. Americana has now served over 5,000 people from more than 100 countries. During the 24 years Mr. Mansilla has been at the helm, the agency has experienced remarkable growth in both fundraising and programming. Mr. Mansilla's leadership of Americana and in the larger community on such boards as Evolve 502 (2018-present), the Louisville Zoo Foundation (2012-2021), the Louisville Labor Management Committee (2015-present), Coalition for the Homeless (2016-2019), the Louisville Redevelopment Authority (2005-2011) and as a member of the Leadership Louisville class of 2001 and Bingham Fellows class of 2002 allows him to bring life to social work at the organizational and community levels. In addition, his work has been recognized through numerous honors and awards, including the following in the past 5 years: Charles W. Anderson Award from the Kentucky Cabinet of Diversity, Equity, and Training, Humanitarian Award from the Bridging the Gap Foundation, Advocacy Award from Spalding University, and the Lee A. Webb Award from the Louisville Bar Association. It is from this wealth of professional experience and expertise that Mr. Mansilla engages with students in the classroom. Mr. Mansilla has been an instructor for the Kent School of Social Work and Family Science for 24 years. Though he has taught numerous courses over his tenure with the Kent School, his most recent teaching has been in the courses Social Justice Practice and Social Justice Policy.
George J. Howe Distinguished Staff Award
The annual George J. Howe Distinguished Staff Award recognizes the contributions of an extraordinary University of Louisville staff member who exemplifies the traits of its namesake George J. Howe (humility, generosity, and excellence in leadership) as well as the Cardinal Principles. This staff member's career has had an exceptional impact on the university and its vision to be a great place to learn, work, and in which to invest.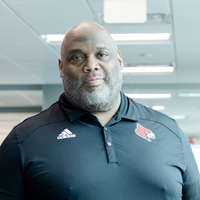 From the nomination:
For over 20 years, Marvin has demonstrated a sincere commitment to the improvement of the lives of all of student-athletes with the intent to contribute to their holistic development and growth. He is not only committed to serving student-athletes, but serving all students as he has served as a mentor and resource to numerous students at the University of Louisville. Additionally, he works to collaborate with departments across the university having coordinated numerous events in collaboration with the Cultural Center and Student Involvement. His presence is felt each time he steps into a room as he is known for his servant leadership. As a person who puts mentoring others first, Marvin is instrumental in serving as a mentor to students as he has served as the advisor for the student organization Collegiate 100 for many years. The extraordinary commitment that Marvin brings to his work is evident every day."
Outstanding Performance Award Winners
The Outstanding Performance Awards recognize university staff (both exempt and nonexempt) who inspire others through their outstanding dedication and commitment to UofL.
John Burton, University Libraries – Technical Services, Library Specialist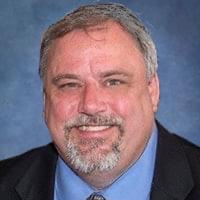 From the nomination:
"John is the sole person responsible for ordering books, DVDs, and streaming videos for both the Art and Ekstrom Libraries. Over the many years John has worked in Technical Services, he has held a variety of positions, and has an in-depth knowledge of the different positions in the department, which allows him to assist with other duties when people are absent, as well as to offer helpful suggestions on workflow and procedural improvements. Ordering items that are requested by the University community is paramount, and he does this so well that most do not realize what a challenging process this can be given the types of materials that are ordered, and the number of endowments that he utilizes and tracks. He is well respected by his peers for his helpful, cheerful attitude, and his work ethic makes him invaluable to the Libraries and the University."
Connie Cox, Kent School of Social Work and Family Science, Coordinator
From the nomination:
"Connie has significantly and consistently exceeded the expectations of her role. She has regularly served as a subject matter expert on many topics surrounding processes and procedures within the MSSW Academic Affairs department. Connie was always readily available to support students, staff, and faculty regarding student success and retention. She has played an integral role in providing suggestions and feedback that led to the innovative enhancements of many procedures and operations within the MSSW Academic Affairs unit. She has exceeded the expectations of serving as a liaison between students, staff, and faculty, continually going over and beyond to support everyone's unique circumstances. Connie continually offers extraordinary service for students and has received recognition in the UofL News by a student for her exceptional guidance and support."
James Creg, Department of Continuing Medical Education, Program Manager
From the nomination:
"James Creg carries the rank of program manager, yet leads four programs, business operations, human resources, is the department webmaster, and is responsible for maintenance of a critical and specialized accreditation by the ACCME (Accreditation Council of Continuing Medical Education). James did the work of four people while self-teaching, as a new hire and lead, through extreme financial and the stress of the COVID-19 pandemic, to ease the burden on his colleagues. He continues deliver at a high level with the intention of not stressing his coworkers (who are anxious about COVID-19 and return to office) and he incrementally is changing the departmental culture for the better (for all). He has done this of his own volition with an infectiously positive approach."
Robert Fry, University Planning, Design & Construction, Database Analyst
From the nomination:
"Rob brings a thirst for knowledge and supportive attitude every day to his job and exemplifies all that is good about this University. He is a dedicated and dependable employee and has been a critical team member over the last year adapting to additional responsibilities due to staff shortages and ongoing COVID conditions. His technical background and expertise have allowed him to reliably take on additional work that has increased the productivity and effectiveness of the University Planning, Design and Construction (UPDC) office."
Victoria King, Physical Plant, Custodian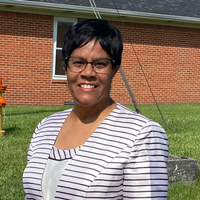 From the nomination:
"Vicki goes above and beyond for our department, often without even being asked. Knowing that we are not her only building, we wonder how she manages to do such an exceptional job. She greets everyone with a smile and asks how you are doing today. She makes us all feel welcomed. She takes the time to get to know each one of us in our office, including our individual needs. She is a caring co-worker, who has become a friend to all of us!"
Colleen Martin, Disability Resource Center, Director of Student Disability Resource Center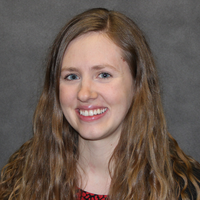 From the nomination:
"Through serving in various roles in the DRC, she has shown what it means to be committed to student success. The mission of the DRC is to provide support for students with documented disabilities by promoting equal access to all programs and services. Colleen embraces this mission, and you will often find her advocating for equal access for students. As the Director of the DRC, Colleen has been a steadfast leader. She is thoughtful, innovative, and determined. She thinks through complex issues and when solving a problem, you know that Colleen has considered many options. Staff that have worked with Colleen speak of her commitment to the team and the office. She is responsible, hardworking, and an excellent communicator. The University of Louisville is lucky to have an employee like Colleen."
Christy Metzger, Student Success Center, Program Director
From the nomination:
"Each year, Christy goes above and beyond. Since the beginning of the First Year Initiatives office at UofL, Christy has successfully advocated for designing programming and experiences to meet students' needs. In her nearly two-decade tenure, Christy has built bridges across campus departments, implemented creative programs, adjusted to changing priorities, and is an institutional encyclopedia of the why, the how, and the who to call to accomplish them. Christy seeks and incorporates feedback. She advocates for often overlooked student populations. She pours her energy into helping students and colleagues feel seen and appreciated. She manages institutional priorities within staffing and budgetary constraints. She maintains relationships with corporate sponsors so we can do more. She quickly volunteers her assistance, expertise, and energy. Her work and partnership spans across all student-serving departments and she has continuously succeeded in making this a great place to learn, work, and invest."
Betty Nunn, Bioenginnering, Administrative Specialist
From the nomination:
"Betty is an extraordinary, proactive, solutions-oriented critical member of BE department who steps up to take on leadership roles whenever the need presents itself, which has greatly improved our effectiveness and efficiency in our teaching, research, and service mission. Betty's stewardship of our department is second to none and her consistent "can-do" attitude has helped to advance our department to the next level while freeing up faculty to focus on student success and research activities. Betty's multi-talented contributions to our department are immeasurable across all our functions, including teaching, research, student support, student recruitment and community engagement. I am fortunate to have such a dependable, dedicated, and intelligent person in this role; she truly embodies the definition of an outstanding staff member!"
Steven Riley, Chemistry, Scientific Instrumentation Specialist
From the nomination:
"Mr. Riley is a Scientific Instrumentation Specialist in the Department of Chemistry, and he has been a significant contributor to the well-being of the department since he was hired in January 2011. In addition to repairing the departmental instruments, he assists the faculty, other staff, and graduate students in any way possible and helps the Stockroom Manager in the day-to-day operations of the teaching and research laboratories. Oftentimes, his aid to members of the department is well beyond the scope of his job duties."
UofL Innovation & Commercialization, VPR – Technology Development, Administrative Associate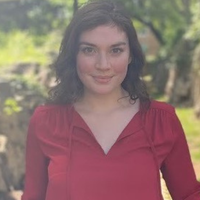 From the nomination:
"It takes an exceptional person to manage an office without a director or deputy director. Vanessa is providing stability and structure on a daily basis. She offers to assist with any and every task she can to make everyone's job lighter. She is the definition of a team player and leadership in the midst of some challenging times. She rises to the occasion. She doesn't just do the obvious next thing; she goes deeper to the next two levels. She makes everyone else's job easier because of her helpfulness, thoroughness, and positive, professional outlook. Vanessa's kindness casts a welcoming spirit upon our office and all those she interacts with. Her organizational skills add a level of order to what can sometimes be chaos."
Outstanding Supervisor Award Winner
Great supervisors create a culture of engagement that includes supporting the development of team members and sending a strong, consistent message of respect, compassion, and trustworthiness.
Amber Roberts, CEHD's Office of Undergraduate Advising and Student Development, Director of Undergrad Academic Student Services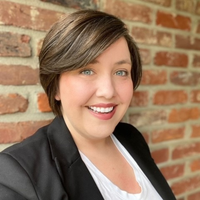 From the nomination:
"Amber is a supervisor who is truly of the people, by the people, and for the people. She has a long career in higher education where she has always selected positions where she can advocate for and support those who need a voice. After spending five years as an academic counselor for the BS in Organizational Leadership and Learning degree, she was promoted to Director of Undergraduate Student Success in the CEHD. Her mission has always been to serve others, more often at the expense of her own time, energy, and finances, and to get our office active in important conversations within the College and university. She cares deeply about every single member of her team and pushes us to become a better version of ourselves, and she is someone who would never ask one of to do what she is unwilling to do. To me, that is a true leader."
Team Impact Award Winners
Behind every great accomplishment at the University of Louisville is a team of dedicated employees who worked collaboratively to realize their vision. This exceptional team has had a great impact on the university. As the saying goes, teamwork makes the dream work.
Team members: Tisha Pletcher, Lamont Johnson, Kathleen Elsherif, Kayla Ray, and Alyssa Collina.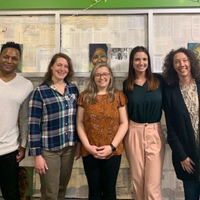 From the nomination:
"This team has been agile in pivoting to support each other and students during the ups and downs of the last two years. Their service numbers have doubled and tripled in the past years given the effects of the "Me Too" movement. Program manager Tisha Pletcher advocated for more staff so that they could keep up with the numbers. Though still not enough, the staff is good at using resources to provide high quality service. They lean on survivors and allies to help with the load. Currently a graduate student for art therapy who was once a volunteer is helping out with advocacy. They collaborate across campus with places like the Women's Center and across city with organizations like the Center for Women and Families to help plan and host the annual "Take Back the Night" event. They have one staff solely dedicated to roll out "Green Dot" which is a campus initiative for bystander intervention training. This team member is working across campus with a variety of departments. They also have a team member solely dedicated to engage and encourage male participation in the fight against power based violence. This team member has gotten groups like IFC and Men's Athletics to speak out against power-based violence and make real change on campus."
Presidential Commission Awards
Commission on Diversity and Racial Equity
Presidential Exemplary Multicultural Teaching Award: Cynthia Ganote
Presidential Exemplary Multicultural Staff Award: Shirley Wu 
CODRE Diversity, Equity, and Inclusion Resident Leader Award: Abbas Rattani
CODRE Commissioner of the Year Award: Maria Tinnell
Commission on the Status of Women
COSW Catalyst: Karen Christopher
COSW Champion of Advocacy: Stella Wang
COSW Champion of Communications: Leondra Gully
COSW Climate & Equity Champion: Riece Hamilton
COSW Commissioner of the Year: Heidi Neal
COSW Volunteer of the Year: Meagan West