Jamie Young awarded Guy Stevenson Award for Excellence in Graduate Studies at 2020 UofL commencement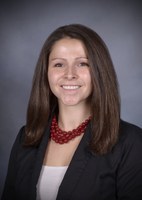 The Guy Stevenson Award for Excellence in Graduate Studies honors a former dean of the Graduate School and is presented to an    outstanding doctoral degree recipient who has demonstrated excellence in both scholarship and leadership within the discipline, and  has  made significant contributions to teaching and/or service.  Jamie Young 

is  the recipient of this year's Stevenson award and as such, served as the Graduate School's outstanding student and delivered a speech for the Hooding and Commencement ceremonies.
Jamie Young earned a Master's degree with a Dean's Citation from the Department of Pharmacology and Toxicology at the University of   Louisville and Bachelors degree (cum laude), from the University of Maine at Farmington. Jamie earned her Master's degree with her   work on developing a model to study the effects whole life exposers to environmental contaminants (arsenic and cadmium) on the   development of adult diseases. Her doctoral work continued under the mentorship of Dr. Lu Cai and focused on how cadmium   exacerbates high fat diet induced liver disease and the potential therapeutic role of dietary zinc. During her tenure as a doctoral student   in the Pharmacology and Toxicology program she served as the student representative for the Ohio Valley Society of Toxicology, and is the most recent recipient of the K.C. Huang Outstanding Graduate Student award.
Jamie has been a highly successful graduate student earning a stellar grade point average and achieving much research success. Currently, she has published 12 journal articles, including four as first author along with 40 abstracts with 24 as first author. Jamie has presented 10 seminars including several at international conferences and as an invited speaker at international universities. She has earned grant support; earning a prestigious fellowship from the U.S. Environmental Protection Agency (EPA) and a prestigious T32 fellowship from the National Institute of Environmental Health Sciences (NIEHS).
Beyond the academic and research success, Jamie provides exceptional teaching and service to her field. The Pharmacology and Toxicology program at the University of Louisville  does not require teaching, Jamie seized the available opportunities teaching in the Department's Dental Hygiene Pharmacology course and providing peer-to-peer mentoring whenever possible.
For service opportunities, Jamie is active in a number of professional societies. For the Society of Toxicology, the biggest and preeminent Toxicology society in the world, she served as the student representative to the Metals Specialty Section, the Chair for the society's Graduate Student Leadership Committee programming sub-committee, and the society's Graduate Student Leadership Committee Chair. Her leadership efforts in these roles led to follow-on service opportunities in student run efforts in the Environmental Mutagenesis and Genomics Society and NIEHS's Superfund Research Program Conference. Jamie has also extensively provided service by volunteering to serve as a field research assistant for numerous expeditions with the Wise Laboratory of Environmental and Genetic Toxicology, Ocean Alliance, the Channel Islands Marine & Wildlife Institute, and the National Aeronautics and Space Administration (NASA).
Jamie has not had an easy path to her extraordinary success being the first in her family to earn an undergraduate degree and pressed on to earn a Masters and soon a doctoral degree overcoming challenges and interruptions. Jamie is committed to excellence in research, service and teaching in her pursuit to combat global challenges in environmental health and disease.
Following graduation, Jamie will continue pursuing a career as an independent researcher and plans to apply for a NIH Director's Early Independence Award (DP5 mechanism) and earn a subsequent faculty position (hopefully at the University of Louisville).