Pediatric Residency Program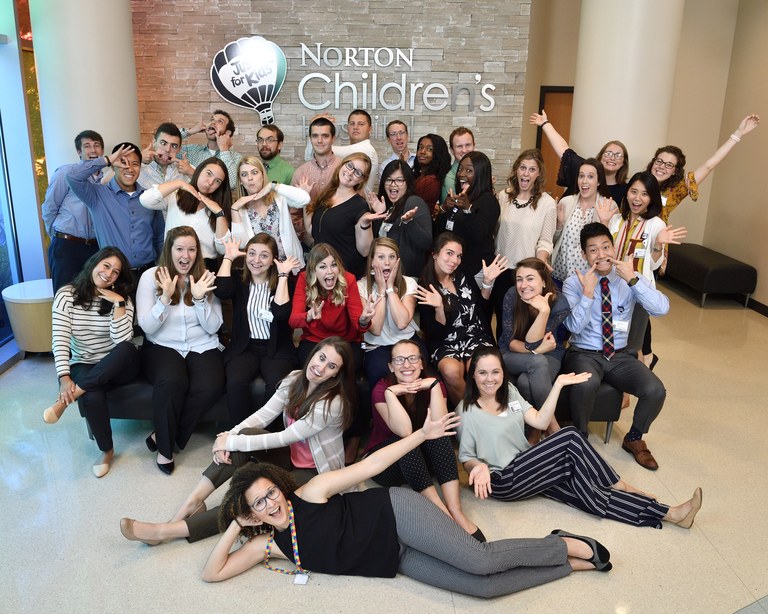 The pediatric residency at University of Louisville is home to 76 residents from thirty-nine medical schools in twenty-nine states and three countries. We asked our residents, faculty, ancillary and support staff their favorite things about the city and program:
Follow us

Instagram:  @UofLPedsResidency
Twitter:  @UofLPedsRes
---
This four-year special residency program, sponsored jointly by the Department of Medicine and Pediatrics, was established in the early 1980s. During the four years, residents participate in the basic services, continuity practices and electives of the two departments. Upon completion, Med-Peds physicians are eligible for board certification in both specialties.
Program Curriculum and Requirements
Our program is structured to permit the physician to develop broad clinical expertise in general and primary care pediatrics as well as in-depth competence in the pediatric sub-specialties. We accomplish this by offering three progressive levels of training characterized by increasing complexity of clinical problems, increasing responsibility for patient care and increasing availability of elective time. The program mixes hands-on, bedside training, didactic sessions, one-on-one consultations, small group sessions and online learning that strives to meet all learning styles of our residents as well as getting broad exposure to specific areas that might be of interest as formal career paths.
Sample Resident Annual Schedule
Disclaimer:  The following table is a general schedule only. There will be variability from resident to resident, year to year, but each resident over their three years will meet all ACGME training requirements.
PGY - 1
PGY - 2
PGY - 3
Rotation
# months
Rotation
# months
Rotation
# months
UL NICU
1
NCH NICU
1
NCH NICU
1
Hem/Onc
1
PICU
1
PICU
1
ED
1.5
ED
1
ED
1.5
Wards
3
Wards
2
Wards
2
Night Team
0.5
Night Team
1
Hem/Onc Nights
0.5
Outpatient Block*
3
Outpatient Block*
3
Outpatient Block*
1.5
Core Elective
1
Cardiology
1
Core Elective
1
Individualized Curriculum Elective
1
Individualized Curriculum Elective
2.5
Vacation
1
Vacation
1
Vacation
1
Overall Total
12
Overall Total
12
Overall Total
12
Rotations in italics include elements of the Individualized Curriculum.
* The Outpatient block contains the following experiences:
○     PGY-1: Adolescent, Newborn, Procedure, Career Exploration, Longitudinal Clinic
○     PGY-2: Ambulatory with Community Involvement, Behavior and Development, Career Exploration, Longitudinal Clinic
○     PGY-3: Ambulatory with Community Involvement, Individualized Curriculum Electives, Career Exploration, Longitudinal Clinic
For a more detailed description of our outpatient experience, check out the Longitudinal Outpatient Experience
Distinction Tracks & Additional Opportunities
Distinction Tracks
Extracurricular distinction tracks are available for residents interested in careers involving Child Advocacy, Global Health, Medical Education, and/or Research. Use the links below for more information about each track.
Child Advocacy Track
Additional Curriculum 
Pediatricians Urging Safety & Health
Our resident-led child advocacy group is active within the hospital and with several community organizations.
Resident Wellness
Our program incorporates wellness into everyday work as well as providing fun activities at work and throughout the city.
Leadership
Explore ways to get involved with university and hospital organizations and have your voice heard
Educational Resources
Learn more about resources the program provides and content delivery on your schedule
Diversity & Inclusion
Our residency program is committed to providing an inclusive environment for our patients, our students, our residents, and our faculty.  
We are committed to UofL's Cardinal Anti-Racism agenda and excited about Norton Healthcare's $20 million commitment over 5 years to address health equity, ensure primary care for the community, hire a leadership team that reflects community demographics, educate and advocate about health policy issues, and and invest in underserved areas of Louisville.
Mission
Our committee exists:
to identify weaknesses and strengths within our residency program as it relates to promotion of a diverse workforce;
to help foster a nurturing and supportive environment that values diverse perspectives;
to create a sustainable model to strive for continuous improvements in our diversity and inclusion practices.
All of these with the ultimate goal of training a diverse workforce of pediatricians who are equipped to provide culturally competent care to a diverse population of patients
Vision
We want our pediatric residency program:
to be considered among the best at providing culturally competent education both within UL GME but also among regional pediatric residency programs;
to have a workforce (both trainees and faculty) that better reflects the population we serve; to retain a diverse group of students, residents, and faculty;
and to be a model of engagement of different perspectives so that all can thrive
Values
Celebration of diverse backgrounds
Learning from the experiences of others
Work as an inclusive team
Systems of support and mentorship
Safe, open environment
Student engagement
Equality
Belonging
Compromise
Cultural humility
Integrity
Recruitment and retention education
Overcome challenges and discrimination
University and School of Medicine Resources:
The University of Louisville School of Medicine has received national attention for its implementation of eQuality and is the first medical school in the nation to implement the AAMC competencies to care for individuals who are LGBTQ, gender non-conforming, and born with differences in sexual development (DSD). Our LGBT center is a great resource for everyone.
Health Disparities Research in Pediatrics:
○     LGBTQ Adolescent Health in Louisville: An approach to identify and assess local priorities
○     The Pediatric Primary Care Project: Breaking the Cycle of Toxic Stress (along with the Division of General Pediatrics)
Kasi Eastep, DO:  Opioid Prescriptions Among Children Enrolled in Kentucky Medicaid:  A Review of a Recent Cohort
Jenny Smith, MD:  Impact of Refugee Status on Mental Health in Latino Children
Courtney Sumner, MD:  Improving a Residency Program's Training and Confidence in Caring for Children Presenting with Gender Dysphoria in a Primary Care Setting
Kirsten Drucker, PsyD; Christopher Poitevien, PhD & Chelsea VanderWoude, PhD:  Assessing Resiliency Resources: Identifying and Reducing Barriers to Minority Adolescent Referral and Completion to a Manualized Intervention for Chronic Illness Coping
Katie Burgener: Quality of life and psychologic comorbidities in youth with gender dysphoria
Zheyi Teoh: Healthcare barriers for Congolese refugee children in Louisville, KY: Parental perception and narratives through focus group discussions
Jennie Green: A retrospective review of failure to thrive admissions and the potential role of implicit bias
Alyse Elkins: Evaluation of a new e-module for teaching pediatric resident physicians about online sexual exploitation of children
 Community Resources:
Program Leadership
Sara Multerer, M.D.
Program Director
Associate Professor of Pediatrics
Dr. Multerer is the Director for the Pediatric Residency Program at the University of Louisville. After completion of her pediatric residency training at University of Louisville, Dr. Multerer was elected Richard S. Wolf Chief Resident and Lecturer for the program. At the end of her tenure as Chief Resident in 2009, Sara stayed in Louisville as faculty as an Associate Director for the Pediatric Residency Program, a position she held for eight year. Sara does her clinical time in the Division of Pediatric Hospital Medicine where she is an Associate Professor. Dr. Multerer recently completed the Academic Pediatric Association's Educational Scholars Program(ESP) and  joined the ESP Curriculum Committee in 2015. She is currently an active member of the Assessment Task Force of the Associate of Pediatric Program Directors(APPD and recently completed her term as a member of the Associate Program Director's Executive Committee. Locally, Dr. Multerer has received a Department of Pediatrics Faculty Peer Clinician-Teacher Excellence Award for three of the last four years.
Dr. Multerer is the Chair of the program's Curriculum Committee in which her focus is curriculum development and oversight.  Additionally, Sara is responsible for the program's oversight and implementation of both the new Individualized Curriculum and the Pediatric Milestone Project and has served as the site director for three APPD LEARN projects. Dr. Multerer's clinical interests include patient safety and quality improvement. As such, Sara has led several efforts in these areas and is an active member of the Norton Children's Hospital Patient Safety Committee, a project mentor for the pediatric resident Quality Improvement Curriculum and the Department of Pediatrics Morbidity and Mortality committee, just to name a few.
Sara is married to her high school sweetheart, Matt, and they are the proud parents of twin girls.
---
Erin Owen, M.D.
Associate Program Director
AssociateProfessor of Pediatrics
Originally from Miamisburg, Ohio, Dr. Owen completed her undergraduate degree in Natural Sciences at Xavier University in Cincinnati, Ohio.  Erin then went on to attend medical school at Wright State University in Dayton, Ohio.  She completed her pediatric residency at the University of Louisville in 2007 served as the Pediatric Chief Resident for the 2008-2009 academic year, and completed a Pediatric Critical Care Medicine Fellowship in 2011.  She is currently a member of the Division of Pediatric Critical Care Medicine.  Dr. Owen became and Associate Program Director in 2017.
Dr. Owen has been the Chair of the Pediatric Residency Clinical Competency Committee at the University of Louisville since 2012 and was selected to attend the 2014 ACGME course Developing Faculty Competencies in Assessment: A Course to Help Achieve the Goals of Competency-Based Medical Education.
In addition to her ICU responsibilities, Erin's clinical interests primarily focus of Patient Safety and Quality Improvement.  Dr. Owen is the Patient Safety and Outcomes Director for the PICU.   She leads multiple hospital committees aimed at improving patient outcomes including hospital-acquired pressure injuries reduction, septic shock recognition, and she helped to create a hospital-wide initiative called SHERLOCK (Systematic Harm Evaluation Review and Learning to Optimize Care for Kids).  Dr. Owen also participates in Quality Improvement efforts at a national level through the Pediatric Acute Lung Injury and Sepsis Investigators and Solutions for Patient Safety – a collaborative organization of over 100 Children's Hospitals.  Dr. Owen is the director of the Patient Safety and Quality Improvement curriculum.
Erin is married to her husband, Christopher, and together they are raising their daughter and two English Mastiffs.
---
Adam Patterson, M.D., M.Sc.
Associate Program Director
Assistant Professor of Pediatrics
Dr. Patterson was born and raised in Louisville.  He received his Bachelor of Science from Centre College in Danville, KY in 2006.  He then returned home for his medical training: Medical School, Pediatric Residency, and Pediatric Emergency Medicine Fellowship.  Upon completion of Fellowship in 2017, he joined the faculty at the University of Louisville in the Division of Pediatric Emergency Medicine and as Associate Program Director for the Pediatric Residency.
Adam has a background in athletics as a varsity basketball player for Centre College and an assistant coach for DuPont Manual High School in Louisville, which greatly influences his passion for teaching, coaching, and mentorship.  He enjoys spending time with his wife, Marilyn, and their sons, James and Alex.
---
Kimberly Boland, M.D.
Professor and Billy F. Andrews, M.D. Endowed Chair of Pediatrics
Assistant Dean of Resident Education, University of Louisville School of Medicine
Chief of Staff, Norton Children's Hospital
Dr. Boland was raised in Louisville. She received her undergraduate degree from the University of Notre Dame and returned home to earn her medical degree from the University of Louisville. She then moved to St. Louis where she completed her residency and chief residency in Pediatrics at St. Louis Children's Hospital at Washington University. After finishing her chief residency, she worked as a hospitalist for two years in a community hospital in St. Louis and then went on to complete a Pediatric Critical Care fellowship at Washington University. Dr. Boland again returned home to Louisville, where she spent five and a half years as a Pediatric Intensivist and filled the roles of Director of Resident Education for the Critical Care Division and Pediatric Critical Care Fellowship Director for one year at the University of Louisville. She left to pursue a career in general pediatrics for three years but was drawn back to the academic world in order to be part of the excitement and energy of the educational realm. She returned to the University of Louisville as Director of the Pediatric Hospitalist Program at Norton Children's Hospital and quickly became involved in resident education with subsequent appointment to an Associate Program Director role and then the Program Director role which she filled for nine years. 
Dr. Boland currently serves as the Billy F. Andrews, M.D. Endowed Chair of Pediatrics.  She also serves the broader GME community as the Assistant Dean for Resident Education.  She is the Past President for the Kentucky Chapter of the AAP and facilitates the resident driven advocacy program PUSH (Pediatricians Urging Safety and Health). She is involved with many task forces and committees within the University and Hospital such as the Graduate Medical Education Committee, the Subcommittee for Resident Education and Work Environment, the Student Education Committee, Promotion, Appointment and Tenure Committee, Departmental Pediatric Advisory Committee and the NCH Physician Advisory Committee. Her most recent focus in the residency has been development of innovative curricula in Global Health, Wellness, Advocacy, procedural medicine, communication, evidence-based medicine and crisis management scenarios.
Dr. Boland is married to an Irishman and they have one red-headed daughter.
Benefits/Perks
Take a look at the benefits package you'll get as a pediatric resident at UofL.
Basics - Perks – Insurance
Basics
Vacation
Four weeks of vacation is given at all levels.
Bookstore
A 10% discount is available on books and supplies with a valid University of Louisville Identification Card.
Licensure
Initial resident licensure fees are paid by the university and renewal resident licensure fees are paid by the department.
Beepers
Beepers are provided to all house staff, including the batteries to keep them going (we'll recycle your old ones, too!).
Stipends
We love the altruism shown by our residents, but even so, we provide annual stipends for their hard work. Stipends for House Staff for the 2020-2021 academic year are as follows:
PGY-1: $55,713
PGY-2: $56,901
PGY-3: $58,488
PGY-4: $60,108
Perks
Parking Permits
Free parking in the attached, covered Norton Children's Hospital garage.
Book Allowance
All first-year residents in good standing in the program receive a generous book allowance as well as MedStudy.
Study Aids
All third-year residents receive Laughing Your Way to Passing the Pediatric Boards.
Board Review
All second-year residents in good standing in the program are provided with MedStudy, and third-years in good standing in the program earn a stipend for a board review course to be attended following graduation.
Meals
On call meals are provided at both Norton Children's Hospital and UofL Hospital.
Ward Support
Nurse Clinicians:  In response to resident feedback, Norton Children's Hospital provided a nurse clinician for each ward team to aid in completing work involving communication and patient care. This team of nurses also provides month-to-month continuity.
Membership
Resident memberships are provided to the American Academy of Pediatrics including subscriptions to PREP and Pediatrics in Review.
Athletics
Residents are eligible to purchase student athletic tickets, which are offered at reduced rates through the Athletics Department.
Insurance
Insurance Plans
The University offers a complete package of insurance coverage for our residents and their families, including health, dental, vision, prescription, Flexible Spending Accounts (FSA), Life, Accidental Death and Dismemberment (AD&D), Supplemental Life, Short Term Disability and Long Term Care. Detailed plan information can be found on the University of Louisville Human Resources site.
Retirement
Residents are considered "eligible employees" and may contribute monies to any of UofL's retirement plans.
Worker's Compensation
All house staff are covered under the Kentucky Worker's Compensation statutes for injuries incurred while engaged in regularly assigned duties.
Professional Liability Insurance (Malpractice)
Professional liability insurance is provided by the University of Louisville or by affiliated hospitals through contract agreement.
Preventive Health Program
Hepatitis B immunization, an annual TB skin test, and flu shots are required and furnished free of charge to all residents. Additionally, COVID-19 testing and monitoring is also provided free of charge.
For more information, please visit the UofL Employee Benefits page
Living in Louisville
Louisville is a great place to live!
Culture and Entertainment
Sports
News
 Celebrating a Stellar Year for Advocacy
Our resident-led advocacy group, PUSH, recently celebrated another year of advocating for our children.
Our program has been awarded the Leonard P. Rome CATCH Visiting Professorship Grant for 2019-2020! We look forward to working with Dr. Ben Hoffman to strengthen our advocacy training, increase the sustainability of our projects, and enhance collaboration within our community.  The main focus of this year is addressing the inequalities and availability of resources that exist across our city.
The annual Tri-Resident Cup competition resulted in nearly 1800 canned goods donated to Dare to Care, 3000 books donated to our clinics, 540 emails/calls to our legislators, and $1050 for community safety equipment!
Residents attended advocacy days in Frankfort, KY and Washington, DC.
2019 Graduation
On June 21, we celebrated 29 Peds and Med/Peds residents, 1 child neurology resident, 13 fellows, and 4 psychology graduates. Congratulations to them and to our award winners:
Ancillary Staff Award:  Lino Gonzalez, interpreter
Clinical Professor of the Year:  Siddharth Shah, MD
Division of the Year:  Pediatric Nephrology
Dr. J. Scott Robinson Memorial Award:  Sara Multerer, MD
Dr. Thomas H. Pinkstaff Child Advocacy Award:  Brit Anderson, MD
Building Block Award for Psychiatry:  Chris Peters, MD
Building Block Award for Psychology:  Bryan Carter, PhD
Rookie of the Year:  Emily Montgomery, MD
Kentucky Chapter of the AAP Award:  Kevin Murray, MD & Ashley Zerr, MD
Pediatric Academic Achievement Awards:  Emily Montgomery, MD [PGY1]; Diane Buckley, MD [PGY2]; Ashley Zerr, MD [PGY3]
Compassionate Pediatrician Award:  Chris Barton, MD
Robert G. Spurling Memorial Award:  Colleen Mathews, MD
Exhibit 2019
Our graduating residents and fellows presented scholarly activity projects to an esteemed panel of judges as well as University of Louisville and Norton Healthcare faculty, staff and trainees. See a full list of projects here. 
Award winners:
Viewers' Choice Award, Resident:  Kasi Eastep, DO  "Opioid prescriptions among children enrolled in Kentucky Medicaid:  A review of a recent cohort"
Viewers Choice Award, Fellow:  Chris Barton, MD  "Development, implementation, and education regarding pediatric stroke protocol in a children's hospital"
Original Research, Resident
Original Research, Fellow:  Justin Farge, MD  "Myeloid-derived suppressor cells in the pediatric population"
QI/Curriculum/Case Report:  Trisha Clum, MD & Andrew Jones, MD  "Improving recognition of hypertension in a pediatric primary care setting"
Novak Center receives national certification
The Wendy Novak Diabetes Center is one of three national institutions that has been awarded a Certificate of Distinction for Inpatient Diabetes Care. Read the full story here.
Dr. Sara Multerer completes Leadership and Innovation in Academic Medicine training
The program emphasizes using innovation to lead self, others, and the organization. Learn more here. 
How to Apply
Thank you for your interest in the University of Louisville Pediatric Residency Program. Each year, we accept 24 categorical pediatric residents, 2-3 pediatric neurology residents and 5 med/peds residents. We accept residency applications at the PGY-1 level only. Applicants must receive their medical degree and successfully pass USMLE Parts I and II and the Clinical Skills exam by the start of training.
For Medicine/Pediatrics application information, click here.
Fellowship application information can be found on each fellowship's webpage. See a list of available fellowship programs .
Application Packet
We accept applications only via the Electronic Residency Application Service (ERAS) . The following information must be included in your application to be considered complete. Applications that do not include this information will not be considered.
ERAS Common Application Form
CV
Personal Statement
Dean's Letter
3 letters of recommendation (minimum)
Medical School Transcript
USMLE/COMLEX Step I Score Report
USMLE/COMLEX Step 2 Score Report (when available)
USMLE/COMLEX Step 2 CS Score Report (when available)*
Recent Photograph (requested, not required)
*The USMLE Step 2 Clinical Skills Exam has been temporarily suspended for the 2020-21 application cycle.
For International Medical Graduates and International Applicants, please review the additional information required for your application.
Application Deadline
Applications are accepted October 21 - December 1 this year. All materials must be received by December 1 to be considered complete.
Additional Application Information
We do not have minimum board score requirements.
Applicants must have graduated from medical school within the past 2 years.
Second looks will be offered in late January or early February. For 2020-2021, second looks will be offered virtually.
Contact Us
Office Location
Office of Medical Education
Children's Hospital Foundation Building
601 S. Floyd St., Ste 200 (2nd floor)
Email: pedmeded@louisville.edu
Phone: (502) 629-8828  
Mailing Address
Office of Medical Education
Department of Pediatrics
School of Medicine
University of Louisville
571 S. Floyd, Suite 412
Louisville, Kentucky 40202