Stroke
University of Louisville Stroke Center
When it comes to minimizing the effects of stroke, immediate care is vital. The University of Louisville's Stroke Center is set up to make sure stroke patients receive rapid, comprehensive care. As Dr. Kerri Remmel explains in the video, the center is the region's only facility with an in-house stroke team available 24 hours a day, seven days a week.

Combining technology, therapy and treatment, patients receive the most comprehensive care in the region. Examination, laboratory studies, cardiac tests, and state-of-the-art imaging studies can be performed within minutes of a patient's arrival in the Emergency Care Center. A full range of medical and rehabilitation services is instantly available, from a team that includes neurologists, critical care physicians, interventional neuroradiologists, neurosurgeons, and cardiologists as well as nutritionists, physical therapists, speech-language pathologists, diabetic coordinators, and stroke nurses.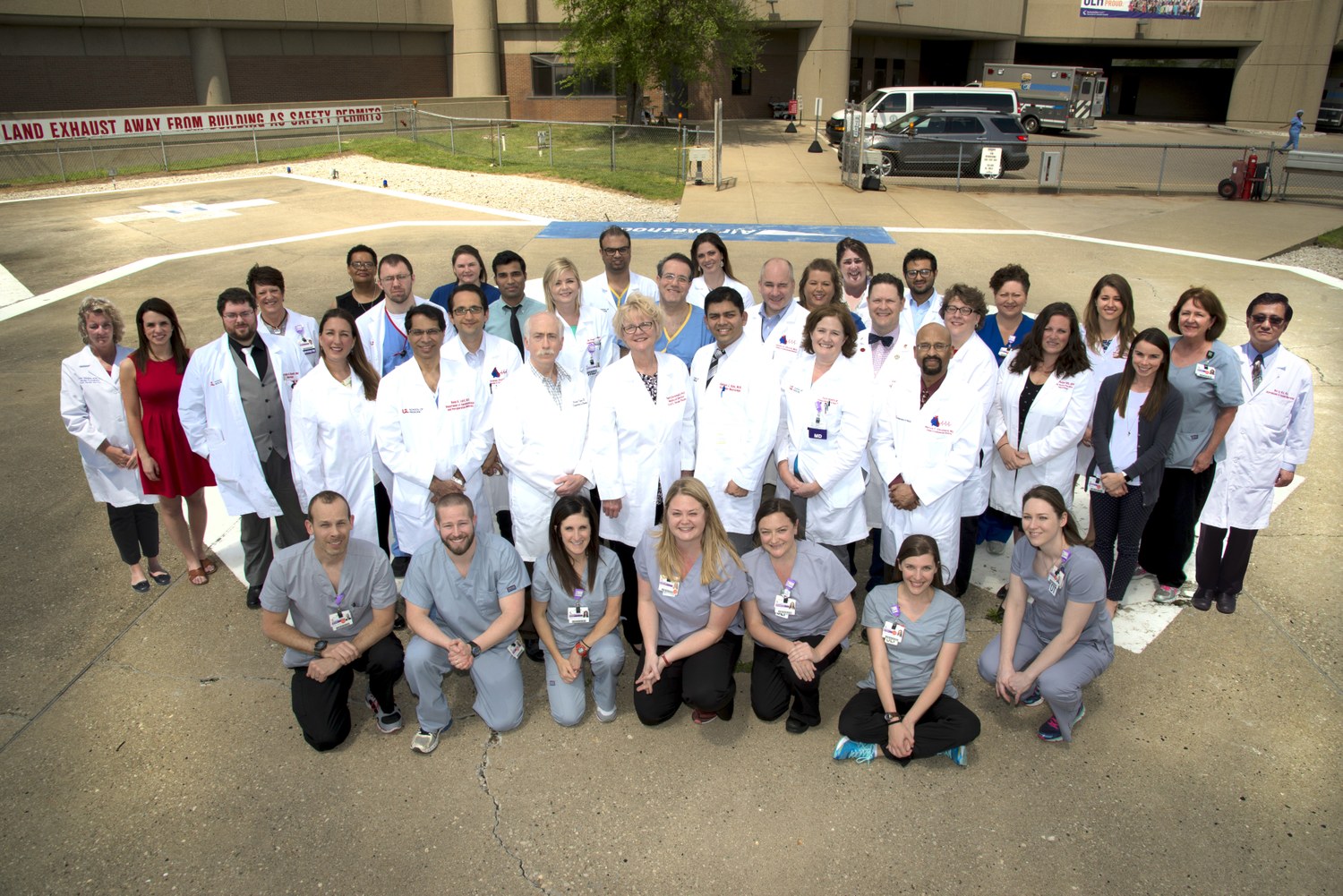 University of Louisville Hospital Stroke Team

Stroke is brain damage caused by loss of blood supply to brain cells. Without blood and the oxygen it carries, brain cells begin to die within minutes. When brain cells die, the functions they were responsible for stop working. Depending on which brain cells die, symptoms may include:
Sudden weakness or numbness on one side of the body.
Sudden difficulty speaking or understanding what others are saying.
Sudden loss of vision or double vision.
Sudden unsteadiness or dizziness.
Sudden severe headache.
A stroke occurs every 53 seconds in America. Strokes can be treated but time is critical- If you develop these or similar symptoms:
dial 911 immediately.
do not wait to see if your symptoms will go away.
Dr. Kerri Remmel, M.D., Ph.D. is Director of the U of L Hospital Stroke Center. Our unique Fast Track approach assures that you will receive the region's most rapid access to treatment through:
Immediate Stroke Center communication with EMS.
24 hour-a-day, 7 days-a-week access to a Stroke Center Team neurologist.
24 hour-a-day, 7 days-a-week access to State-Of-The-Art diagnostic and interventional neuroradiology.
A unique, multidisciplinary team of neurologists, cardiologists, speech pathologists, nutritionists, physical therapists and others to maximize your recovery

For more information on the stroke center
UofL Hospital Stroke Center
Or call 502-562-8009
For routine consultation or referral for stroke
Please contact us at:
Phone: (502) 588-4800
Fax: (502) 588-4801
UofL Physicians Outpatient Center
401 East Chestnut Street, Suite 510
Louisville, KY 40202

Patients and public information on stroke
http://www.strokeassociation.org
For more information on interventional neurology