Parkinson's Disease Buddy Program
An educational program that pairs first-year medical students with people diagnosed with Parkinson's disease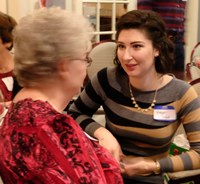 "PD Buddies" in the Parkinson's Disease Buddy Program meet for two to three hours each month over the course of the academic year. The buddies determine their own activities based on mutual interests and preferences. Buddies have met for bowling, meals, arts events and walks in the park. The program is a collaboration of UofL Physicians – Parkinson's Disease and Movement Disorders, University of Louisville School of Medicine, Parkinson Support Center of Kentuckiana, and Denise Cumberland of the UofL College of Education and Human Development.
The program aims to:
Educate medical students on Parkinson's and neurological disease
Help students understand the day-to-day challenges of living with Parkinson's disease and chronic neurological disorders, and to improve their knowledge and empathy skills
Introduce students to research and career opportunities in neurology and movement disorders
Encourage community outreach in medical students by means of "out-of-classroom" learning
Provide people with Parkinson's the opportunity to interact and share their perspective while educating the medical community
Improve sociability for people with Parkinson's
---
Who Can Participate?
Medical students in their first year at the University of Louisville School of Medicine who are willing to commit two to three hours a month to meet with buddies and attend mentor lectures by Kathrin LaFaver, M.D., on Parkinson's disease, diagnosis and treatment modalities, and communication with patients.
Individuals diagnosed with Parkinson's disease who are willing to commit two to three hours a month to meet with their medical student buddies.
---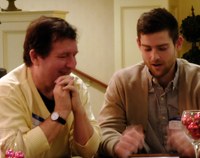 To participate in the program, contact:
Address: 315 Townepark Circle, Suite 100 Louisville, KY 40243
Phone: (502) 254-3388
Email: Outreach@parkinsoncenter.org
---
Outcomes
Focus groups are held to discuss student and patient experiences. The program has shown the following outcomes.
PD Buddy Years 1 and 2:
Students and patients met an average of seven times and rated the experience as overwhelmingly positive
Students improved their PD knowledge scores from pre- to post-test by 20.5 percent
PD Buddy Year 3:
Patients showed 24 percent improvement in self-efficacy scores and 12 percent decrease in social isolation scores.
Students improved their PD knowledge scores by 27 percent and friendship scores by 7 percent.
---

Comments from participants
"My buddy never thought about so many younger and older people having such a variety of symptoms. He now realizes that Parkinson's is not a one-size-fits-all-disease."
"It was rejuvenating to be around a young person. They energize you."
"First and foremost, they're going into medical school because they want to help people. If they could see us in a real life situation and see what we go through day to day, it would help them relate in the future to a real life situation."
"It helps me personally get that perspective of what it is like living with these illnesses, instead of how to treat these illnesses."
---
Media Links
American Academy of Neurology's Neuro Film Festival
Parkinson Support Center of Kentuckiana
---