---
Message from the Chair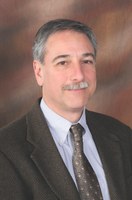 The year of SARS-CoV-2!   We had to adapt like everyone else.  Teaching faculty quickly pivoted to online instruction and research activity was restored to near-normal levels following a one month shutdown in Spring 2020.  Despite the distractions Department received new NIH funding in excess of $4M and graduated a near record 9 PhD students.   Our first-ever T32 program in "Inflammation and Pathogenesis", which supports 4 trainees annually, entered its third year with 3 trainees graduating in 2020.  We also welcomed Dr. James Collins, a new tenure-track Assistant Professor who studies enteric microbes and the environmental factors that affect their biology.
Items of Interest
Graduate Programs: M.S., Ph.D.
Final Application Deadline: March 1
Full consideration Deadline: January 15
Center for Functional Microbiomics, Inflammation and Pathogenicity
Center for Predictive Medicine 
Student Highlights
M&I Graduate Student Receives Commencement Honor 
Henry Nabeta, a Microbiology and Immunology graduate student and a Fulbright Fellowship recipient, was selected to bear the School of Medicine banner at the 2021 Fall commencement ceremony. Congratulations Henry! 
M&I Graduate Student Publishes New Findings in Frontiers 
Hazel Ozuna, M&I PhD candidate in the lab of Dr. Silvia Uriarte, was recently featured in the American Society for Microbiology's blog "Small Things Considered" for her paper titled "The Hunger Games: Aggregatibacter actinomycetemcomitans Exploits Human Neutrophils As an Epinephrine Source for Survival." Read the blog here.  
M&I Graduate Student Publishes New Findings in PNAS
Sarah Price, M&I PhD candidate in the Lawrenz Lab, recently published a paper in PNAS. Read more about the paper titled "Yersiniabactin contributes to overcoming zinc restriction during Yersinia pestis infection of mammalian and insect hosts" here.
Microbiology & Immunology Seminar Series
Microbiology & Immunology Seminar Series
Thursdays at 12:00 p.m. 
unless otherwise indicated
Faculty Highlights
Dr. Carolyn Roberson was awarded the 2020-2021 Gender Equity Award by the American Medical Women's Association. The Gender Equity Award honors outstanding contributions of medical school faculty who promote a gender-equal environment in the education and training of physicians. Additionally, Dr. Roberson received the 2020-2021 Golden Apple Award(s) from the Class of 2023 and from the Class of 2024. The Golden Apple Award is given to faculty who demonstrate outstanding teamwork, professional responsibility, and consideration of medical students. Congratulations Dr. Roberson!