Donghoon Chung, Ph.D.
Ph.D.
Korea University
Associate Professor
Address:  CTRB, Room 617
Center For Predictive Medicine
505 S. Hancock St.
Louisville, KY 40202
Phone Number:  502-852-5522
Cell: 205-616-1036
Email:  hoon.chung@louisville.edu
Current Lab Members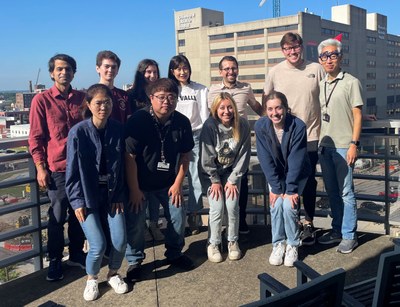 Brian Alejandro - Research Manager
Jennifer Kreanzle - Research Manager
Eunjung Kim - Research Technologist, Sr.
Namkyung Kim - Postdoctoral Scholar
Jinjoo Kang - Postdoctoral Scholar
Deepak Singh - Postdoctoral Scholar
Ava Pignataro - Research Technologist
Sidney Goedecker - Research Technologist
Koji Barnaby - Research Technologist
Austin Krueger - Research Technologist
Previous Lab Members
Andrew Skidmore - Ph.D.
Priya Dhole - Postdoc
Jihye Kim - Research Associate
Scott Adcock - Research Associate
Brooke Armenta - Research Associate
Research Interest
The research focus of Chung lab is to understand the biology of viruses that infect brain (i.e., neurotropic viruses). The primary focus is on medically important positive strand RNA viruses such as Venezuelan equine encephalitis virus, Chikungunya virus, West Nile virus and Zika virus. During the last six years, the lab has discovered two novel antiviral compounds that inhibit these viruses with specific mechanisms of actions.
In order to develop these compounds as a preclinical therapeutic candidate, the lab is investigating 1) the antiviral mechanism of actions of the compounds at the molecular level and 2) the evaluation of in vivo antiviral activity of the compounds. This effort is supported by an R01 grant by NIH.
The lab is also studying how neurotropic viruses interact with the brain cells. With collaboration with Dr. Hetman's group, the lab is studying how neurotropic virus invades the brains and what biological impacts neurotropic viruses make to the brain cells. The lab uses a variety of new in vivo and in vitro models to study the interaction between the neural cells and neurotropic viruses.
Selected Publications