University of Louisville Internal Medicine Residency Program
University of Louisville Internal Medicine Residency Program
---
---
---
Welcome from The Director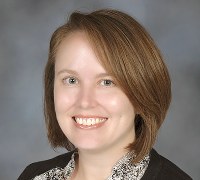 Jennifer Koch, M.D., FACP
Director, Internal Medicine Residency Program
When applicants come to visit us, I am often asked, "What sets UofL apart from other residency programs?"
Having trained in this program myself, and having been involved with its administration for the past ten years, it is difficult for me to choose what I love best about it! Simply put, our residency program trains well-rounded physicians who are ready for the next step of their careers – whether in general internal medicine or a subspecialty – in a fun and challenging environment.
Here are some of the highlights:
Excellent mentorship - Every resident is assigned to one of the program directors for professional mentoring throughout the three years of residency. Professional growth, studying for boards, fellowship applications...we cover it all.
Diverse pathology - Having two major teaching sites – a University Hospital that serves as both a tertiary referral center and a hospital for the local urban population, and a VA Hospital – guarantees a wide range of patient care activities. Jewish Hospital (a downtown community hospital) as well as several other private hospitals and doctors' offices round out our residents' experiences. Our residents feel prepared to take care of the "bread and butter medicine" as well as the "zebras!"
Collegial environment - Our residents and faculty are simply THE BEST!  We strive to create a learning environment that encourages a strong sense of teamwork. We have very high expectations for our residents, but we give you the tools to meet those expectations, and we have some fun along the way.
Balanced autonomy and supervision - Our graduates frequently tell us once they get "out in the world" they realize exactly how well they have been clinically trained. We attribute this to maintaining a careful balance between autonomy and supervision in our program.
Research Opportunities - Take a moment to check out the recent scholarly activity of our residents.
I look forward to reviewing your application and meeting you during the next interview season! Please do not hesitate to contact our office.

Jennifer A. Koch, M.D., FACP
Associate Professor of Medicine
Director, Internal Medicine Training Program