University of Louisville Internal Medicine Residency Program
---
---
---
Mission Statement
The mission of the University of Louisville Internal Medicine Residency Program is to provide comprehensive education in general internal medicine which fully prepares its graduates to practice compassionate and evidence-based medicine in a variety of settings. We strive to create a supportive and challenging learning environment that offers strong mentorship, values diversity and inclusiveness, encourages intellectual curiosity and lifelong learning, and teaches physicians to work in inter-professional teams and to realize their roles as advocates for their patients and in their communities.
The residency program is open to all eligible applicants regardless of race, color, national origin, sex, disability, or age.
Welcome from The Director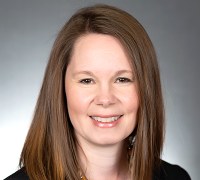 Jennifer Olges, M.D., MPH, FACP
Director, Internal Medicine Residency Program
Welcome to the University of Louisville Internal Medicine Residency Program web page. I am glad that you have taken a few moments to get to know us better.

I am often asked by applicants, "What sets UofL apart from other residency programs?"
Simply put, our residency program trains well-rounded physicians who are more than ready for the next step of their careers – whether that is hospital medicine, primary care or a subspecialty – in a fun and challenging environment.
Here are some of the highlights:
Excellent mentorship - Every resident is assigned to one of the program directors for professional mentoring throughout the three years of residency. Professional growth, studying for boards, fellowship applications...we cover it all.
Diverse pathology - Having two major teaching sites – a UofL Health - UofL Hospital that serves as both a tertiary referral center and a hospital for the local urban population, and a VA Hospital – guarantees a wide range of patient care activities.

UofL Health - Jewish Hospital

(a downtown community hospital) as well as several other hospitals and doctors' offices round out our residents' experiences. Our residents feel prepared to take care of the "bread and butter medicine" as well as the "zebras!"
Collegial environment - Our residents and faculty are simply THE BEST!  We strive to create a learning environment that encourages a strong sense of teamwork. We have very high expectations for our residents, but we give you the tools to meet those expectations, and we have some fun along the way. Check out our Instagram page to learn more about our residents.
Inclusion - The UofL Internal Medicine Residency Program is committed to creating a welcoming learning environment for ALL!
Balanced autonomy and supervision - Our graduates frequently share that once they get out into practice or fellowship training, they realize exactly how well they have been clinically trained. We attribute this in large part to a careful balance between autonomy and supervision in our program.
Research and Scholarship Opportunities - Take a moment to check out the recent scholarly activity of our residents.
City of Louisville - Louisville is a wonderful place to live!  Many residents live in areas that have the feel of a neighborhood but are conveniently located very close by the hospitals where they work. Louisville is the home of the world-famous Kentucky Derby, as well as a variety of other sports teams including the NWSL team Racing Louisville FC and the Louisville Bats baseball team. There are wonderful restaurants and festivals that occur throughout the year and Louisville is home to people from all over the world, creating a community that is very culturally diverse. Frequently named on "top ten" lists for everything from excellent food to the arts, including being named one of "The 10 Best Foodie Cities in the U.S." and a "Best City to Live in America in 2023," Louisville offers the amenities of a city but with the welcoming atmosphere of a town.
I look forward to reviewing your application and meeting you during the next interview season! Please do not hesitate to contact our office if needed.

Jennifer R. Olges, M.D., MPH, FACP
Associate Professor of Medicine
Director, Internal Medicine Training Program