Jennifer R. Olges, M.D., MPH, FACP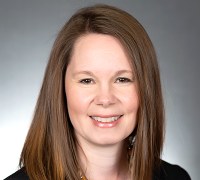 550 South Jackson Street, Ste. A3K00
Louisville, KY 40202
502-852-7040 - Academic Office

---
Clinical Expertise
Internal Medicine; Hospital Medicine
---
Board Certifications
American Board of Internal Medicine -
Internal Medicine
American Board of Pediatrics
Education and Training
Medical School: University of Kentucky
Residency: Loyola University Medical Center; Vanderbilt University Medical Center
MPH: University of Kentucky College of Public Health
---
Featured Publications
McKenzie C, Olges J. Jarisch-Herxheimer Reaction After Cephalosporin Administration in Syphilis. Cureus. 2021 Jan 17;13(1):e12750. doi: 10.7759/cureus.12750. PMID: 33643725; PMCID: PMC7885742.
Koch JA, Olges JR. Conferences Without the Conference Room: Adapting Residency Core Curricula After COVID-19. Am J Med Sci. 2020 Oct;360(4):325-326. doi: 10.1016/j.amjms.2020.07.002. Epub 2020 Jul 6. PMID: 32732080.
Pollock RA, Olges JR, Stewart DH. "Oxytocin hand": extravasation and vascular compromise after obstetrical pitocin. Plast Reconstr Surg. 2009 Jul;124(1):177e-179e. doi: 10.1097/PRS.0b013e3181a83c54. PMID: 19568068.
Olges JR, Murphy BS, Caldwell GG, Thornton AC. Testing practices and knowledge of HIV among prenatal care providers in a low seroprevalence state. AIDS Patient Care STDS. 2007 Mar;21(3):187-94. doi: 10.1089/apc.2007.0095. PMID: 17428186.