Testimonials
Annie Burns | Class of 2025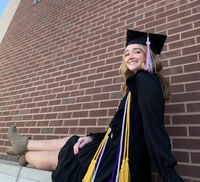 I chose U of L because of the incredible students and faculty I met while in the process of applying and interviewing. Everyone here is so welcoming and willing to help with anything you need! There are also so many different clinical rotations, giving us the opportunity to interact with a diverse patient population. We are able to be so hands-on in the clinic early in our program to help us prepare for externship and our career!
Kingsley Warrington | Class of 2024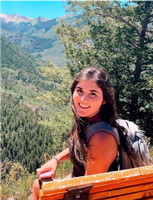 The Audiology program at UofL has already made a lasting impression and continues to exceed expectations. This program truly offers so much in terms of unmatched clinical opportunities, a faculty that wants you to succeed, and a great environment inside and outside of the classroom. As a first year, I have already been exposed to a variety of clinical cases during my clinic rotations that truly make me excited to be an Audiologist. From vestibular to pediatrics, I have been able to see so much more than I was expecting during my first semester. The supervisors offer support and feedback in these settings that has enabled me to become confident in my skills when presented with any situation. The faculty and students in the program truly care for one another. Everyone wants the other to succeed in all aspects of life during this program. The city of Louisville also offers so much in terms of places to go and things to do during your free time, and the older students were more than happy to tell us about all of their favorite places! I could not be happier with my decision to come to the University of Louisville.
David Yeager | Class of 2024
The combined academic, clinical, and research opportunities at the University of Louisville audiology program are truly one of a kind. UofL offers three inside clinical placements where you can see a variety of different appointments from the typical audiological evaluation, to vestibular appointments, electrophysiological testing, cochlear implant evaluations and fittings, and so much more. The program's location provides students with the opportunity to work with an extremely diverse population of patients, and students will have the opportunity to work closely with other medical professionals, including ENT physicians and residents. I would argue that UofL has some of the best faculty members and clinical supervisors in the field. The supervisors treat students as colleagues first and take on more of a "mentor" role, rather than just an instructor. This allows students to confidently apply what they've learned in class to procedures in the clinic. The structure of the academic coursework in the first year provides students with the information they need to succeed in running appointments in their second year. Lastly, the bonds created between students in the program help you to get through your toughest days, and inspire you to be the best student clinician you can be. I am so excited to see what the next 3 years will bring!
 Elizabeth Medlock | Class of 2023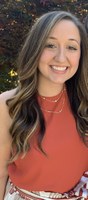 The audiology program at UofL has exceeded all of my expectations by far. My favorite part is the faculty. They are always available and willing to help whether it's classwork, clinical, or research. They are all experts in their field and are always sharing their knowledge with us. As a first-year student, I have learned more in my first semester here than I even thought was possible. The clinic experience here is unmatched. You are placed on a clinic rotation your very first week and you learn so much that way. I am constantly learning from my clinic supervisors and establishing patient care from my first day of graduate school onward. I am excited to continue in the program and to pursue the opportunities that UofL has provided for me. Also, Louisville is such a fun city with a ton of events happening every weekend. From Derby to the beautiful parks to the food scene- Louisville has it all! I couldn't be happier with my decision to choose UofL audiology. 
Victoria Bohrer | Class of 2023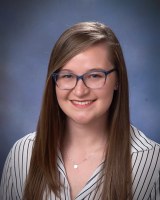 Our AuD program here at UofL truly is "all in." From your first day of the first semester, you are enveloped in an incredible amount of passion and experience. This enthusiasm is not only exuded by the clinical and academic faculty, but also by fellow students in the program. It truly feels like a family. The school work is challenging, but the camaraderie between the instructors and the students leads to a comfortable learning environment both in class and in clinic. You will see so many different sides of the clinical experience: pediatrics, vestibular evaluation and testing, cochlear implants, and more. Being able to experience all these important aspects in audiology has not only helped me to become more confident in my own knowledge and skills, but has also grown my love for the field. I am so happy with my decision to attend UofL, and I cannot wait to continue my time here with multiple and diverse clinical settings, supervisors who truly want their students to learn, and experience in nearly every corner of the field of audiology. The program at UofL is one that is truly unique!
Clarissa Story | Class of 2022

University of Louisville is different. I know a lot of people will say that about their University - but UofL really is different. Every faculty member has a different interest in research, so you can explore any facet of audiology. Every supervisor specializes in different things, so every clinic day is unique. The students are helpful and supportive - not competitive or prideful. I am a transplant from Utah and I was late to getting to UofL. I barely made it to orientation, however once I arrived, it felt like I had been there for years. The faculty are very knowledgable about the subjects they teach. I'm never afraid to ask a question or clarification because I feel respected as student. The inside and outside clinics are clean and encourage hands-on learning. By my the end of my first year, I felt comfortable running entire appointments and was coming to conclusions and recommendations on my own. Louisville has become my home and I'm proud to be a Cardinal. So, if you want a place thats different - this is your place. 
Scott Capece | Class of 2022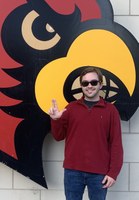 My experience in the University of Louisville AuD program has been nothing short of unforgettable. When I first applied to UofL, I was informed of the outstanding clinical experience the program has to offer. After getting started in the clinic as a first-semester first-year, I quickly realized how true that was. The UofL audiology program offers a vast array of opportunities in every clinical setting which is incredibly helpful when narrowing down main areas of interest. Both the clinical and academic faculty genuinely care about every student and want nothing more than to see each and every one of us succeed. My fellow students and future colleagues have also been welcoming and supportive throughout my time here. Whether I had to overcome a setback in my research project or become a more adept audiologist, my supervisors and classmates have been there every step of the way. I will proudly represent the UofL program wherever my career takes me.
---
Beth Rosen | Class of 2021
Choosing the University of Louisville is one the best decisions I have ever made. From the first moment stepping onto campus on interview day, I knew that this program was something special. The clinical experience at UofL is unmatched by any program.  I was looking for a program with a heavy clinical emphasis, and that is exactly what you get here! We're in clinic from day 1 and in our on-campus clinic, you can see every aspect of audiology imaginable, from pediatrics to geriatrics; cochlear implants to vestibular testing! The faculty at UofL are exceptional. The student body is a family, but we're also a family with our faculty. As I prepare for my externship, I am leaving UofL not with professors and supervisors, but with colleagues. Aside from the program itself, Louisville has everything to offer: great food, festivals all around town and of course, Churchill Downs! The experiences that I have had in Louisville exceeded all expectations and make it hard to leave, but because of the opportunities at I have had at UofL, I am going to my externship confident and prepared! I am so grateful for everything this program has done for me and I can't say thank you enough!
Lauren Langan | Class of 2021
Choosing to attend UofL to pursue my Doctor of Audiology has been one of the best decisions I've ever made. The clinical and academic experiences I have had thus far is truly like no other.  Clinically, we are exposed very early on (day 1) observing all kinds of appointments from basic diagnostics to electrophysiology to cochlear implants to vestibular. It really makes this program difference gaining experience in so many different areas. Academically, we front-load clinic-type classes in the first year. It was so great learning topics in the classroom while seeing it in the clinic. For me, that was the best way to learn! 
Of course, it's not just audiology that has made coming here so special. I have made life-long friends. I knew the second I stepped on campus during the interview, this program was one big family. Being far away from home, that was something that really was important in making my decision. On top of that, living in Louisville has been amazing. There is so much to do: Churchill Downs, music and art festivals, the beautiful parks and probably the best part about Louisville is all the good food!!
Marisa Carrozza | Class of 2021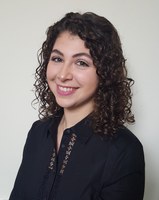 The graduate program here at University of Louisville is everything I wanted from a graduate program and more.  The clinical experiences we are exposed to here are unparalleled and we are immersed in the university clinic sites during our first semester.  I have already learned so much from our wonderful faculty and supervisors and, if you are looking to be a clinical audiologist, you cannot find a better clinic experience than ours here at UofL!  I am so grateful to be a part of the School of Medicine and have access to so many amazing resources.  I could not have asked for a better graduate program and I am so excited to see where it takes me!   


Caitlin Holliday | Class of 2020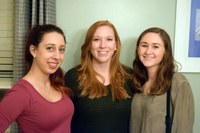 I chose to pursue audiology at the University of Louisville due to the program's strong emphasis in blending academics and clinical experience.  The professors, clinical faculty, and students have been nothing but inspiring – always willing to answer questions, offer advice, and share their passion for audiology.  Additionally, my own classmates have become wonderful friends and a huge support system for me in what feels like such a short amount of time.  The audiology program here at UofL continually facilitates educational, professional, and personal growth.  I have been incredibly fortunate to hold leadership roles within SAA, gain hands-on experience in the full scope of audiology practice, attend a mission trip and a student workshop, participate in the newborn hearing screening program, and much more!  Thanks to the confidence and education that have been fostered here at UofL, I truly look forward to where my journey will take me as an audiologist and the impact it will allow me to have on both my patients and community.
Brooke Dillard | Class of 2020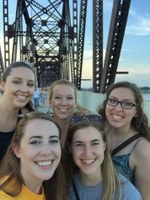 When considering where to pursue my Doctor of Audiology degree, I found that no other programs compared to the University of Louisville.  I love that I was able to get hands-on experience in clinic almost immediately!  We have a wide variety of clinical sites with diverse patient populations.  By the end of my second year, I had rotated through the university's hearing and balance clinic, performed sedated ABRs at the children's hospital, observed a cochlear implant surgery, and worked in a private practice setting.  Our student audiology lab is fully equipped and available to us 24/7, which I found extremely beneficial throughout my first year.  Another factor which drew me to UofL was the camaraderie between students; everyone is willing and eager to help each other succeed.  It was also important to me to find a city that I could enjoy living in, and Louisville has so much to offer!  Louisville has lots of amazing food, music and art festivals, beautiful parks, and is home of the Kentucky Derby.  I am incredibly grateful for the opportunities UofL has provided me and for the wonderful people I've met along the way.
Jessica Graham | Class of 2019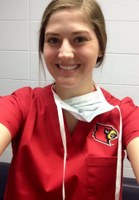 My decision to attend the University of Louisville has been one of the best that I have made! The program, faculty, academia, and clinical experience has far surpassed what I initially expected upon my admission to the program. I also appreciate that this clinically-based program has given me opportunities to succeed in research. Creating and completing unique projects have been great ways to challenge what I have learned in the classroom and has encouraged me to incorporate the important skill of using evidence-based practice. SAA, our student organization, supports the camaraderie of our students and grants opportunities to move into leadership roles. My experiences here have certainly helped to mold me into a competent and compassionate (future) audiologist! Thanks UofL!
---
Click the video below to hear some more testimonials from our students!