Mission Statement
Mission of the University of Louisville Program in Audiology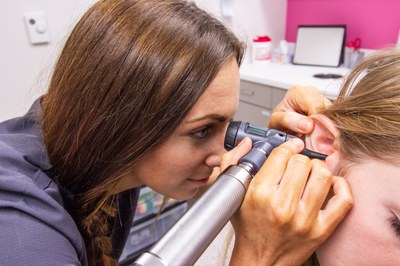 To be a vital component in the University of Louisville's quest to become a premier, nationally recognized metropolitan research university and to excel in the education of audiologists for careers in teaching, research, patient care and community service.
To achieve this mission, the Program in Audiology will continually seek improvement and excellence within the four pillars of Education, Clinical Care, Research, and Community Engagement.  We will:
Provide the highest quality professional education for our students on the academic and clinical foundations of audiology in a way that conforms to the national standards and promotes critical thinking
Deliver evidence based patient-centered care in all aspects of audiology practice,
Conduct clinical research that contributes to improved patient outcomes and includes dissemination of findings to the national and international professional community, and
Engage in the community via partnerships and collaborations.
Goals of the Program in Audiology
To fulfill this mission, the Program in Audiology will promote the following professional practice competencies in all students: 
Faculty will model accountability and integrity in all clinical encounters.
Students will have the opportunity to achieve effective, empathetic and culturally-competent communication skills through practice in the classroom, standardized patient encounters, and via mentored patient and family contact in the clinic.
Opportunities to practice clinical decision making and to make evidence-based recommendations will occur in both the classroom and the clinic.
Professional duty and collaborative practice will be discussed in the classroom and modelled in the clinic.
Revised August 31, 2017.