Commute Green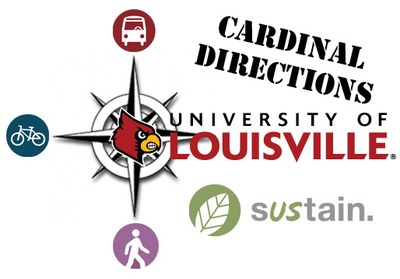 Parking pains?! Take a load off yourself and the planet! Consider these more sustainable alternatives for getting to campus! discover all of your transportation options with UofL's Cardinal Directions trip-planning and carpool-matching service!
Free Transit
The University of Louisville encourages students and staff to take full advantage of a major benefit of being part of Card Nation: Free transit throughout Louisville - anywhere, any time, for any reason. The university, as part of its larger agreement with the Transit Authority of River CIty (TARC), provides bus service free of charge to all students, staff and faculty. Simply swipe your valid university identification card as you board.
Bike to Campus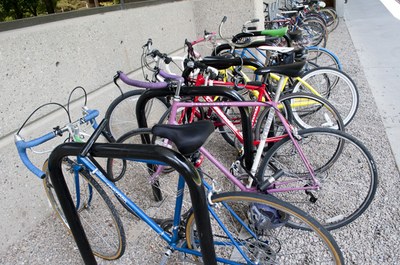 The University is proud to have been recognized by the League of American Bicyclists as a Bicycle Friendly University! We provide ample bicycle parking at racks located at nearly every building on all three of our campuses, as well as do-it-yourself bike fixit stations with tools and a pump across Belknap campus and the Health Sciences Center. Find all of them, as well as BikeShare locations on our UofL Bike Facilites Map. Please note that bike theft is a significant concern at UofL. Bicyclists are urged to always lock unattended bikes to a bike rack using a sturdy secure u-lock (cable locks have often been found cut by thieves). Bikes should not be locked to anything other than provided racks as they may cause a safety issue.
Don't get your bike stolen! Lock Properly:

Bicycle Registration
All bicycles on University property must be registered. It's free and it helps you recover your bike in the event of theft or impoundment. To complete registration process, you'll need your bicycle's serial number which is stamped into the metal frame (usually under the crank axle bottom bracket).
Register your bicycle with UofL here.
Bicycle Safety
(Courtesy of the Kentucky Bicycle and Bikeways Commission)
Wear a properly sized and fitted helmet for every ride and always use lights at night.
Conduct an ABC Quick Check before every ride.
Obey traffic laws: ride on the right, slowest traffic farthest right.
Ride predictably and keep visible at all times.
At intersections, ride in the right most lane that goes in your direction of travel.
Scan behind you and signal lane changes and turns.
Be prepared for mechanical emergencies with tools and know-how.
Control your bicycle by practicing bicycle handling skills.
Drink before you are thirsty and eat before you are hungry.
Get more tips about biking for transportation and learn what UofL bike commuters need to know!
Bicycle Safety, Bike Rack Locations and additional information
Go Multi-Modal!
Ride your bike to and from the bus stop and put your bike on the bus! All TARC buses are equipped with convenient bike racks. Learn how to take your bike on any TARC bus.
Set up Carpools or Vanpools
Use the Cardinal Directions trip-planning and carpool-matching service to search for or offer rides in carpools anywhere you need to go in the greater Louisville area! More information about carpooling to UofL here.
Those interested in joining or starting a vanpool have two options:
Commute by Enterprise is a service for forming smaller vanpools of just 4 or more people who commute 20+ miles to UofL. The program requires at least a 3 month commitment, but offers a wide variety of vehicle options, insurance, maintenance, weekend vehicle access, a guaranteed ride home program, roadside assistance & loaner vehicles.
Every Commute Counts (a program of KIPDA) also organizes vanpools for larger groups of 7‐15 people that commute to and from work (at least 30 miles total each day) in a van provided and maintained by the program.
How big is your carbon footprint?
Pollution from vehciles is a major cause of global climate disruption. Take a personal pollution inventory and see how you can help.
Even as a driver, you can help us reduce pollution and improve air quality by turning off your engine while waiting for someone, stuck in traffic, or stopped at a railroad crossing. In fact, it's our policy: UofL's No Idling Policy