By 
JANET CAPPIELLO
 - OCTOBER 4, 2021
University of Louisville researchers are helping the Louisville Metro Department of Corrections by analyzing jail data that could help decide future criminal justice reforms.
Their research is part of a nationwide project looking at jail population trends across the nation through the Research Network on Misdemeanor Justice, a project of the Data Collaborative for Justice at John Jay College in New York City. The network consists of seven cities where researchers study lower-level enforcement trends to help communities address issues such as jail overcrowding.
A recent report, "Understanding Trends in Jail Population in Louisville Metro, Kentucky: 2010 to 2019," was written by Tom "Tad" Hughes, UofL criminal justice chairperson and associate professor; Heather Ouellette, UofL assistant professor in criminal justice; and Brian P. Schaefer, assistant professor of criminology and criminal justice with Indiana University Southeast. It was released July 30 by the DCJ.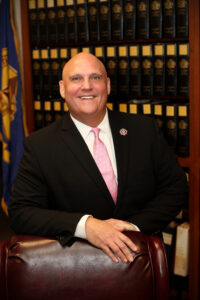 It found that inmates in the metro Louisville jail from 2010 to 2019 were fewer in number but stayed longer due to many factors. Among them were the inability to post bail; inmates being charged with more serious offenses; and longer wait times to transfer to overcrowded state prisons. Overall, the report found that while annual admissions at LMDC decreased 35% during the period, average length of stay increased by 60%.
Dwayne Clark, director of LMDC, praised the research partnership.
"Before COVID-19, we were already working hard to reduce strain on the system and the pandemic has further illustrated the danger of jail overcrowding," Clark said. "Research partnerships like this will help ensure that future improvements to our justice system are backed by data, not anecdote."
The report was made possible through the support of the Pew Charitable Trusts.