By IDAYA GAGER -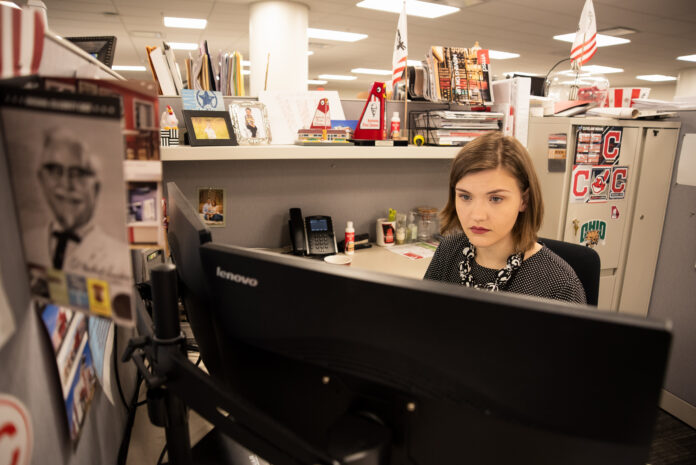 The COVID-19 pandemic has had an impact on health guidelines, business operation procedures and how students are able to receive their education. But for UofL students, the pandemic hasn't dampened one vital area of the college experience – experiential learning opportunities.
According to the University Career Center, internships, co-op and experiential learning listings for 2019-2020 increased by 72% over the previous year. The bulk of the listings increased prior to the pandemic, but while COVID-19 stalled the workforce, it didn't stop Cardinals from seeking and finding outside-the-classroom opportunities – even if they looked a little different.
Stuart Esrock, faculty-in-residence at the University Career Center, and Bill Fletcher, director of the University Career Center, acknowledge the increase in experiential learning opportunities during a global pandemic is surprising, but they say it makes sense from an economic perspective.
Listings of internships and co-op opportunities initially took a dive in March and April, when stay-at-home orders were issued, but the center began to see a slight increase in June. "Some of that increase in June was really because we began to see an increase in the economy overall," Esrock said.
The increase is good news for students. UofL strongly encourages adding a real-world component to the undergraduate experience. Participating in internships and co-ops helps students build a skill set that extends past a classroom setting, network with future colleagues and business contacts, discover what they are passionate about and what they dislike, and earn work experience while still completing an undergraduate degree
Fletcher and Esrock said experiential learning offers a well-rounded educational experience, but most importantly, sets UofL students apart in the competitive job market. That's even more crucial as the pandemic continues to affect the workforce. As Fletcher believes it will take longer than expected to recover economically from the pandemic, he stressed the importance of gaining work experience where available.
He added that the University Career Center has adapted its services to make sure students are prepared for a new sense of workplace normalcy, when everything from interviews to hiring is being done virtually.
The center has a plethora of resources to prepare students for the virtual workplace. It has virtual interview etiquette tips, mock interviews, appointments with a career coach, resume review, and other resources to help students figure out what career path they are interested in pursuing.
"We want to give students a realistic view of what's going on in the world right now, about the job market, but we don't want them to give up hope," Esrock said.