UofL Chemistry Graduate Program Virtual Discussion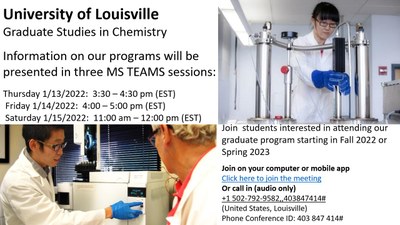 -
On behalf of the Chemistry Department at the University of Louisville, I want to let you know that we will be conducting virtual chemistry graduate recruitment sessions this Thursday, Friday, and Saturday for Fall 2022.
 01/13/2022, Thursday, 3:30 pm - 4:30 pm (EST)
01/14/2022, Friday, 4:00 pm - 5:00 pm(EST)
01/15/2022, Saturday, 11:00 am - 12:00 noon(EST)
 At the University of Louisville, we have a state-of-the-art research facility with more than 17 faculty members in various divisions currently accepting new graduate students. The cutting-edge research in these groups is significantly funded by NIH, NSF, DoE, and the world's top pharmaceutical industries (Novartis, NIBR, AbbVie, Takeda, Biohaven, etc.). Our graduate researchers publish their research in high-impact journals (JACS, Angewandte, Nature Communications, Chem, ACS Energy Letters, ACS Catalysis, ACS Nano, Nano Letters, Organic Letters, etc.). Their impactful recent research is highlighted in C&E News and other national magazines. After Ph.D., they join prestigious institutes, national labs, and industries.
In virtual recruitment sessions, we will provide more information about our graduate program, applications process, faculty research, student support, and careers after degree completion. Students need not attend all sessions. We provided the option of multiple days recruitment fairs to students to find the time suitable for them to participate in the one. 
Please see the Teams link below to participate in the virtual recruitment session.
Microsoft Teams Meeting
Join on your computer or mobile app
Click here to join the meeting
Or Call in (audio only)
+ 1 502-792-9582,,403847414#   United States, Louisville, Kentucky
Phone Conference ID: 403 847 414#
Find a local number | Reset PIN

Times:  Thursday 1/13/2022:  3:30 – 4:30 pm (EST)
            Friday 1/14/2022:  4:00 – 5:00 pm (EST)
           Saturday 1/15/2022:  11:00 am – 12:00 pm (EST)
same  link for all times