Current and Prospective Students
What to expect from eQuality as a medical student at UofL
Current students experience an integrated curriculum that treats the care of LGBT, GNC, and DSD-affected patients as typical and normal within your patient population. While some educational models place this content as separate from the rest of the curriculum (e.g., in an elective or stand-alone week of learning), eQuality integrates this information throughout the curriculum to reinforce the core stance that a competent physician is skilled in the care of all patients within the community and can approach each patient with sensitivity, compassion, and the knowledge necessary to promote health and wellness.
Current students can expect to learn about the care of LGBT, GNC, and DSD-affected patients from a range of teaching faculty and staff across many courses, including the basic sciences. When learning about fetal development, for example, you will learn about differences in sex development.  When learning how to take a patient history, you will learn specific skills to communicate effectively with and affirm transgender patients. The information and skills you learn with this curriculum provide insights into the unique needs of the LGBT, GNC, and DSD populations, but these skills are transferrable to providing excellent patient care for all patients of all backgrounds.
While most LGBT, GNC, and DSD content is currently integrated into the first and second years of your medical school experience, this content is currently being integrated throughout the clerkships as well. The following clerkship programs are reviewing their materials to ensure inclusiveness of LGBT, GNC, and DSD populations and targeted learning experiences:
Psychiatry
Pediatrics
Ob-Gyn
Many faculty members did not have access to this LGBT, GNC, and DSD health education during their medical training.  Professional development for the faculty members you work with on clerkship is a key component of eQuality to ensure that your clinical experiences are consistent with the curriculum you experience in the first and second year. Grand Rounds on topics related to LGBT and DSD patient care have already taken place in the following departments:
Health Educator's Grand Rounds: A Leader's Role in Addressing LGBT Health (9/24/2014)
Health Educator's Grand Rounds: Working with LGBT Patients: A Practical Skills Based Training for Health Professionals (9/24/2014)
OB/GYN Grand Rounds: Endocrinology and Management of Transgender Patients (10/3/2014)
Medicine Grand Rounds: Incorporating Transgender Care into Everyday Primary Care (9/10/2015)
OB/GYN Grand Rounds: Transgender Healthcare Considerations for Gynecologists (8/7/2015)
Health Educator's Grand Rounds: An Interprofessional Panel Presentation on Best Practices in Transgender Health Care (6/11/2015)
Health Educator's Grand Rounds: Evidence-based Transgender Medicine (9/11/2015)
Health Educator's Grand Rounds: Understanding LGBT Health Disparities: How you can be part of the solution (9/30/2015)
Endocrinology Grand Rounds: Gender Variant and Gender Dysphoric Youth (2/24/2016)
Family & Geriatric Medicine Grand Rounds: Introduction to Care of the Transgender Person (2/19/2016)
Endocrinology Grand Rounds: Gender Variant and Gender Dysphoric Youth (2/4/2016)
Endocrinology Grand Rounds: Disordered Eating in Transgender Individuals: Fact or Fiction, and Why We Should Care (10/26/16)
Resident-specific trainings have also been provided to the following departments on behalf of the LGBT Center:
Radiology
Pediatrics
Medicine – Pediatrics
Family Medicine Geriatrics
Emergency Medicine
Ears, Nose, Throat
Psychiatry
Trainings for clinic staff (such as front desk staff, billing and medical assistants) on LGBT cultural competency have been completed on behalf of the LGBT Center in the following departments:
Internal Medicine
Family Medicine
Psychiatry
Pediatric Endocrinology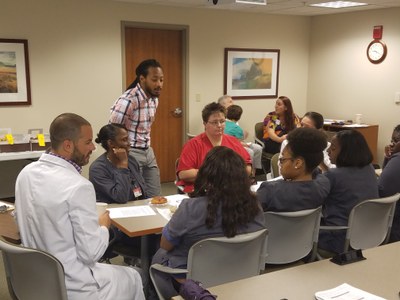 Both current and prospective students can expect this training to continue to expand into the clinical realm to ensure a consistent educational experience. If you are interested in an intensive clinical training in LGBT, GNC, and DSD patient care, you can request to work with specific faculty who have developed extensive expertise and have concentrated LGBT, GNC, and DSD patient populations.
3rd Year: Contact the Clerkship director to request pairing with the following providers:

Internal Medicine – Clayton Smith, MD
Family and Geriatric Medicine – Eli Pendleton, MD

4th Year: Request an elective rotation with Sherri Gary, Senior Academic Coordinator, with the following departments and providers:

Pediatric Endocrinology – Suzanne Kingery, MD
Child & Adolescent Psychiatry - Christine Brady, PhD
Reproductive Endocrinology and Infertility – Kelly Pagidas, MD
Campus Climate
Many prospective students ask about the ULSOM climate in regards to LGBT-inclusion and friendliness. Research indicates that medical schools have historically not been a welcome place for LGBT individuals to "come out" to fellow students, faculty, or staff during the application process, classes, or clerkships. To address this concern, we conducted an Institutional Climate Survey in spring 2016 to gauge the environment for LGBT issues and experience of LGBT community members on the UofL the Health Sciences Center campus (including ULSOM).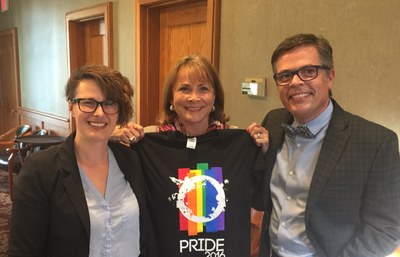 The survey was administered as part of eQuality by the LGBT Center HSC Satellite Office. Overall, 360 individuals across HSC completed the survey, 266 of whom were from ULSOM.  One of the key outcomes of this Institutional Climate Survey is that many participants reported feelings of pride that ULSOM was working to improve the climate for LGBT people. Other key findings include:
1. 73% of LGBT participants believe that UofL HSC promotes and encourages people of all sexual orientations; however, 43% of LGBT ULSOM participants would avoid disclosing their sexual orientation or gender identity to instructors, supervisors, or administrators
Recommended UofL Response:

Ally Campaign

targeting faculty and staff.
Results: LGBT Center developed and implemented an Ally Campaign generated an overwhelmingly positive response:
Photos of all four health sciences deans demonstrating their commitment to LGBT inclusion were placed on rotation on electronic billboards
600 ally symbols such as rainbow lapel pins and stickers were requested from staff, faculty, and students across the health sciences campus
Three Safe Zone trainings for faculty and staff with 42 participants total
2. 75% of LGBT ULSOM participants were not aware of any inequities based on sexual orientation in their unit/department; however, 63% of LGBT ULSOM participants had heard an insensitive or disparaging remark or observed discriminatory behavior at least once on campus directed at LGBT persons, compared with 22% of non-LGBT ULSOM participants.
Recommended UofL Response: Develop and implement

bystander training

to help allies feel prepared to speak up when they are aware of discriminatory remarks or behaviours.
Results: LGBT Center and SOM faculty developed and implemented three Bystander Training sessions for students, faculty, and staff.

Attendance by 145 participants total
Training was inclusive of discrimination based on many identity markers (not just LGBT status)
Students requested to make this training part of their required curriculum
Other markers of our positive climate for the LGBT community are:
The number of faculty and staff who sign up on the Ally List, available at the LGBT Center's website.
The inclusive policies at the University of Louisville protecting LGBT people from discrimination.
The Five Star rating earned by the University of Louisville for LGBT inclusion by Campus Pride.
Support of several LGBT-themed student groups on campus, including HSC Pride on the HSC campus. (To learn about upcoming meetings, email: uoflhscpride at gmail.com.)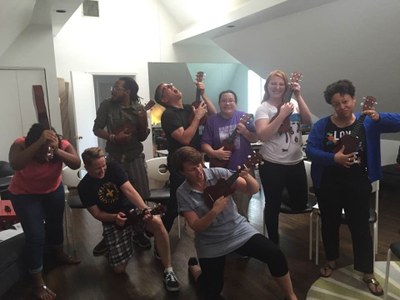 If you would like to talk about LGBT-inclusion at the University of Louisville School of Medicine please contact Bláz Bush, Director of the LGBT Center's Satellite Office on the Health Sciences Campus (Blaz.Bush at Louisville.edu). More about Bláz and the Center here.