Our LGBT Center Staff
Lisa Gunterman is the Director for the LGBT Center on our Belknap campus. A lifelong social justice organizer with nearly 30 years of experience in non-profit, social justice and government sectors, Lisa brings a wealth of experience and passion to the job. As a co-founder of Louisville's Fairness Campaign, Lisa played a key role in passing the city's ordinance banning discrimination based on sexual orientation and ensuring the inclusion of protections based on gender identity and expression. Primary responsibilities for the Center include directing programs like Pride Week, PINK, Alternative Thanksgiving, educational trainings, organizational strategy and fund development. Honors include: "Best of the Best", Louisville Magazine, 2019; Inaugural Rainbow Flag Raising Ceremony, Metro Hall, Louisville Mayor Greg Fischer, 2019; 20th Anniversary Fairness Ordinance Exhibit, Louisville Free Public Library, 2019; Congressional Recognition, Congressman Yarmuth, 2011; Co-Grand Marshall, Kentuckiana Pride Parade, 2011; Distinguished Citizen, Louisville Mayor Greg Fischer, 2011; Youth Service Worker Award, Louisville Mayor Dave Armstrong, 2000; Certificate of Merit, Louisville Board of Aldermen, 2000; Stonewall Award, Louisville, 1993. 
Pronouns: any or my name
You can reach Lisa by email here.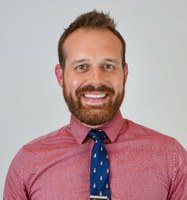 Bláz Bush serves as the Director of the LGBT Center on our Health Sciences Center Campus. A graduate of the University of Oklahoma, Bláz has a Master's degree in Education specializing in Community Counseling. His career in LGBTQ Healthcare began almost a decade ago with the New York Blood Center's Project Achieve recruiting and counseling individuals on HIV Vaccine research, sexual behavioral health research, and HIV/AIDS testing. He most recently served as the Director of Care Coordination at Callen-Lorde Community Health Center, one of the largest LGBT Community Health Centers in the world serving 18,000 LGBT patients annually in a fully integrated health model. At Callen-Lorde, Bláz oversaw a passionate team of forty case managers, patient navigators, and prevention and outreach counselors. He also led the health center in a number of pivotal initiatives including improving community HIV viral suppression rates, rapid treatment for HIV, developing interventions to improve community outcomes by addressing social determinants of health, and assisting in the creation of a transgender gender affirming surgery psychoeducational clinic. His primary responsibilities for the LGBT Center include strategic planning for the Center's HSC activities, coordinating the eQuality Project with the School of Medicine, developing new partnerships with HSC faculty, staff, and students, and providing training on LGBT health topics to all schools on the Health Sciences Center campus. Bláz also brings a passionate dedication to work with the community, faculty and staff to develop and open the University of Louisville LGBTQ Health Clinic.
Bláz uses He/him/his pronouns.
You can reach Bláz by email here.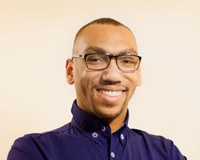 Aaron Weathers is the Assistant Director for the LGBT Center Health Sciences Campus. As a 2013 graduate of the University of Louisville, Aaron was a member of the UofL Debate Team and an active student in the LGBT Center's early days. As a co-founder of the student organization, Blkout, Aaron was a recipient of the Katy Garrison LGBT Student Leadership Award. Aaron holds his Bachelor's in Pan-African Studies with a concentration in women, gender, and sexuality studies. He received his Master's in Communication from California State University Fresno in 2017.
Aaron uses he/him/his or they/them pronouns interchangeably. 
You can reach Aaron by email here.  
Katy Garrison is the Assistant Director for the LGBT Center Belknap campus. An activist, mentor, and 2011 graduate of the University of Louisville, Katy played an active role in the launch of the LGBT Center in 2007. She holds a Bachelor's degree in Sociology with minors in Communication and Women and Gender Studies and is currently pursuing an MS in Health Administration from the U of L School of Public Health and Information Sciences. In 2010 she was hired as U of L Health Promotion's first-ever LGBT Liaison. Upon graduation, she received the Katy Garrison LGBT Student leadership award for her work and devotion to the university and the LGBT campus community. She currently serves as adviser to the Bayard Rustin LGBT and Social Justice Themed Housing Community, adviser to Transformations and Aces & Aros, coordinator and facilitator for the Speak Out Team, and primary trainer for the Safe Zone Project on the Belknap Campus.  
Katy uses she/her/hers pronouns.
You can reach Katy by email here.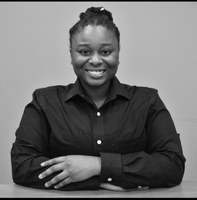 Amberli Seay serves as Program Coordinator, Sr. for the LGBT Center on the Belknap Campus. After graduating from Louisville Central High School, Amberli earned a Bachelor of Arts from the University of Louisville where she majored in Pan-African Studies and Communication. In 2019, Amberli graduated with a Master of Science in Social Work and a Master of Arts in Pan African Studies.
Amberli uses she/her/hers pronouns
You can reach Amberli by email here. 
Goldie Latta is the Administrative Assistant for the LGBT Center on the Belknap and Health Sciences Campuses. A graduate of the University of Louisville, Goldie received their Bachelor's degree in Music, with a minor in Mathematics. Goldie comes to the LGBT Center after spending five years providing advocacy and support to survivors of intimate partner and sexual violence. Noticing a need for knowledge and skills in working with LGBTQ+ survivors, Goldie led efforts to examine policies, coordinate outreach events, and develop trainings on how to cultivate safe and accessible environments for trans survivors in Kentucky.
Goldie uses they/them pronouns.
You can reach Goldie by email here.