Our LGBT Center Staff
Belknap Campus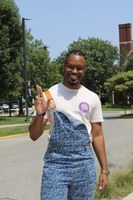 Byron Terry (he/they) is the  Director, for the LGBT Center on the Belknap Campus. Originally from Paducah, KY, Byron earned BA in Psychology and Communication from the University of Louisville. During his time as an undergrad Byron served as President of the National Association of Black Journalists and was a member of the Phi Eta chapter of Omega Psi Phi. Byron continued his education by earning Masters degrees in Urban Studies and Clinical Mental Health Counseling from Northeastern Illinois. Byron has previous higher education experience working as the Diversity Coordinator at Governors State University and a Student Support Counselor at The Chicago School of professional Psychology, where he coached and mentored students, provided crisis referrals, designed and facilitated trainings, directed large-scale events, organized a food pantry, and advised student groups such as the Black Student Union and LGBTQ+ Registered Student Organizations (RSOs). Additionally, Byron served as a Mayoral Fellow for Chicago Mayor, Lori Lightfoot; AmeriCorps Vista with the Illinois Campus Compact Program; practicum intern with the Anti-Violence Project; and a volunteer for the Center on Halstead, Chicago's LGBTQ+ center.
You can reach Byron by email, here.
Goldie Luxe (she/they) works for the LGBT Center on the Belknap Campus. A graduate of the University of Louisville, Goldie received their Bachelor's degree in Music, with a minor in Mathematics. Goldie's background is in providing advocacy and support to survivors of intimate partner violence and transgender Kentuckians. Goldie has provided advocacy in a variety of settings including crisis lines, emergency shelter, hospitals, universities, etc. She has  provided policy consultation, coordinated outreach events, and developed trainings for several organizations such as the Kentucky Coalition Against Domestic Violence, The Center for Women and Families, the LGBTQ+ Healthcare Network, and several University of Louisville departments. She currently serves on the advisory board for Kentucky Health Justice Network. Goldie spends her free time with their sweet pitbull and cat, as well as caring for plants and studying astrology.
You can reach Goldie by email here. 
Looking for support from Goldie? Click here to schedule a meeting!
Health Science Center (HSC) Campus
Lisa Gunterman (any pronouns, or "Lisa"), joined the LGBT Center team in 2011, and serves as the director of the LGBT Center, Health Sciences Center (HSC). Lisa transferred to the HSC role in the fall of 2022, after serving as the director for the Belknap office since 2016. With 30 years of combined experience in academic, non-profit, government, and LGBTQ+ advocacy sectors, Lisa brings a wealth of knowledge to the position. As a co-founder of Louisville's Fairness Campaign and their first employee, Lisa played a key role in passing the city's ordinance barring LGBTQ+ discrimination in the areas of employment, housing, and public accommodations, and worked to ensure the words "gender identity and expression" were included in the comprehensive legislation, which eventually passed in 1999. Lisa's early career experience serving as a HIV Prevention Specialist with the Louisville Metro Department of Health and Wellness, and volunteer mentor for the Louisville Youth Group, laid the foundation for Lisa's interest improving affirming care practices and health outcomes for members of the LGBTQ+ community.
Primary responsibilities for the LGBT Center, HSC include directing the LGBTQ+ Affirming Healthcare Series, facilitating trainings and presentations, student advising, consultation, community engagement, programs and events, fund development, collaborating with faculty on curriculum, and policy review.
Honors and recognitions include: Louisville Tourism, ROSE Award, LGBTQ+ Ambassador, 2022 and 2021; University of Louisville, Student Champion Award, 2021; Mary K. Bosteel Tachau Gender Equity Award, UofL Women's Center, 2020; Best of the Best, Louisville Magazine, 2019; Inaugural Rainbow Flag Raising Ceremony, Metro Hall, Louisville Mayor Greg Fischer, 2019; Congressional Recognition, Congressman Yarmuth, 2011; Co-Grand Marshall, Kentuckiana Pride Parade, 2011; Distinguished Citizen, Louisville Mayor, Greg Fischer, 2021; Youth Service Worker Award, Louisville Mayor Dave Armstrong, 2000; Certificate of Merit, Louisville Board of Aldermen, 2000; Stonewall Award, GLUE, 1993; Coaches Award, Bellarmine, Field Hockey, 1990.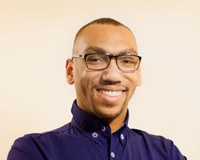 Aaron Weathers (any pronouns) is the Assistant Director for the LGBT Center Health Sciences Campus. As a 2013 graduate of the University of Louisville, Aaron was a member of the UofL Debate Team and an active student in the LGBT Center's early days. As a co-founder of the student organization, Blkout, Aaron was a recipient of the Katy Garrison LGBT Student Leadership Award. Aaron holds his Bachelor's in Pan-African Studies with a concentration in women, gender, and sexuality studies. He received his Master's in Communication from California State University Fresno in 2017.
You can reach Aaron by email here.  
Looking for support from Aaron? Click here to schedule a meeting!
Student Employees
Adrian Dodd (he/they) is a Social Media Assistant with the LGBT Center. They are a second year meteorology student here at UofL, where they are working on research about evacuation behavior and accessibility for disenfranchised communities. They are the leader and creator of the Rocky Horror Picture Show UofL RSO, which highlights queer culture and history through performances of the show. In addition to producing the show, they also proudly play Columbia. Adrian has been with the LGBT Center for less than a year, but have spent their time on the social media side of things, promoting and highlighting the wonderful events and assistance the center provides.
Dakota Loudin (they/them) is a Social Media Assistant with the LGBT Center. They are working to get their communications degree. They love to support the LGBT community as well as fighting for equal rights for all members of society. They like to use music as a way to connect to people and also enjoys crocheting and knitting. Their favorite music artists are Peach Pit, Taylor Swift, Doja Cat, and The Weeknd. If they aren't working, they are in their dorm either eating popcorn and watching horror movies or writing songs!
Moth Sanchez (they/them) is a Program Assistant with the LGBT Center. They are pursuing a major in Latin American & Latino Studies, and a minor in Chemistry. They are passionate about social issues, specifically ones pertaining to the LGBTQ+ community, indigenous people's rights, Latine rights, and bodily autonomy. They enjoy reading Sci-Fi, playing Dungeons & Dragons, and listening to Alternative Rock music. When they aren't assisting with LGBT Center events, you can usually find them hanging out with their three rats or listening to Weezer.
Thomas Hayes (he/they) is a Program Assistant with the LGBT Center. They are a student working to obtain a BFA in Painting, with a minor in LGBTQ+ studies. He is passionate about Social Justice, specifically focused on trans rights, reproductive rights protections, and inclusive healthcare for the LGBTQ+ community. Additionally, he advocates for the education and expression of queer history and identity. They enjoy creating and consuming art media, watching horror movies, and listening to heavy metal. Outside of work, they can be found cuddling their cat, working on new paintings, or exploring the local cemeteries.