Our LGBT Center Staff
Lisa Gunterman is the Director for the LGBT Center on our Belknap campus. A lifelong social justice organizer with nearly 30 years of experience in non-profit, social justice and government sectors, Lisa brings a wealth of experience and passion to the job. As a co-founder of Louisville's Fairness Campaign, Lisa played a key role in passing the city's ordinance banning discrimination based on sexual orientation and ensuring the inclusion of protections based on gender identity and expression. Primary responsibilities for the Center include directing programs like Pride Week, PINK, Alternative Thanksgiving, educational trainings, organizational strategy and fund development. Honors include: Mary K. Bosteel Tachau Gender Equity Award, UofL Women's Center, 2020; "Best of the Best", Louisville Magazine, 2019; Inaugural Rainbow Flag Raising Ceremony, Metro Hall, Louisville Mayor Greg Fischer, 2019; 20th Anniversary Fairness Ordinance Exhibit, Louisville Free Public Library, 2019; Congressional Recognition, Congressman Yarmuth, 2011; Co-Grand Marshall, Kentuckiana Pride Parade, 2011; Distinguished Citizen, Louisville Mayor Greg Fischer, 2011; Youth Service Worker Award, Louisville Mayor Dave Armstrong, 2000; Certificate of Merit, Louisville Board of Aldermen, 2000; Stonewall Award, Louisville, 1993. 
Pronouns: any or my name
You can reach Lisa by email here.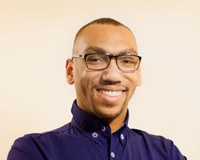 Aaron Weathers is the Assistant Director for the LGBT Center Health Sciences Campus. As a 2013 graduate of the University of Louisville, Aaron was a member of the UofL Debate Team and an active student in the LGBT Center's early days. As a co-founder of the student organization, Blkout, Aaron was a recipient of the Katy Garrison LGBT Student Leadership Award. Aaron holds his Bachelor's in Pan-African Studies with a concentration in women, gender, and sexuality studies. He received his Master's in Communication from California State University Fresno in 2017.
Aaron uses he/him/his or they/them pronouns interchangeably. 
You can reach Aaron by email here.  
Looking for support from Aaron while they are working remotely? I'm available and would love to talk! Click here to schedule!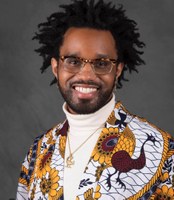 Byron Terry is the Assistant Director, for the LGBT Center on the Belknap Campus. Originally from Paducah, KY, Byron earned BA in Psychology and Communication from the University of Louisville. During his time as an undergrad Byron served as President of the National Association of Black Journalists and was a member of the Phi Eta chapter of Omega Psi Phi. Byron continued his education by earning Masters degrees in Urban Studies and Clinical Mental Health Counseling from Northeastern Illinois. Byron has previous higher education experience working as the Diversity Coordinator at Governors State University and a Student Support Counselor at The Chicago School of professional Psychology, where he coached and mentored students, provided crisis referrals, designed and facilitated trainings, directed large-scale events, organized a food pantry, and advised student groups such as the Black Student Union and LGBTQ+ Registered Student Organizations (RSOs). Additionally, Byron served as a Mayoral Fellow for Chicago Mayor, Lori Lightfoot; AmeriCorps Vista with the Illinois Campus Compact Program; practicum intern with the Anti-Violence Project; and a volunteer for the Center on Halstead, Chicago's LGBTQ+ center.
Byron uses he/him/his or they/them/theirs pronouns.
You can reach Byron by email, here.
Goldie is the Administrative Assistant for the LGBT Center on the Belknap and Health Sciences Campuses. A graduate of the University of Louisville, Goldie received their Bachelor's degree in Music, with a minor in Mathematics. Goldie comes to the LGBT Center after spending five years providing advocacy and support to survivors of intimate partner and sexual violence. Noticing a need for knowledge and skills in working with LGBTQ+ survivors, Goldie led efforts to examine policies, coordinate outreach events, and develop trainings on how to cultivate safe and accessible environments for trans survivors in Kentucky. Goldie is pursuing an M. Ed. in Clinical Mental Health Counseling.
Goldie's pronouns are they/them.
You can reach Goldie by email here. 
Looking for support from Goldie? Click here to schedule a meeting!