PATIENTS
RESIDENCY PROGRAM
RESEARCH
---
"Telemedicine Quick Start" (Virtual) Grand Rounds
In light of the COVID-19 pandemic, we thought it would be helpful to have a (virtual) Grand Rounds session covering telemedicine. The original Grand Rounds occurred on Thursday, April 2nd when Robert L. Caudill, Professor, Residency Training Program Director, Telemedicine and Information Technology Program Director, University of Louisville Department of Psychiatry and Behavioral Sciences, presented "Telemedicine Quick Start." VIEW VIRTUAL GRAND ROUNDS
---
Welcome Timothy Yff, M.D.!

Dr. Yff currently holds the rank of Instructor with the University of Louisville, Department of Psychiatry and Behavioral Sciences, and sees patients in the Emergency Psychiatric Services.
---
Congratulations Dr. Jackson
Join alumni Dr. Jackson for her virtual book launch!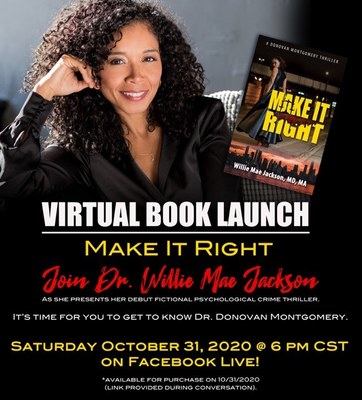 A Day in the Life of a Resident
Raven Price, First Year Resident
As a psychiatry intern, you'll rotate through 6 months of psychiatry rotations and 6 months outside psychiatry to supplement and strengthen your general medicine.
My first month as an intern was spent on Norton Hospital's Psychiatry Consult Service. The Norton psychiatry consult team consists of an attending, a fourth year resident, three medical students and an intern. We would except consults from 8am till 5pm during the week. The consult service is covered by an upper level resident after 5pm during the week and on the weekends. Along with accepting new consults, we round on previous consults that we were taking care of. I would arrive at about 8am each morning and round on my patients. The residents and the medical students meet each day for lunch and review the patients for the day. Afterwards, we place orders and write notes. When the attending arrives, we round on all of the patients, presenting them to the attending. After rounding on all of the patients, we discuss the patients and make appropriate changes to the patient orders and notes.

David Casey, MD
Professor and Chairman
We continue to have one of the strongest Medical Student Education programs in the country. The recruitment of our own UofL medical students into careers in psychiatry has averaged nearly twice the national average over the last two decades. Our Clinical Clerkship in Psychiatry is one of the highest rated, year after year, in the entire School of Medicine.
Continue
---
Annual Depression Center
The Annual Depression Center Conference features presentations from some of the world's leading authorities on psychiatric disorders. Other speakers give lectures and workshops on some of the newest breakthroughs in treatment of depression.
UofL Depression Center Thirteenth Annual Conference will be held November 5 & 6, 2020
The topic will be Moving Ahead: Treating Depression in 2020 and Beyond. Registration and more information