Sara Multerer, MD, FAAP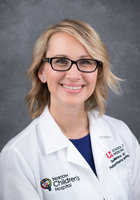 Associate Professor of Pediatrics
Vice Chair – Pediatrics Medical Education
Director, Pediatric Residency Program
Division of Pediatric Hospital Medicine
Department of Pediatrics
University of Louisville School of Medicine
---
Dr. Sara Multerer joined the faculty at the University of Louisville in 2008. She currently serves as the Vice Chair for Pediatric Medical Education and as the Director of Pediatric Residency Program in the Department of Pediatrics. Clinically, she works as a pediatric hospitalist with interests in quality improvement and patient safety as well as resident education. Dr. Multerer has been an active member of several local and national committees and has received several awards for her teaching efforts.
 Academic Pediatric Association (APA) Educational Scholars Program Curriculum Committee
Chair, Association of Pediatric Program Directors, Assessment Learning Community, Faculty Assessment Subcommittee
Chair, Department of Pediatrics Faculty Development Committee
Chair, Pediatric Residency Program Evaluation Committee
Co-Investigator, Advancing Innovations in Residency Education, X+Y Block Scheduling in Tertiary Care Pediatric Residency Programs
Team Safety
Faculty Peer Clinician-Teacher Excellence Award (2014-2019)
J. Scott Robinson Memorial Award

Dr. Multerer is from Indiana originally but now calls Kentucky home. After graduating cum laude with a Bachelor of Arts from the University of Notre Dame, Dr. Multerer received her medical degree from Indiana University and completed her pediatric residency training at University of Louisville. Upon completion of her residency, Sara was elected Richard S. Wolf Chief Resident for the program. At the end of her tenure as Chief Resident, Sara stayed on the faculty at the University of Louisville as a pediatric hospitalist and Associate Program Director for the pediatric residency. Dr. Multerer became the Director of the Pediatric Residency Program in 2017 after spending eight years in the role of Associate Program Director. She has completed additional training through the APA Educational Scholars Program, Association of American Medical Colleges Women in Medicine Professional Development seminars, the University of Louisville Leadership in Academic Medicine program, and the Department of Pediatrics Clinician Scholars program. Sara is married to her high school sweetheart, Matt, and they are proud parents of twin girls.