Education
With Louisville as our urban laboratory, the UofL Division of Environmental Medicine researches the relationships between the environment and human health outcomes and educates the next generation of physicians and decision makers through a lens of multidimensional health.
Researchers will share about their work to understand the relationships between the environment and human health the Environmental Medicine Grand Rounds. 
---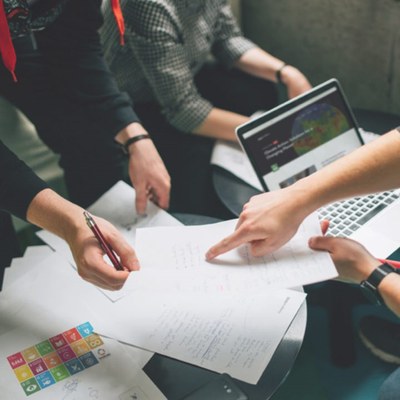 The large-scale goal of the Master of Arts/Science in Interdisciplinary Studies: Concentration in Sustainability Degree program is to prepare students to address complex regional, state, national and global challenges posed by the intersection of human exponential growth and increasingly limited resources that support society. The exponentially rising demands that human populations make on natural resources and ecological systems that supply us with energy, food, water and many other ecosystem services will be further threatened by climate change and the pollution of air, soil and water. Continued reliance on a "business as usual" approach to the economic production and consumption of goods and services, often characterized by the stresses it places on The Commons and by a disregard for environmental and social justice, now threatens the ability of the natural world to absorb our collective impact, erodes our collective security, and polarizes our societies.  Substantial changes in social contracts, economic systems, as well as individual and institutional behaviors will be needed to provide more sustainable, healthy and secure societies. National, regional and local experimentation is needed to find solutions to societal challenges.
This Master of Arts/Science in Interdisciplinary Studies: Concentration in Sustainability program is an interdisciplinary program that include multiple academic units on campus and is the result of an initiative of the University of Louisville's Sustainability Council which seeks to integrate sustainability into everything that goes on at UofL. Students in the program are encouraged to contribute to the Sustainability Council's efforts to explore sustainable solutions for UofL and our community. The UPA Horticulture Zone is a demonstration area to show students and citizens many examples of how we can be more sustainable while living in the city. 
---
Free online courses from the world's leading experts on sustainable development. The SDG Academy creates and curates free massive open online courses and educational materials on sustainable development and the Sustainable Development Goals. In the SDG Academy's fully interactive courses, you will meet, debate and learn from both the world's leading sustainable development experts and your fellow students. Taught by a global faculty from the United Nations, the World Bank, universities such as New York University, Harvard University, the University of Oxford, the Stockholm Resilience Centre, and other academic, government, multilateral and non-profit institutions. The SDG Academy is a program of the Sustainable Development Solutions Network, a global initiative for the United Nations supporting the Sustainable Development Goals.
---
The training core will engage our pre- and post-doctoral fellows in laboratory-based research and effective communication of the research findings. Each trainee develops a specific project to translate research findings into concepts that can be transmitted effectively to the community, various local/state agencies, and university audiences. Our trainees will interact with faculty and students providing the latest information about the chemistry and human health effects of VOCs and metals. Our trainees will participate in meetings with the West Jefferson County Community Task Force and the Metro Louisville Public Health and Wellness Department with our Community Engagement and Research Translation Cores to engage in discussion and answer questions about the Superfund research projects. Lastly, our Training Core will interact closely with our two NIEHS funded T32 and T35 training programs in environmental health sciences.
---
Coming Soon – Clinical Training for medical students and fellows
The Division of Environmental Medicine will soon offer fellowships for physicians who have completed their initial clinical training and research training for UofL residents and medical students, masters and doctoral degree candidates from affiliated schools and departments.
2-year training program for physicians leading to board-eligibility in Occupational and Environmental Medicine, one of the three specialties of Preventive Medicine. The HSPH OEMR was among the first such programs in the United States, and is recognized as one of the best Occupational and Environmental Medicine residencies worldwide. We emphasize rigorous training, excellence in both clinical occupational and environmental medicine, cutting-edge research, and a diverse balance of unique environmental and occupational health opportunities. Supervision comes from an outstanding nationally- and internationally-renowned faculty with a history of producing specialists who have become leaders devoted to improving environmental and occupational health in academia, government, industry, health care, and non-governmental organizations