Fresh Tissue Lab
Fresh Tissue Facility
Highlighted features of the facility:
Scalable rooms for both small and large courses
Onsite tissue preparation and storage
Four laparoscopic towers
C-arm fluoroscope
Complete room AV connectivity within the facility

AV connectivity to auditorium within the same building as the facility
AV connectivity to four auditorium or classroom sites at Jewish and Norton Hospitals with access through these hospitals to satellite up-links
Learning & Re-Learning Anatomy
The vast majority of work performed in the fresh tissue facility is done by surgeons in training for the purpose of re-learning the anatomy of a particular area and/or for training of specific surgical procedures.  Studies are typically done by individuals or by small groups of two or three individuals.  In addition, some residency programs run frequent scheduled dissection seminars for groups of 5-10 post-graduates.  Larger training courses, such as laparoscopic pelvic surgery and upper fixation workshops, have also been held in the facility.
Recent post-graduate training users of the fresh tissue facility:
UofL College of Medicine
Surgery

Division of Hand Surgery
Division of Plastic & Reconstructive Surgery
Division of Otolaryngology – Head & Neck Surgery
Division of General Surgery
Division of Thoracic and Cardiovascular Surgery

Obstetrics, Gynecology, & Women's Health

Division of Female Pelvic Medicine and Reconstructive Surgery
Division of General Obstetrics & Gynecology – Minimally Invasive Gynecologic Surgery

Neurosurgery
Orthopedic Surgery
Ophthalmology & Visual Sciences
Anesthesiology and Perioperative Medicine
UofL Trauma Institute (nurse training for advanced life support)
Acute Care Nurse Practitioner Program (UofL/Jewish Hospital)
UofL College of Dentistry
Oral and Maxillofacial Surgery
Orthodontics
Norton AudubonJewish Hospital & St. Mary's Healthcare (affiliated with UofL)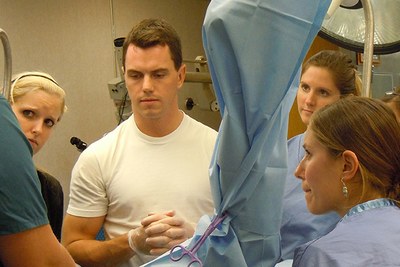 The fresh tissue facility has also hosted programs for training medics from Ft. Knox and for practicing dentists via the Academy of General Dentistry.  Beginning in the fall of 2013, the facility will also be hosting the first year students from the Physician Assistant program at Sullivan University.
Research
The facility provides the setting for research studies in surgical anatomy and for the development of new techniques and/or devices.  This has led to important collaborations between UofL surgeons and surgical equipment companies, especially in the fields of cardiovascular, spine, and hand surgery.   
Peer reviewed publications arising from the fresh tissue facility have included:
Studies on collateral blood supply of the sternum
Fine details of hand innervation
Anatomy of donor sites for free tissue transfer
Surgical anatomy of new procedures for neosphincter reconstruction
Facility Requests
To request the use of the fresh tissue facility, please contact Dr. Nicole Herring (nrherr01@louisville.edu or 502-852-2024).