Undergraduate Degree Programs
The mission of Criminal Justice is to provide our students with a practical educational background in all facets of the criminal justice system. We believe students must develop a thorough understanding of the practical and theoretical aspects of criminal behavior.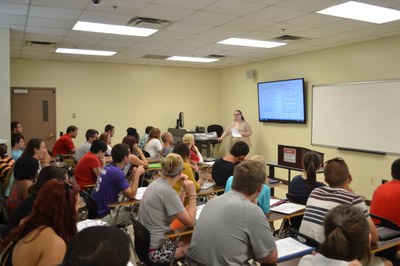 Well prepared students will have completed a college prep program with an emphasis is English, Mathematics, Science and Social Studies.  Students should have a sincere desire to be of service and assistance to humanity.
Upon completion of a substantial part of the Criminal Justice core curriculum, students may elect to enroll in a practical internship withan agency for 3-6 hours of credit. Completion of an internship provides students with increased job opportunities.  We have student research projects, study abroad, international service learning programs and an honors program for students wishing to supplement traditional classroom education with more active learning and field placement experiences.
The following are core competencies of the curriculum.
A working knowledge of the entire criminal justice process (adult and juvenile) and the issues surrounding each portion of the process.
Ability to make linkages between theory and policy development in the criminal justice system.
Ability to understand, identify, and apply legal issues relative to the criminal justice system.
"Attention Active Duty Military and Freshmen, Here's a way to get ahead and save money"   We are trying to change the attitude of CLEP testing on campus…it should no longer be a "last resort" for the graduating senior but a "first thought" for the incoming freshmen.  It is another option to gain course credit to meet graduation requirements.   CLEP testing is NOT easy but it is fast, efficient and economical for our students.  Clep Informational booklet for test takers (pdf) Visit Testing Services by Clicking icon ...

Advising Information
Over the last year you have seen all nomenclature change to Criminal Justice.If you have any questions, please contact us in Student Services, Brigman Hall 205 (502) 852-2686 or via email mailcj@.exchange.louisville.edu