March 17, 2023
By Tessa Chilton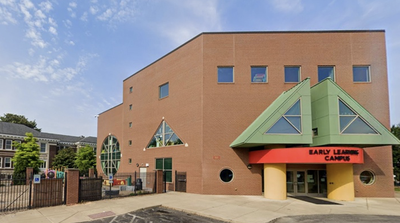 What is your first memory? How old were you? Most adults rarely remember events before the age of three. However, research suggests that the experiences children have from birth to five years old have long lasting effects. These early years can influence their personality, behavior, and cognitive abilities into adulthood. Early childhood education is critically important in nourishing young minds and shaping future generations.
 The University of Louisville Early Learning Campus (ELC) is committed to nurturing these early memories. The ELC is an early childhood development center for children six weeks to five years old that serves UofL faculty, staff, and students. They also prioritize families of the Louisville Family Scholar House. The program is accredited by the National Association for the Education of Young Children and has received five out of five stars in Kentucky's Quality Rating System.  
 "This (accreditation and ranking) is so important to us because we feel strongly that every child deserves the best possible early childhood experience," said ELC executive director Jill Jacobi-Vessels.
Jacobi-Vessels has more than 35 years of experience directing and coordinating quality child development centers, children's programs, and family support programs in private, public, and military settings. 
"We are much, much more than a daycare center," said Jacobi-Vessels. "Our educators are highly skilled, with degrees and years of experience in the field. Our curriculum is based on an approach developed in Reggio Emilia, Italy. It is considered one of the top curriculum approaches in the world."
The Reggio Emilia Approach is an educational philosophy that began in Italy after World War II under educator and philosopher, Loris Malaguzzi. The approach focuses on the belief that children are capable individuals with the capacity to construct knowledge through exploration. Reggio Emilia encourages collaboration, communication, and active participation among children, teachers, and parents and emphasizes art, creativity, and aesthetics.
"It is very different from many other curriculum approaches that are common in the United States," said Jacobi Vessels. "We feel that it best places children as people with rights who deserve respect and opportunities to pursue their own interests and curiosities. That is why we developed an international study course to visit the schools in Italy to deepen our professional knowledge and practice."

This weekend students in the International Study Experience in Reggio Emilia course will fly to Italy for a five-day U.S. Students and Professors Study Group. The international study course in early childhood education was conceptualized and approved in 2019 and intended to travel in 2020. However, due to flight restrictions during the pandemic they had to reschedule.
"All the students in the course are very deeply and personally invested in the Reggio Emilia approach. They are current early childhood professionals and have studied and practiced the approach for years," said Jacobi-Vessels. "My hope is that each person can individually enrich their understanding and find new and creative ways to reignite their passion."
The class consists of masters-level students, early childhood practitioners, directors of centers, certified trainers, administrators, and educators.
This week, Felicia Alfred will be documenting their trip in an Instagram takeover on the CEHD's main account. Follow along to see everything they're involved in during their trip to Reggio Emilia, Italy.
---
 About the College of Education and Human Development:
Founded in 1968, the College of Education and Human Development (CEHD) is a vibrant community that prepares students for leadership in a variety of metropolitan settings including schools, public and private corporations, and governmental agencies.
CEHD embraces the University's mission to advance the intellectual, cultural, and economic development of our diverse communities and citizens. Our commitment to student success is unparalleled as we promote the highest levels of learning and social, emotional, and physical health and well-being for all children, individuals, and families.
Connect with the CEHD by following us on Instagram, Facebook, Twitter, LinkedIn, and TikTok or by visiting our main website.