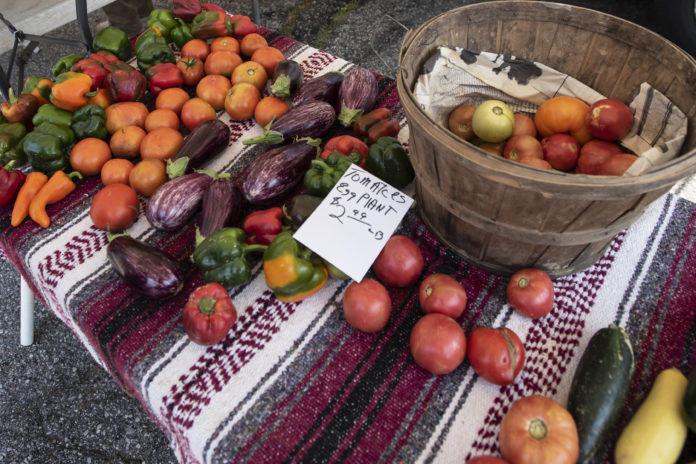 Walking among the booths at the Gray Street Farmers Market fills one's senses with a vibrancy that can only be a result of fresh produce and summertime. Excited customers exchanged recipes with enthusiastic vendors and as they rifled through local goods during the market's UofL Day on Aug. 2.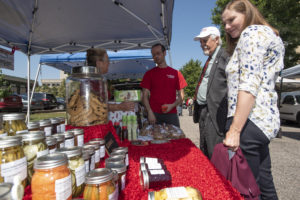 The celebration was in advance of National Farmers Market Week Aug. 4-10. Farmers markets act as vital resources for families to get locally sourced produce which increases healthy eating habits and boosts the local economy.
The Gray Street Farmers Market was co-founded in 2009 between UofL's School of Public Health and Information Sciences (SPHIS) and the Louisville Metro Department of Public Health Wellness. Together, they work toward relieving the food desert that exists in downtown Louisville.
"We're in the middle of an increased need to provide fresh produce within downtown Louisville, specifically to those on food assistance programs," said Sara Frazier, Gray Street Farmers Market manager.
Locally-grown produce can often be viewed as a commodity for only those who can afford it, according to Frazier. The Gray Street Farmers Market addresses the issue with its Dollar for Dollar program, which matches SNAP recipients' benefits up to $20. The service is provided through donations and numerous fundraising opportunities, including a silent auction available on the market's website during August.  There is also an Elevate campaign for those wishing to donate directly to the Dollar for Dollar program.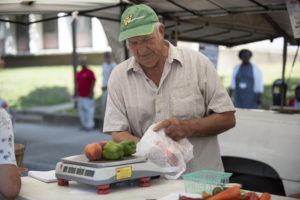 The market runs every Thursday from mid-May to Oct. 31, 2019 – rain or shine. It operates from 10:30 a.m. to 1:30 p.m., with lunch options available through vendors and weekly food truck rotations. The market's governance committee reviews all vendor applications to ensure the products are local and will be a good fit. They want there to be a variety of high quality options for our customers. 
Visitors can expect homegrown or homemade products including fruits and vegetables, canned goods, hand-crafted products, artisan coffee and more. Most vendors accept cash, card or tokens. Tokens are available at the information booth in order to help those who need currency exchanged onsite.
More information on the Gray Street Farmers Market is available online.