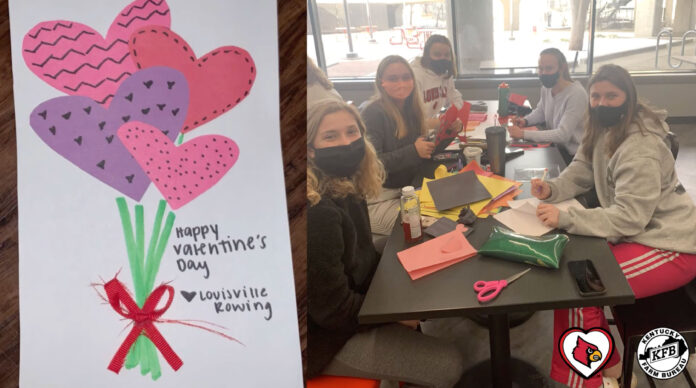 University of Louisville student-athletes got creative this year to spread love throughout the community for Valentine's Day. More than 220 student-athletes from 10 different teams participated in a form of service for Valentine's Day, creating handmade cards, virtual cards and personalized videos for RaiseRED, Norton's Hospital, St. Jude's Children's Research Hospital, Louisville Boy's and Girl's Club and Seven Counties Services.
 
"We're so happy to be able to give back to the community because we're grateful every day for their support," said senior rower Madison Meister. "It was awesome seeing the team come together to make over 700 valentines."
 
Many of the handmade cards, virtual cards, and videos will be sent to kids within Louisville from their respective organizations.
 
"I really enjoyed making the handmade valentines. It was something fun and creative to do, and it was made even better by the thought of it putting a smile on loads of children's faces," said sophomore field hockey player Emilia Kaczmarczyk.
 
The 2021 NCAA Team Works Competition is currently in action. The competition is held among schools who utilize the Helper Helper community service app, which includes about 100 Division I schools. The University of Louisville was ranked second among Division I universities in the third week update. The challenge runs until April 1.
UofL was named the winner of the 2019-20 NCAA Team Works Award Competition for outstanding community service. In May 2020, UofL athletics was recognized for generating more hours of community service during the 2019-20 academic year than any other power five school.