Academic Programs
Academic Programs
Clinical Education
University of Louisville Graduate Medical Education now includes more than 60 residency and fellowship programs in more than 10 urban and rural hospitals and clinics.
Non-Clinical Curriculum
The Office of Graduate Medical Education supports an innovative non-clinical curriculum. The Professional Practitioner is a 3-part non-clinical curriculum for  residents in all specialties, designed to instruct them in three important areas.
GME Research Team
The Graduate Medical Education Research Team is available to support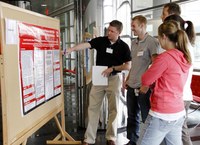 faculty, fellows, and residents with the design and methodology for studies involving curriculum design, materials evaluation, and patient education. The team can also assist with survey instrument design and quantitative and qualitative analysis.