Academic Programs
Clinical Education
University of Louisville Graduate Medical Education now includes more than 60 residency and fellowship programs in more than 10 urban and rural hospitals and clinics.
Non-Clinical Curriculum
Residents as Teachers, offered to PGY1s and other new residents, is offered 4 times each spring.
The 2020 Non-Clinical Course Schedule
GME Research Team
The Graduate Medical Education Research Team is available to support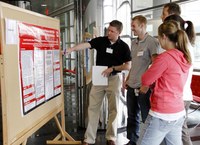 faculty, fellows, and residents with statistical analysis for their medical education and clinical research projects.  For assistance, please contact Dr. Craig Ziegler, a biostatistician, at craig.ziegler@louisville.edu or 502-852-1870.