Neetu Tyagi, Ph.D.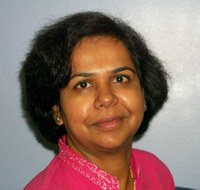 Neetu Tyagi, Ph.D.
Associate Professor
Dr. Bhim Rao Ambedkar University, Agra, India, 2002
Organ System/ Disease Focus: Central Nervous System/Stroke,Traumatic Brain Injury and Diabetes
Major Interests: Proteomics, Genomics, Epigenomics (MicroRNomics), Mitochondria, Neurogenesis, Stem cells, Neuro-protection and Regeneration.

Research Description: The major research focus of my lab is to understand the mechanisms of brain damage and regeneration after cerebral stroke. The lab has a long-term interest in understanding the mechanisms and significance of post-ischemic neurogenesis with a goal to reinforce it with blood- brain barrier disruption, neuro-glio-vascular remodeling and mitophagy. We are also interested to evaluate if the infused stem cells survive, increase the plasticity and functional recovery in the injured brain. Additionally, we are investigating the role of matrix metalloproteinases, tetrahydrocurcumin, hydrogen sulfide and homocysteine on epigenetic (microRNA) regulation, extracellular matrix remodeling and mitochondrial pathology in impaired brain functions by using in vivo, ex-vivo and in vitro approaches during pathogenesis of cerebrovascular diseases and diabetes.
Selected peer reviewed publications:
Kalani A, Kamat PK, Tyagi SC, Tyagi N. Synergy of homocysteine, microRNA and epigenetics: a novel therapeutic approach for stroke. Mol Neurobiol. 2013 Feb 22; Review.
Kamat PK, Kalani A, Givvimani S, Sathnur PB, Tyagi SC, Tyagi N. Hydrogen sulfide attenuates neurodegeneration and neurovascular dysfunction induced by intracerebral-administered homocysteine in mice. Neuroscience. 2013 Jul 31;252 C:302-319.
Kalani A,Givvimani  S, Kamat PK, Tyagi SC, Tyagi N. Nutri-epigenetics Ameliorates Blood–Brain Barrier Damage and Neurodegeneration in Hyperhomocysteinemia: Role of Folic Acid. J.Mol Neurosci 7 July 2013.
Kalani A,Tyagi AA, Tyagi N.  Exosomes: Neurodegeneration and  neuroprotection.  Mol Neurobiol. 2013 Sep 3, Review.
Kundu S, Munjal C, Tyagi N, Sen U, Tyagi AC,Givvimani S,Tyagi SC. Folic Acid    Improves Inner Ear Vascularization in Hyperhomocysteinemic Mice. Hear Res. 2012 Feb;284(1-2):42-51.
Tyagi N, Qipshidze N, Munjal C,Vacek JC,Metreveli N,Givvimani S,Tyagi SC, Tetrahydrocurcumin ameliorates homocysteinylated cytochrome-C mediated autophagy in hyperhomocysteinemia mice after cerebral ischemia. Mol Neurosci. 2012 May;47(1):128-38.
Tyagi N, Vacek TP, Fleming JT, Vacek JC, Tyagi SC. Hyperhomocysteinemia decreases bone blood flow. Vasc Health Risk Manag. 2011 Jan 25;7:31-5.
Tyagi N, Kandel M, Munjal C, Qipshidze N, Vacek JC, Pushpakumar SB, Metreveli N, Tyagi SC. Homocysteine mediated decrease in bone blood flow and remodeling: role of folic acid. J Orthop Res. 2011 Oct;29(10):1511-6.
Tyagi N, Qipshidze N, Sen U, Rodriguez W, Ovechkin A, Tyagi SC. Cystathionine beta synthase gene dose dependent vascular remodeling in murine model of hyperhomocysteinemia Int J Physiol Pathophysiol Pharmacol. 2011 Sep 30;3(3):210-22.
Tyagi N, Vacek JC, Givvimani S, Sen U, Tyagi SC. Cardiac specific deletion of N-methyl-d-aspartate receptor 1 ameliorates mtMMP-9 mediated autophagy/mitophagy in hyperhomocysteinemia. J Recept Signal Transduct Res. 2010 Apr;30(2):78-87.
Tyagi N, Givvimani S, Qipshidze N, Kundu S, Kapoor S, Vacek JC, Tyagi SC. Hydrogen sulfide mitigates matrix metalloproteinase-9 activity and neurovascular permeability in hyperhomocysteinemic mice. Neurochem Int. 2010 Jan;56(2):301-7.
Tyagi N, Moshal KS, Sen U, Vacek TP, Kumar M, Hughes WM Jr, Kundu S, Tyagi SC. H2S protects against methionine-induced oxidative stress in brain endothelial cells. Antioxid Redox Signal. 2009 Jan;11(1):25-33.
Tyagi N, Gillespie W, Vacek JC, Sen U, Tyagi SC, Lominadze D. Activation of GABA-A receptor ameliorates homocysteine-induced MMP-9 activation by ERK pathway. J Cell Physiol. 2009 Jul;220(1):257-66.
Tyagi N, Mishra PK, Tyagi SC. Homocysteine, hydrogen sulfide (H2S) and NMDA-receptor in heart failure.  Indian J Biochem Biophys. 2009 Dec;46(6):441-6. Review.
Tyagi N, Roberts AM, Dean WL, Tyagi SC, Lominadze D. Fibrinogen induces endothelial cell permeability. Mol Cell Biochem. 2008 Jan;307(1-2):13-22.
Tyagi N, Moshal KS, Tyagi SC, Lominadze D. gamma-Aminbuturic acid A receptor mitigates homocysteine-induced endothelial cell permeability. Endothelium. 2007 Nov-Dec;14(6):315-23.
Tyagi N, Lominadze D, Gillespie W, Moshal KS, Sen U, Rosenberger DS, Steed M, Tyagi SC. Differential expression of gamma-aminobutyric acid receptor A (GABA(A)) and effects of homocysteine. Clin Chem Lab Med. 2007;45(12):1777-84.
Tyagi N, Ovechkin AV, Lominadze D, Moshal KS, Tyagi SC. Mitochondrial mechanism of microvascular endothelial cells apoptosis in hyperhomocysteinemia. J Cell Biochem. 2006 Aug 1;98(5):1150-62.
Tyagi N, Sedoris KC, Steed M, Ovechkin AV, Moshal KS, Tyagi SC. Mechanisms of homocysteine-induced oxidative stress. Am J Physiol Heart Circ Physiol. 2005 Dec;289(6):H2649-56.
Tyagi N, Moshal KS, Ovechkin AV, Rodriguez W, Steed M, Henderson B, Roberts AM, Joshua IG, Tyagi SC. Mitochondrial mechanism of oxidative stress and systemic hypertension in hyperhomocysteinemia. J Cell Biochem. 2005 Nov 1;96(4):665-71. Review.
Tyagi N, Moshal KS, Lominadze D, Ovechkin AV, Tyagi SC. Homocysteine-dependent cardiac remodeling and endothelial-myocyte coupling in a 2 kidney, 1 clip Goldblatt hypertension mouse model. Can J Physiol Pharmacol. 2005 Jul;83 (7):583-94.