David Lominadze, Ph.D.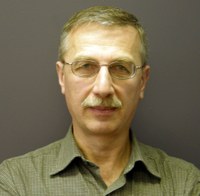 DAVID LOMINADZE, Ph.D.
dglomi01@louisville.edu
Professor
Institute of Physiology, Tbilisi, Georgia, 1990
Our goal is to understand mechanisms of microcirculatory disorders during various cardiovascular and cerebrovascular diseases. We study mechanisms of blood cell interactions with each other and with vascular endothelium and blood plasma components. Changes in these interactions are involved in microvascular permeability, angiogenesis, and vascular remodeling affecting normal healing process during pathologies such as hypertension, diabetes, stroke, traumatic brain injury, and Alzheimer's disease.
Presently we study role of vascular dysfunction in neuronal degeneration. We are focused on mechanisms of caveolar protein transcytosis during traumatic brain injury or hyperhomocysteinemia. Changes in cerebrovascular permeability to proteins lead to vascular remodeling and fibrotic plaque formations similar to those seen in Alzheimer's disease. They also affect endothelial-astrocyte coupling mechanism and result in neuronal degeneration leading to an altered cognition.
Mouse model of traumatic brain injury is used. Changes in microvascular permeability are studied by intravital fluorescence microscopy. We also use a model of isolated and perfused microvessels. Some specific mechanisms are studied in cell culture and/or observed in situ using immunohistochemistry and confocal microscopy analyses. In addition, we use various biochemical and molecular biology methods. Changes in memory are tested with several methods (e.g. novel object recognition test and Y-maze test).
Selected Publications: