CLINICAL TRIAL DONATION - OVARIAN CANCER AWARENESS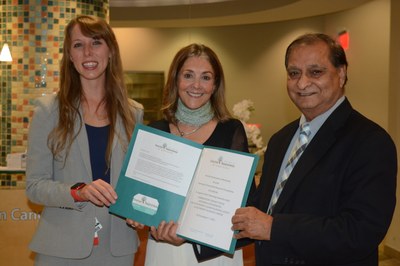 Ovarian Awareness of Kentucky awarded $15,000 to the University of Louisville Research Foundation for our phase I/II clinical trial, Combination Therapy with Liposomal Doxorubicin and Withaferin A (Ashwagandha, ASWD) in Recurrent Ovarian Cancer. 
Dr. Whitney Goldsberry, faculty in the Gynecologic-Oncology division of the Department of Obstetrics, Gynecology & Women's Health Department is the co-PI with Dr. Sham Kakar. 
They are currently in the early stages of the process; however, they have FDA approval, IRB approval, have submitted an R01 grant that is pending and are awaiting approval from NCI to start recruiting patients. 
Congratulations Dr. Goldsberry for your dedication to women by continuing to search for new and improved ways to improve Women's Health.