Female Pelvic Medicine & Reconstructive Surgery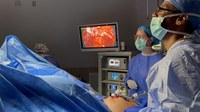 The University of Louisville Female Pelvic Medicine and Reconstructive Surgery Fellowship is an accredited three-year program that provides comprehensive training to diagnose and treat conditions of pelvic organ prolapse, urinary and fecal incontinence, voiding and defecatory dysfunctions.  Surgical education includes vaginal, open, laparoscopic, robotic techniques, and training on the DaVinci Robotic Surgical System.
 Unique opportunities include a laparoscopic dry lab and a fresh tissue human cadaver lab with full laparoscopic s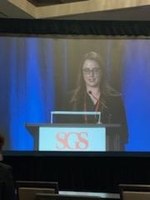 et-up.  Specialty specific and departmental didactics are attended weekly.  Fellows serve as mentors to students, residents and peers during outpatient clinics and surgical procedures.
Twelve months of the fellowship are dedicated solely to research where basic science and clinical research are conducted in coordination with faculty mentors.  Fellows are educated regarding grant writing, database creation and analysis, scientific writing, and presentation. All fellows complete a thirteen-week course in research and statistics provided by the Department of Bioinformatics & Biostatistics during the end of their first year.
One to two professional conferences are attended annually with submission and presentation of original research. Prior to graduation, fellows are expected to publish at least three peer-reviewed articles, complete a thesis project, present at at least one national meeting and sit for the subspecialty ABOG exam.
PROGRAM AIMS
Maintain faculty that hone knowledge and skills, are active in research, provide quality mentorship based on current evidence-based practices and model professional behavior.
 Develop competent clinicians with the knowledge, clinical and surgical skills necessary to practice independently.
 Produce academicians who model professional behavior, are able to relay medical knowledge to future learners and serve as mentors during office based clinical practice and surgical procedures.
 Maintain a culture of inquiry, research, and scholarly activity that prepares fellows to independently design, implement, and analyze research for presentation and publication in peer-reviewed journals.
SUPPORTING FACULTY
Department of OB/GYN & Women's Health
Division of Minimally Invasive Gynecologic Surgery
Resad Pasic, MD, Fellowship Director
Department of Urology
Murali Ankem, MD, Chair
Department of Surgery
Division of Colon and Rectal Surgery
Jeffrey R. Jorden, MD
Russell Farmer, MD
Sandy Kavalukas, MD
School of Public Health and Information Sciences
Department of Bioinformatics and Biostatistics
Jeremy Gaskins, PhD
Department of Medicine
Division of Gastroenterology, Hepatology and Nutrition
Thomas Abell, MD, Chair, Gastroenterology
Private Practice Physician
Urogynecology Specialists
Susan Tate, MD
Specialty:  OB/GYN, FPMRS Board Certified
Nurse Practitioners

UofL Department of OB/GYN & Women's Health, FPMRS Division
Alyce Goodman Abraham, APRN, WHN
CURRICULUM
PGY5
The focus of the first year of fellowship training is to develop a comprehensive knowledge base in the subspecialty. Fellows work under direct supervision of faculty attendings in the office setting in completing history and physical examinations with attention to pelvic floor defects, urinary and fecal incontinence, and other benign gynecologic pathology. The fellow is introduced to the care of aging women with cognitive decline.
The fellow also works closely with faculty attendings in the operating room and inpatient units providing pre- and post-operative surgical care. Under direct supervision, the fellow conducts pre-operative evaluations, participates in surgery and rounds on post-operative patients on the service. The goal is for the fellow to develop good surgical technique in the operating room such as the use of sterile barriers and various instruments.
The fellow develops appropriate professional attitudes and behaviors and provides teaching in both informal and group discussions with third- and fourth-year medical students and second-year residents, as well as other trainees rotating on the service. An understanding is developed with respect to partnering with health care managers and other health care providers to assess, coordinate, and improve health care. Specifically, fellows function as a role model for colleagues and medical students on service.
Finally, the fellow demonstrates the use of current written or electronic information as an adjunct to the care of patients.
Research time is devoted to developing a research proposal and timeline and to obtain IRB approval.
PGY6
With increasing proficiency, the second-year fellow effectively manages more complex cases of prolapse and incontinence, coordinates patient care, and continues to develop the necessary skills to function as an effective subspecialist. Skills include appropriate utilization of personnel and resources, which includes the understanding of personal limitations.
The fellow gains knowledge in the initial evaluation of patients presenting with fecal incontinence and various forms of colon and rectal problems. S/he participates in pre-operative evaluations, completion of history and physical examinations with attention to rectovaginal fistulas, hemorrhoids, bowel anastomosis, rectal prolapse and other pathology related to the colon and rectum.
Under direct supervision, the fellow participates in surgery and rounds on post-operative patients on the service. The PGY-6 fellow becomes more proficient with technical skills acquired during the previous year of training and expands clinical experience in pre- and post-operative care of patients with pelvic organ prolapse.
The PGY-6 fellow's ability to serve as a source of medical knowledge and to perform as a teacher increases as the fellow trains residents and medical students on the service.
The fellow strives to make independent decisions while under supervision earning the trust of colleagues. Workload is greater than during the previous year of fellowship, with increasing responsibility, so the development of good time management, communication, and professional skills is essential.
Time is devoted to the initiation of research projects outlined and approved during the first year of fellowship with completion and publication during the final year of fellowship.
PGY7
All training in the previous two years culminates in the final year of responsibility and competence, thus the goal for completion is to demonstrate the knowledge and skills necessary to practice independently upon completion of the program.  The PGY-7 fellow is primarily responsible for diagnosis and development of a care plan for each patient; s/he manages the treatment and performs as primary surgeon with faculty attendings in the assistant's role in all FPMRS surgeries for pelvic floor defects, urinary and fecal incontinence, and other benign gynecologic pathology.
Fellows perform non-surgical techniques to treat different anomalies, perform surgical techniques (including Vecchieti procedure) to treat urogenital anomalies and know appropriate timing and indications for gonadectomy. The fellow also becomes proficient on neuro-urology and neuromodulation and develops competency in advanced laparoscopy and robotic surgical technique.
The fellow demonstrates a level of competence in cadaveric dissection and subspecialty whereas s/he can now teach independently. The PGY-7 functions at the level of an attending in Female Pelvic Medicine and Reconstructive Surgery.
The PGY-7 demonstrates competence in research with presentation and acceptance of thesis and submission of research manuscript for publication in the peer-reviewed literature. On site, the research is presented at the departmental annual Research Day.
Research
Fellows will participate in scholarly activities based on their areas of interest both within the institution and at the national level. Fellows will spend a total of 12 months of protected time for research during fellowship.
By the end of the fellow's first year, he/she will have established a mentor, a subject for the thesis project, and an outline which summarizes the following elements: Hypothesis, Specific Aims, Study Design, Methods (including primary outcome variables), Analysis Plan, Time Line, Dissemination and Current Status. The fellow will complete HIPAA and other required institutional training/tasks necessary for Institutional Review Board (IRB) participation.
The PGY 5 fellow will participate in and successfully complete the 12-week OB/GYN Fellowship Research and Statistics Course conducted by Jeremy Gaskins, PhD, Biostatistician. Fellow will participate in grant writing as appropriate under the guidance of the research mentor. Fellows are encouraged to publish at least three times in peer reviewed journals and present their work at scientific meetings. All fellows attend the annual American Urogynecologic Society scientific meeting as well as other scientific meetings throughout the year that they have works accepted to present.
In addition to clinical education, the goal of the fellowship program is to advance fellows' skills as physician-scientists. While the ability to create new knowledge within medicine is not exclusive to fellowship-educated physicians, the fellowship experience expands a physician's abilities to pursue hypothesis-driven scientific inquiry that results in contributions to medical literature and patient care. Beyond the clinical subspecialty expertise achieved, fellows develop mentored relationships built on an infrastructure that promotes collaborative research.
Fellows will participate in scholarly activities based on their areas of interest both within the institution and at the national level. Fellows will spend a total of 12 months of protected time for research during fellowship.
During the fellow's research block month, no more than four hours of a fellow's time each week (averaged over a four-week period) will be devoted to non-research activities. During research blocks, the fellow's mentor(s) will be available to answer research questions and to aid in the development and execution of the research project.
Fellows are expected to be prepared to present and discuss their progress regarding research during the monthly FPMRS Research Meetings.
Research Day is held each spring, the first Friday in June and attendance is required. The third-year fellows for present their thesis projects. The third-year fellow gives an oral presentation with a PowerPoint document. A visiting lecturer presides over the day. This exercise gives fellows an opportunity to develop their research and presentation skills and demonstrate their expertise to community physicians.
Didactics
The fellowship is the cornerstone of the Female Pelvic Medicine and Reconstructive Surgery division, which is committed to a strong teaching curriculum for members of the department and school of medicine, including faculty, residents, and medical students.
As part of our educational mission, the division conducts:
weekly didactic course based on objectives outlined in the Guide to Learning in Female Pelvic Medicine and Reconstructive Surgery, American Board of Obstetrics and Gynecology (ABOG)
weekly pre- and post-operative conferences
monthly subspecialty journal club
quarterly colorectal conference
quarterly FPMRS M&M conferences
AUGS Fellow Webinars
At the weekly seminar/didactic courses, fellows present assigned textbook chapters and preselected articles under the direction of a faculty mentor.
Fellows attend the department's weekly Grand Rounds presentations, pertinent weekly Continuous Quality Improvement, preoperative gynecology conferences, morbidity and mortality conference, and Journal Club, all held within protected educational time.
Fellows present a Grand Rounds topic each academic year and conduct resident didactics during each year of training.
Requirements for Graduation
To graduate from the Female Pelvic Medicine Fellowship Program at the University of Louisville, fellows are expected to meet the following milestones:
Completion of curriculum requirements, goals and objectives outlined.
Attendance and participation in monthly FPMRS Research Meetings.
Publication of three articles in peer-reviewed publications.
Presentation at least once at a regional, national, or international meeting or conference.
Completion of thesis that meets guidelines outlined by ABOG.
Presentation of Research Thesis during PGY 7 Year at Research Day in June.
Submission of thesis Research Day slide presentation and completed manuscript.
How to Apply
Application Process
Applications to the University of Louisville Female Pelvic Medicine and Reconstructive Surgery Program will be accepted ONLY through the Association of American Medical College's (AAMC) Electronic Residency Application Service (ERAS). The program does not require additional documentation to complete application.
Prospective fellows are invited to interview based on information provided in the personal statement, letters of recommendation, research, and scholastic accomplishments and USMLE scores. It is the policy of this program to select the most qualified candidates regardless of gender, race, creed, color, national origin, handicap, age or sexual orientation. All applicants must register for and participate in the National Resident Matching Program (NRMP).
Eligibility Requirements:
All required clinical education for entry into ACGME accredited fellowship programs must be completed in an ACGME accredited residency program.

For an international Medical School graduate, verification of Educational Commission for Foreign Medical Graduates (ECFMG) certification will be required.

Our program does accept J1 Visa applicants as long as the applicant has three years remaining on their visa in order to complete the fellowship.
Important Dates
The AUGS Fellowship Training Committee has implemented a standardized process for the "first round" of interview offers sent to applicants. The goal is to help applicants accept and coordinate interviews with their preferred programs and to have adequate time to get work coverage and make travel plans. The University of Louisville FPMRS Fellowship will be following the recommended timeline below.
We will be interviewing virtually.  Interview dates for the upcoming interview season are April 12, 2023 and May 17, 2023.
FPMRS Fellowship Application: Key Dates

11/17/2022

ERAS opens for application submission.

12/1/2022

Programs will begin to review applications.

 1/17/2023

Application deadline for consideration of first round of interview offers by participating FPMRS programs.

 2/7/2023

First round invites will be sent by 8 PM Eastern.
 2/13/2023
Applicants will accept or decline first round interview offers by 8 pm Eastern.
 3/1/2023
Interview Season Opens
 4/12/2023
University of Louisville Interview Day 1
 5/17/2023
University of Louisville Interview Day 2
 6/1/2023
Interview Season Ends
WHY LOUISVILLE?
Click the links below for more information about the great places and events in Kentucky
City of Louisville - Louisville is a progressive community of nearly 1 million people. Many residents live in areas that have the feel of a neighborhood but are conveniently located very close by the hospitals where they work. Situated on the banks of the Ohio River, America's 17th largest city boasts a cost of living that is substantially lower than the national average, with a broad range of affordable housing options from high-rise apartments and historic Victorian homes to suburban communities and rural farms.
Frequently named on "top ten" lists for everything from excellent food to the arts, including a 2019 top 10 city for happiest workers in the U.S. and a top 15 city to where millennials are moving, Louisville offers the amenities of a city but with the welcoming atmosphere of a town. One of the biggest local attractions in Louisville is its parks system. There are more than 120 public parks in the metro area alone, many created by famed landscape architect Frederick Law Olmstead. Louisville is the home of the world-famous Kentucky Derby, as well as a variety of other sports activities including an IRONMAN Competition each fall. There are wonderful theaters, music, and galleries, restaurants and food, and festivals that occur throughout the year. Louisville is home to people from all over the world, creating a community that is very culturally diverse. 
Contact Information
Dana Lamon, Fellowship Coordinator
Department of Obstetrics, Gynecology & Women's Health
University of Louisville School of Medicine
550 S. Jackson Street
Louisville, KY 40202
(502) 561-7260