Kaitlin S. Gordon, M.D.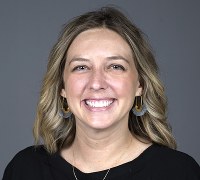 Kaitlin S. Gordon, M.D.
550 South Jackson Street, Ste. A3K00
Louisville, KY 40202
502-852-7040 - Academic Office
---
Clinical Expertise
Internal Medicine; Medical Education; Primary Care
---
Board Certification
American Board of Internal Medicine -
Internal Medicine
Education and Training
Medical School: University of Louisville
Residency: University of Louisville Hospital
---
Featured Publications
Jiang Y, Cai W, Masquelin ME, Gordon K. An Unexpected Case of Lisinopril-Associated Severe Hyponatremia. Cureus. 2020 Jul 7;12(7):e9039. doi: 10.7759/cureus.9039. PMID: 32782860; PMCID: PMC7410512.