Division of Dermatology
---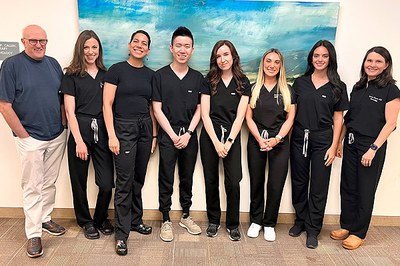 Training physicians to become competent dermatologists is a core mission of the Division of Dermatology at the University of Louisville. Our residency training program is over 50 years old and has had continuous approval by the Dermatology Residency Review Committee throughout its history.
Our residency focuses on developing compassionate physicians who can independently provide care for patients with common and rare conditions of the skin, hair, nails and mucous membranes.
We offer a three-year training program that provides a varied experience with all aspects of clinical dermatology including exposure to complex medical dermatology, dermatologic surgery, dermatopathology and cosmetic rotations.
Residents are exposed to multiple practitioners within traditional clinical rotations at our affiliated hospital settings as well as within private practices throughout our city.
Many of our faculty have attained recognition not only locally, but on the National Dermatology Educational scene, assuming leadership roles in many venues including dermatology societies and editorial board memberships.
Although we have a strong focus on the development of clinicians who provide care in academic and private settings, we have produced several physicians who have gone on the leadership roles within the academic world at other institutions.
We have been fortunate to attract highly intelligent and accomplished students for our residency training program, who learn in an environment that fosters compassionate care for diverse populations. We value the well-being of our residents and have taken advantage of many local activities outside of the confines of our hospitals and clinics to develop the camaraderie necessary for residents to return refreshed to the everyday workplace.
Our Division is committed to the training of superb clinicians, if that is what you desire to become, please join us!
Sincerely,
Jeffrey P. Callen, M.D., Division Chief
Courtney R. Schadt, M.D., Residency Program Director
Follow us on Instagram!