McConnell Scholars Program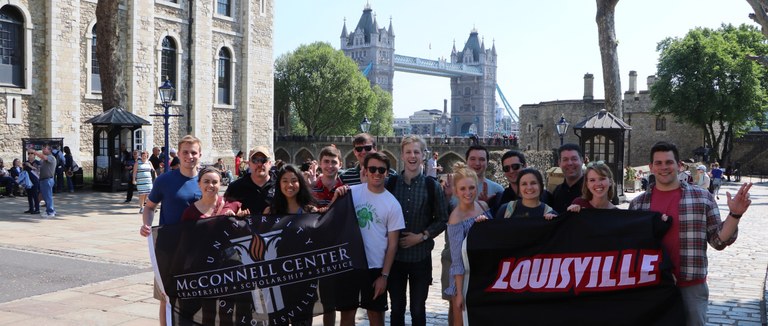 The McConnell Scholars Program is a prestigious leadership and scholarship program at the University of Louisville open to graduating Kentucky high school seniors. Ten students (one cohort) are added each year with a total of 40 McConnell Scholars (four cohorts) in the program at one time.
Meet the Scholars
Scholars continually earn top positions in UofL campus organizations and excel in a variety of academic programs. Scholars major in a wide variety of fields including the arts, engineering, music, pre-medicine, pre-law and political science, among others. As part of their participation in the program, Scholars must at least minor in political science at UofL.
Current McConnell Scholars | In their own words: Scholars share about their undergraduate experiences and research.
How to Apply
Students selected for the program are chosen based on their strong record of commitment to leadership, scholarship and service. Applications, due December 15, are open to graduating Kentucky high school seniors and require an essay on leadership, resume and two letters of recommendation.
Benefits & Program Structure
McConnell Scholars receive four years of enhanced academic experience under the direction of Gary L. Gregg, PhD. Programming focuses on the foundations of leadership and political and social thought in America.
Additional benefits include financial awards; mentored studies of leadership, citizenship and the liberal arts; international and domestic travel; opportunities to meet and engage with prominent national, state and local leaders; and access to the center's alumni leadership network.
Financial Awards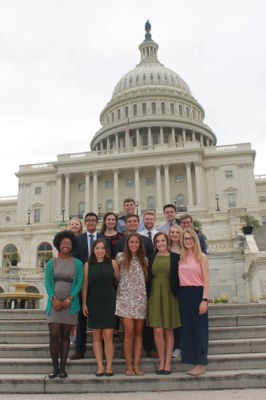 Receive a four-year renewable scholarship to the University of Louisville. Exact scholarship amounts vary based on a student's overall university scholarship package, but Scholars are guaranteed full in-state tuition to attend UofL. Scholars can also apply for internship and professional development grants (funds permitting) from the center.
Mentored Studies of Leadership, Citizenship & the Liberal Arts
McConnell Scholars are given numerous enrichment opportunities outside of the traditional classroom. While specific programmatic expectations vary by year, general opportunities include Socratic-style seminars on topics related to leadership and American social and political thought.

Recent examples include discussions on dystopian literature, the women's suffrage movement, "America's British Tradition" and the Federalist and Anti-Federalist debates at the American founding.
Sessions are led by UofL faculty and nationally-recognized experts, authors and professors and supplement the classroom curricula Scholars receive through their individual studies at UofL.
Domestic & International Travel
Scholars take part in domestic and international travel packages designed by the Center.

Our Washington, DC, trip includes meeting with politicians, policy analysts and experts, with visits to the U.S. Supreme Court, U.S. Capitol and Mt. Vernon.
An extended summer study to China, led by UofL Political Science Professor Shiping Hua, PhD, allows immersion study of Chinese government at a Chinese university and travel to Beijing, Xi'an and Shanghai.
Additional signature travel opportunities include leadership retreats to destinations in Kentucky. Funding for individualized study and internships may also be available. 
Opportunities to Meet & Engage with Prominent National, State & Local Leaders
Access Our Leadership Network
Compete with Our Nationally Ranked Moot Court Team
C

oached by McConnell Scholar alumnus Sean Williamson ('11), our undergraduate moot court program has been ranked in the top-20 programs nationally. McConnell Scholar Arsh Haque ('15) was named the top orator in the nation.