Meditations
A McConnell Center Publication (2021)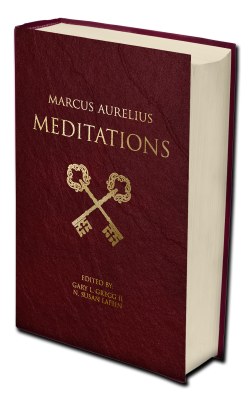 By Marcus Aurelius
Edited by Gary L. Gregg II and N. Susan Laehn
Hardcover, 4.5 x 7 inches, 288 pages
ISBN 978-1-953058-31-7
Purchase
List Price: $19.95
About the Book
Marcus Aurelius, one of the last great emperors of Rome, was one of the strongest proponents of the philosophy of stoicism. He wrote these notebooks for himself—to help stay on the right course toward living a moral, useful, and rewarding life. These meditations have inspired people for centuries, helping readers deal with anxiety, temptation, lack of discipline, adversity, and the fear of change and death. This new edition features a thematic index, blank pages for readers' own meditations and insights, and an innovative numbering system to make lessons easier to track and reference when they are needed.
This edition, published by the McConnell Center, is based on original translations by George Long and G.H. Rendall.
Podcast
In this episode (LISTEN) of the McConnell Center Podcast, editors Gary L. Gregg II and N. Susan Laehn discuss the importance of Meditations, insights they gained from working with the text and unique features in this McConnell Center publication.
"This edition of Marcus Aurelius is unique," Laehn said. "It offers readers an accessible text that remains true to the Greek in which it was written. Moreover, it contains a thematic index, allowing readers to peruse the particular lessons that speak to them on any given day. I hope its readers will make use of its notes pages to carry on the meditative tradition Marcus Aurelius imparted to us."
About the Editors
Gary L. Gregg II holds the Mitch McConnell Chair in Leadership at the University of Louisville, where he is also director of the McConnell Center. He is author, editor, or co-editor of more than a dozen books including Thinking about the Presidency, America's Forgotten Founders, and Reflection and Choice: The Federalists, the Anti-Federalists and the Debate that Defined America. He is also author (as G. L. Gregg) of a series of young adult fantasy novels including The Sporran and Spear of Destiny and hosts two podcasts, "The McConnell Center Podcast" and "Vital Remnants."
N. Susan Laehn is Adjunct Professor of Political Science at Iowa State University and a Non-Resident Fellow at the McConnell Center. She also currently assists with online education at the University of Louisville and Lone Star College. She was formerly an Assistant Professor of Politics at the University of Leeds, and she held teaching posts at University College London. She is co-editor of Welcoming the Other: Student, Stranger, and Divine, and she has published in Social Science Quarterly and Political Research Quarterly. Her teaching and research interests include ancient and modern political theory, ethics and politics, applied political theory, and American government.