Professor Goldburn P. Maynard Jr. co-leads two workshops for part-time faculty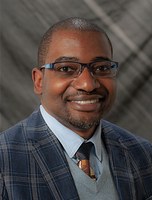 The University of Louisville School of Law's Professor Goldburn P. Maynard Jr. will bring his pedagogical knowledge to part-time faculty at UofL when he co-leads two workshops at the Delphi Center for Teaching and Learning in Spring 2019.
On February 28, he presented at the Part-Time Faculty Institute with Marie Kendall Brown, Delphi's associate director for teaching, learning and innovation. They will present part one of "Collecting Meaningful Data to Inform My Teaching Practice." They will present part two on March 21.
"My interest in pedagogy partly stems from my love of learning and my fascination with how the brain works," says Maynard, a tax law and elder law scholar. "We have new students every semester and the law constantly evolves so the puzzle of teaching and learning never fails to engage me."

The Seminar was very important in providing me the tools and methodology to improve my teaching and track the learning of my students.