Graduate Degree Programs
Graduate studies in the Department of Criminal Justice provide students with advanced social and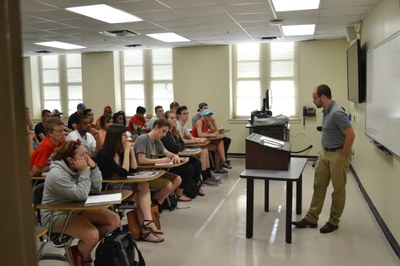 behavioral science skills as well as a detailed and thorough understanding of crime, criminal justice systems and related processes.  Our Master of Science program prepares graduates to continue advanced studies in criminal justice or other social sciences and to assume mid and upper­ level leadership positions within criminal justice programs and agencies.  Our Ph.D. program prepares graduates for careers in academia (e.g. teaching and research) as well as public sector organizations (e.g., research, policy analysis and development, planning, program development and evaluation).
The interdisciplinary nature of the program maintains the dynamic posture that allowed this crime related discipline to emerge and to mature quickly and successfully. Graduate students are given latitude in choosing elective courses in the Master of Science in Justice Administration / Criminal Justice degree.  Elective courses related to the student's program of study are selected from the resources of the entire University. Courses in social work, public administration, law, business, and various departments of the College of Arts and Sciences are possible electives that the student and his or her advisor may consider. With proper selection, the electives can complement the core criminal justice courses and produce a balanced, interdisciplinary program which is tailored to meet specific professional and career goals
Effective summer 2015, our department name has changed to "Criminal Justice".
Our degree names were changed accordingly:
Master of Science in Criminal Justice
Master of Science in Criminal Justice - Online
Ph.D. in Criminal Justice
There are no curricular changes – all degree requirements will remain the same.
Over the last few months you have seen all nomenclature of Justice Administration change to Criminal Justice.If you have any questions, please contact us in Student Services, Brigman Hall 205 (502) 852-2686 or via email mailcj@exchange.louisville.edu