Quicklinks
A curated list of teaching and leadership programming to assure faculty are provided the support, tools, and training they need to excel.
---
UofL Employee Resource Center: The Employee Success Center, located in the Office of the President, was created in 2020 to provide professional development, guidance and formal mentoring to all classes of employees. The center is fully dedicated to supporting and promoting people, culture and engagement while integrating the Cardinal Principles into the institutional fabric of the university. See a complete list of their upcoming events here. 
Classroom Assessment Techniques (CATs): CATs are generally simple, non-graded, anonymous, in-class activities designed to give you and your students useful feedback on the teaching-learning process as it is happening. 
Bloom's Taxonomy of Learning Domains: Bloom's Taxonomy was created in 1956 under the leadership of educational psychologist Dr. Benjamin Bloom to promote higher forms of thinking in education. Bloom's taxonomy is used when designing educational and learning activities.
Core Teaching Skills: Effective teaching behaviors and objectives in the University of Washington, School of Medicine toolbox target small group teaching in a medical school. Several modules, including goal setting, giving feedback and common teaching challenges can be found by clicking on those topics listed at the left of the screen. The overview and detail of a skills practice session, outline essential teaching tasks occurring at the beginning, middle, and end of a medical education teaching encounter.
Three Focusing Activities to Engage Students in the First Five Minutes of Class: A short article about zeroing in on the importance of the first five minutes of class. These quick activities are often referred to as "focusing activities."
The Next Big Idea Club: 

The nonfiction subscription book club curated by Malcolm Gladwell, Adam Grant, Susan Cain, and Daniel Pink. 

 

The Next Big Idea Club has created Rise 360 modules of the books they feature. Check out this one on When by Dan Pink. It will make you more productive by taking advantage of the timing of when we do certain kinds of work and even exercise, how to best coordinate group activities, etc. In 30 minutes you can have all the insight you need without having to read the whole book.
---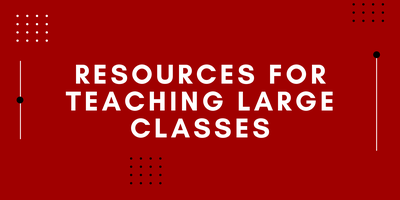 Speaking Skills,  

IDEA Paper #24 Improving Instructor Speaking Skills

. An active instructor does NOT want their lecture delivery to distract from the information being imparted. This paper spells out how to avoid having the voice and body distracted during a lecture.
Effective Lecturing, 

Idea Paper #46

, This paper describes ways to organize a lecture. A basic tenet of lecturing is to, "Tell students what you are going to tell them, then tell them, and finally, tell them what you told them."
Learning with Lectures, Robert Kozma. (

CRLT Occasional Papers #4

, 1994, University of Michigan, Center for Research on Learning and Teaching). This paper focuses on ways to support student learning in a lecture class. Includes what research tells us about student learning and specific methods to help students understand.
Effective Teaching Skills: A Blended Learning Approach

: Learning Resource Package

 This manual is part of a learning resource package that is intended to help educators of healthcare providers to become more effective teachers. The course combines the completion of ModCAL for Training Skills, plus group-based practice and feedback.
Tips for Using Questions in Large Classes, Daniel J. Klionsky (University of California-Davis). Methods for encouraging students in large classes to ask questions and interact with the instructor from the first day of class.
---

Targeted Support: Would you like individual help with teaching or lecture effectiveness? You can receive a one-on-one instructional consultation from the University of Louisville Delphi Center for Teaching and Learning. Discussions are voluntary, non-evaluative, formative, and confidential. For more information, please sign up for a consultation.
Individual help is also available from Staci Saner, EDD, M.Ed., Director for the HSC Office of Faculty Development. Dr. Saner has over 20 years of experience in curriculum development and effective instructional strategies. Dr. Saner also serves as the Program Director of the Health Professions Graduate Programs in the College of Education and Human Development. For more information and to maximize learner engagement, contact Dr. Saner at hscfacdv@louisville.edu.