As technology continues to become more of an integral piece of our everyday lives, a strong cybersecurity industry and workforce are the most important protections we have to make our financial and healthcare systems secure. The University of Louisville has created a coalition of schools called "Pathways Coalition" to create a Cybersecurity Workforce program. Open Enrollment now available. While the University of Louisville will be the lead school on this project, we are proud to be partnering with the following schools: University of North Florida, University of Arkansas-Little Rock, Kentucky Community & Technical Colleges, Bluegrass Community & Technical College, Owensboro Community & Technical College, City University of Seattle, Kentucky State University, Kennesaw State University, City University of New York, and Hood College.
Course offerings range in length from 60-180 days. There is a non-refundable enrollment fee of $25. Tuition varies depending on course. Learn more about our content here. This program helps build a foundational skill set in the field and prepares you for a career in cybersecurity!
New specialized bundles available. These include Foundational Bundle, Network Bundle, Cloud Bundle, IoT Bundle, Database Bundle, Cryptography Bundle, Artificial Intel Bundle, or Blockchain Bundle. Bundle badges include 3-5 modules. Complete and receive a badge in as early as 3 months!
** This is a non-credit workforce professional development certificate program.
Other UofL Cybersecurity programs:
Online Graduate Certificate

J.B. Speed School of Engineering Certificate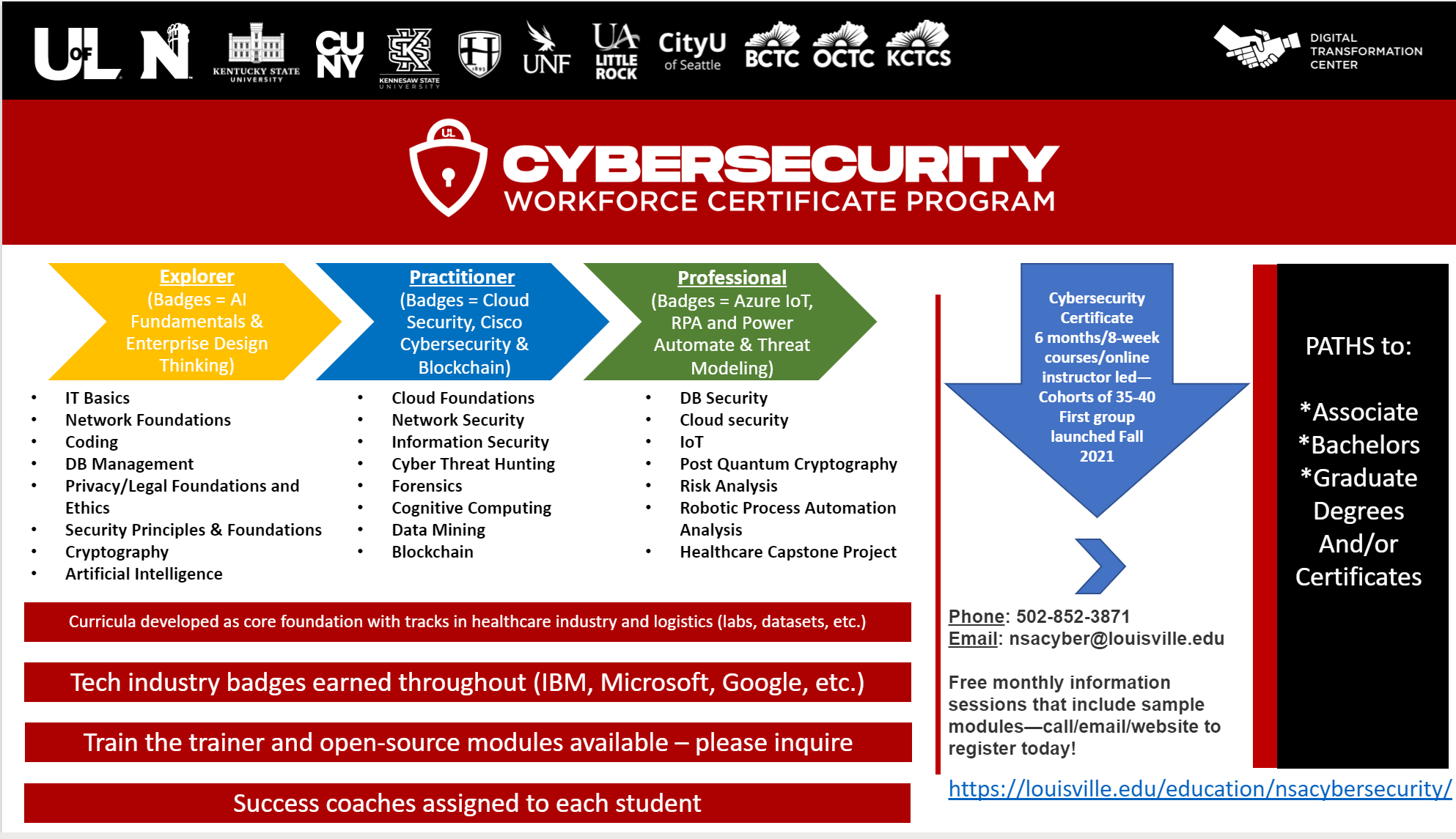 The Pathways Coalition Cybersecurity Workforce Program is funded by a National Centers of Academic Excellence in Cybersecurity (located within the National Security Agency) grant. The Coalition focuses on enhancing student knowledge in the realm of cybersecurity foundational courses, while using healthcare and logistics data examples and use cases. The certificate includes basic elements of cybersecurity, cryptography, database, as well as artificial intelligence, analytics, blockchain, internet of things (IoT) and other areas related to the healthcare industry. Students will have the opportunity to earn technology industry badges/certificates (ie..IBM, Microsoft, Google) included in the certificate. Cases are provided by national industry partners, including the Louisville Healthcare CEO Council. These instructor led online certificates utilizes applied/experiential learning modules with hands on labs.
Sign up for a virtual information session FREE below to learn more about our program