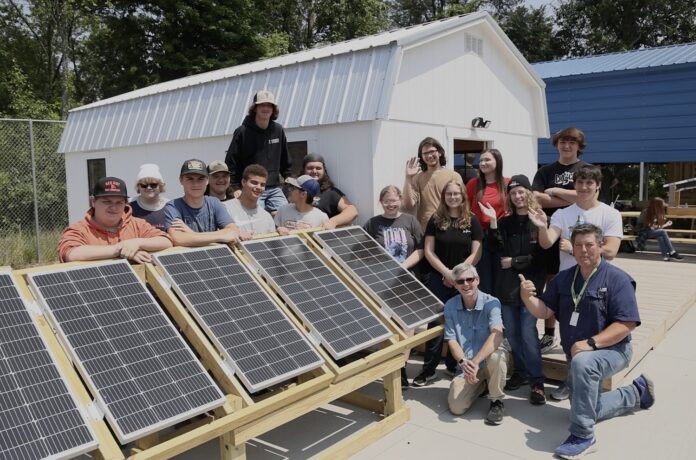 The University of Louisville's J.B. Speed School of Engineering has partnered with GE Appliances, a Haier company (GEA) and Bullitt County Public Schools to support the next generation of engineering professionals through the Guaranteed Entrance to Engineering School (G.E.E.S.) program. The partnership was announced at the closing event of the GE Appliances Bullitt County Engineering Exploration Program.
Over the past school year, 22 teams of Bullitt County Public School students designed tiny homes for a local nonprofit organization geared to enable independent, yet sustainable living. All project designs are authentic to the students and focus on disability inclusion, energy sustainability and food independence to facilitate independent living for all people.
As part of the year-long project, carpentry and electrical trade students designed and built the interior of the house and the solar array that will power the home efficiently. The students are continuously working on the project's future phases as part of earning their school certifications by learning core trade skills – wiring the home, building interior structure, installing cabinetry and potential deck additions.
"GEA's engineering and development teams have been working diligently with senior capstone students from Bullitt East and Bullitt Central high schools to serve as mentors throughout the school year," said Michael Ekbundit, director of engineering programs for GE Appliances. "This project and program are so special to me and the students in its impact, we're changing these kids' lives and opening doors of opportunity that most of us didn't have at their age."
Ekbundit has led the program on behalf of GE Appliances for multiple years and is excited to see the next phase of the partnership launch offering students from Bullitt County Public Schools guaranteed entrance to UofL's Speed School.
The J.B. School of Engineering is devoted to ushering talent into the school. A large part of their role as an engineering college is to be instrumental in the pipeline of students from the K-12 grades to college STEM disciplines that will lead in STEM positions in the industry. The G.E.E.S. program will provide students with experiences within the engineering field during high school. Through successful completion of the G.E.E.S. program, students are guaranteed admission into the University of Louisville's J.B. Speed School of Engineering.
"The Speed School of Engineering greatly values the relationship we have with GE Appliances," said Emmanuel Collins, dean of engineering. "And we are excited to have the G.E.E.S. program graduates as students at the Speed School of Engineering."
"Our business is laser focused on developing the next generation of advanced manufacturing professionals," said Katina Whitlock, senior manager of community engagement for GE Appliances. "Our partnerships with local school systems, colleges, universities and skilled-trade centers are investments in the manufacturing industry as a whole with the ability to positively impact people in our region for generations to come."
GE Appliances also supports Jefferson County Public Schools, Shelby County Public Schools, University of Louisville, Jefferson Community and Technology College and area nonprofit organizations to expose, inspire and support students entering academic and professional careers in science, technology, engineering, math and manufacturing through scholarships, corporate grants and employee volunteerism, mentoring and tutoring.