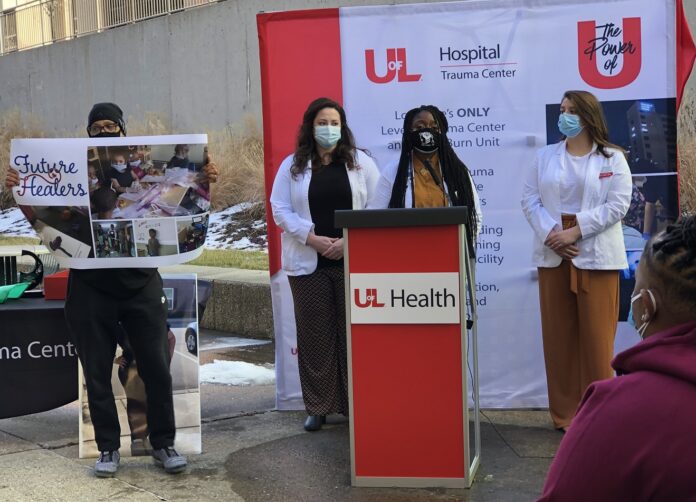 High rates of violence have plagued Louisville in recent years, escalating sharply in 2020. Students in the UofL School of Medicine are working to combat patterns of violence with action.
Students in the UofL Student National Medical Association are working with Christopher 2X Game Changers and UofL faculty in creating the Future Healers Program to help Louisville youth affected by violence in their neighborhoods navigate the trauma of violence and inspire them to build a better future for themselves and their communities.
Karen Udoh, UofL SNMA president and a second-year medical student, spearheaded the White Coats for Black Lives rally on the Health Sciences Center Campus in June 2020. But she and fellow SNMA members wanted to do more than demonstrate to fight violence in the community.
"It's not enough for us to be here in our white coats saying that we care and then go back to our offices and not do anything about it," Udoh said. "That's how we came to work with the UofL Department of Surgery, the Trauma Institute and the Christopher 2X Game Changers to create the Future Healers Program. We want to show these youth that we care about the environment they are in, we want to invest in them and change these issues."
Udoh, Briana Coleman, Jenci Hawthorne and Satya Alluri worked with Department of Surgery faculty members Keith Miller and Christopher Jones to develop educational sessions to teach preschool and middle school students about general anatomy and surgery. The Future Healers Program is aimed to inspire youth in the neighborhoods most affected by violence to pursue lives of healing as health care professionals.
"We felt like this is our realm – medicine – so let's inspire people. It's a simple way we can at least show our youth, this is something you can aspire to be. You have a choice, you have options," Udoh said.
In mid-February, the SNMA team conducted a pilot session of the Future Healers Program with approximately 50 preschool and middle school children at the Chestnut Street YMCA. The students conducted 45-minute interactive, virtual sessions that included pre-recorded videos with the faculty members, a mindfulness activity and hands-on activities for the kids. A "doctor's bag" with masks, gloves and modelling clay for creating their own anatomy models was provided to each of the children.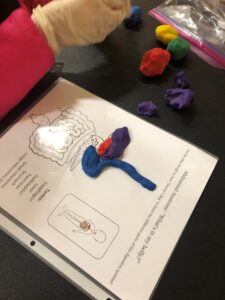 "Seeing the children shape clay into stomachs and small intestines was such a joy. Together we crafted a space for intellectual curiosity and trust," Hawthorne said. "Our goal is to create a trusting relationship with the youth that we hope can become our future healers. We want them to know that we see them and that we are here for them. We want them to see us as allies who love them and who care about them."
With additional support from medical student, staff or trainee volunteers, sponsors, School of Medicine faculty members and Christopher 2X Game Changers, the UofL students plan to conduct future regularly scheduled sessions with the youth and to expand the program to more young people in the community.
"At the School of Medicine, we have a goal to create and train physicians who are culturally aware, culturally responsive and social-justice minded. We not only want to train the best doctors, but doctors who are willing to roll up their sleeves and get out into the community," said Dwayne Compton, associate dean for community engagement and diversity in the School of Medicine and a faculty adviser for SNMA. "These students have created a program that will have a profound impact in our community."
Earlier this week, Udoh and the SNMA joined Christopher 2X, UofL Health and the UofL Hospital Trauma Institute to present the first Kelsie Small Future Healer Award. The award honors the life of Kelsie Small, a nursing student at Northern Kentucky University who was shot and killed in Louisville in May 2020. Christopher 2X Game Changers will present the award annually to honor a skilled, compassionate health care worker. The first Future Healer Award was presented to Small's mother, Delisa Love. 
To support the SNMA Future Healers Program as a volunteer or through sponsorship, contact karen.udoh@louisville.edu or faculty liaison christopher.jones.1@louisville.edu.