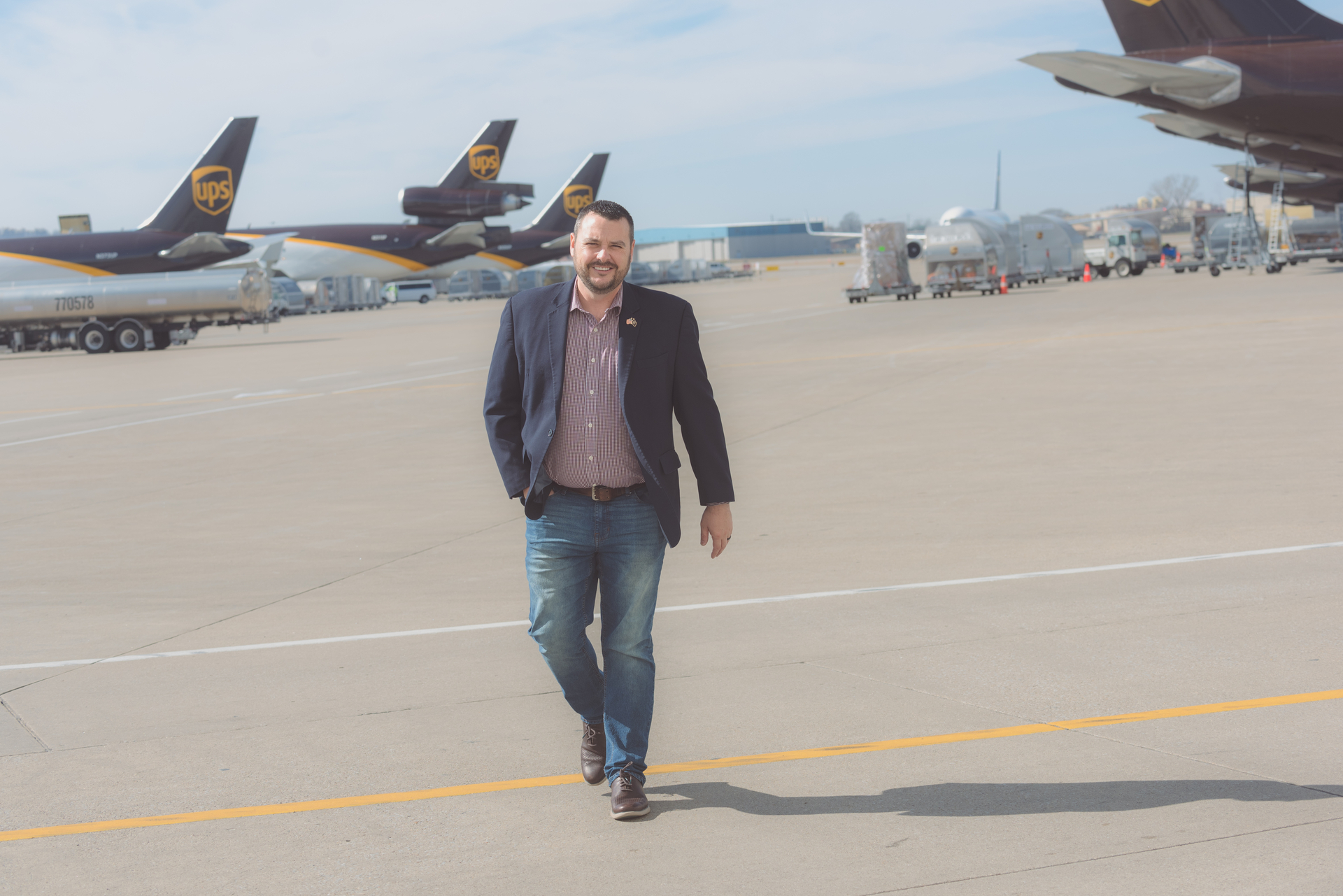 BY JILL SCOGGINS UOFL NEWS - MAY 21 2023
Back in the late 1990s, UPS's Louisville air hub, known today as Worldport, was wrestling with a significant problem. Needing employees round-theclock, the company was finding it difficult to recruit and retain workers for its overnight shifts. As it planned a much-needed expansion, the company knew the problem would only grow.
The solution? Metropolitan College – a unique public-private partnership that dramatically increased tenure among workers during the wee hours each night and provided more than 22,000 students over the past quarter-century the opportunity to earn a college degree debt-free.
Metro College allows students at the University of Louisville or Jefferson Community and Technical College to work third shift at Worldport at Muhammad Ali International Airport. In return, they earn a weekly paycheck and payment of their tuition, academic bonuses and fee payment assistance. The program receives state support to fund up to 50% of tuition and fees. The company also provides academic bonuses that include semester and graduation bonuses.
The program launched in the fall semester of 1998 as a partnership among UofL, JCTC, UPS, Louisville Metro Government and the commonwealth of Kentucky. As it celebrates its 25th anniversary, it has proved to be a resounding success in providing access to education and bolstering the local workforce.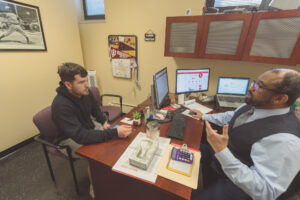 "Metropolitan College is one of those initiatives that seemingly has no downside," said UofL President Kim Schatzel. "Prior to my academic career, I spent 20 years in industry, so I see the value of Metro College across the board. In making this program possible, the state of Kentucky, UPS, JCTC and UofL have created a national model of what a combined education-workforce-economic development initiative can and should be."
High on the list of pride points is that students graduate 100% debt-free. They also have the benefit of the Metro College Career and Academic Planning Program that helps students navigate the higher education experience and find careers after graduation.
"In addition to paying for college, Metro College provides a student with a livelihood while they are in college," said Ty Handy, JCTC president. "That is crucial for many students who must support themselves either fully or partially while they are in school. And the added value of the career and academic guidance they receive cannot be underestimated."
Another major result of the program involves third-shift worker tenure. Prior to the program's launch, the average tenure of a third-shift worker was eight weeks. As of fall 2022, tenure increased to three years.
"For UPS, the success of Metro College has been integral to our ability to deliver what matters to our customers around the world," said UPS President Jim Joseph. "In addition to the steady source of talent to help us run our Worldport operation, the program provides student-workers the opportunity to pursue their dreams debt-free, while also receiving competitive pay, benefits and work-life experience and guidance. Our community benefits by growing and enhancing the talent pool within the commonwealth. The program really is a win-win-win for all involved."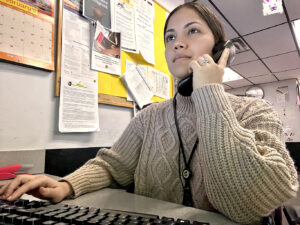 Thalia Almenares came to Louisville in 2016 from Cuba and began work at UPS in 2017. Through Metro College she started taking classes at JCTC before transferring to UofL where she is poised to graduate in May as a dental hygienist.
"UPS was the best bet for my dreams," she said. "I couldn't believe it when they told (me) they were going to pay my tuition 100% in full. But also, with the help of the UPS team, I was able to overcome the language barrier and have a job to support my family while earning a great education. The program also provides you with a great work-life balance. I wasn't sure if it was possible to be a student and work at the same time, but UPS opens that door."
Another program benefit is the chance to learn leadership skills and to rise in the ranks while still enrolled in college. Just ask Jeff Wafford '03 and Donovan Neal '19.
"Coming out of high school, I knew I couldn't pay for college. I was actually planning to go into the military until a friend of mine told me about UPS two months before the semester started," Neal said. "I began in August 2012 in the UPS hub as a package handler and eventually got a role as a supervisor in finance and accounting." He graduated from UofL with a degree in finance and today works in human resources for UPS.
Likewise, Wafford progressed through the ranks of the multinational shipping company. He enrolled in Metro College more than two decades ago and started as a package handler. "I then became a training and development supervisor, training new hires, and I've been lucky enough to advance through customer relations and business development." 
Wafford, now director of public affairs in government affairs, continues to tout Metro College. "Today, I not only have the chance to talk about it to our leaders here locally and throughout Kentucky but also to the states I cover, in the Virginias and the Carolinas. They all want to know, 'What can we do in our states to have a program like this?' "
Almenares and Neal talk up the program as well.
"I tell people that if UPS is my big family, then Metro College would be my mother," Almenares said. "I say this because my mother makes sure that I have food, that I feel supported and loved, that I have everything I need. Well, Metro College provides me everything regarding school needs."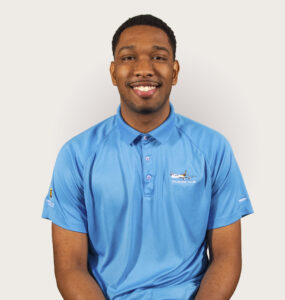 "I was a supervisor in finance and accounting, but I knew my impact could be greater in an HR role because I wanted to actually talk to these students," Neal said. "I tell them, all you have to do is work third shift and maintain a C (average) or better, versus having to pay for your tuition."
The rigors of overnight work – Metro College students work 11 p.m. to 4 a.m. about 15 hours per week – coupled with college enrollment can be daunting, but Metro College staff at UofL and JCTC help students handle it. The staff members advise entering students to enroll as a parttime student to get adjusted to the new routine. And they provide advice on life skills that students may need.
"I am extremely grateful to all the Metro College staff because the wraparound services they provide are vital," Wafford said. "I barely knew how to open a checking account when I started, so to have somebody explain things like this to me was so important. These are the things that are so vital to these students that make the program a success."
As for handling the late hours that the job requires, Wafford notes that working overnight may not be as much of a problem as might be imagined.
"Twenty-three years ago, my then-college roommate and I were up at 3 o'clock in the morning, as college students sometimes are, and we saw this ad for Metro College," he said. "We said, 'You know what? We should do this. We're up all night anyway. We have these loans we're getting ready to take out, and we need some money.' So the next day, we applied.
"I've talked about Metro College for 23 years and hopefully (because of) my son, I'll get to talk about it for the next 23 years," Wafford said "Let's keep this program going, for the students, for the future of the commonwealth."
For more information about Metro College visit metro-college.com