UofL students spread their wings during a summer of science
The Summer Research Opportunity Program is one of several directed through UofL's Center for Engaged Learning.
Maddy Cicha unfolds a tripod to set up a noise monitor.
BY JULIE HEFLIN • JULY 27, 2022
It's a typical summer morning in Louisville with heat rising as Madison "Maddy" Cicha unfolds a tripod to set up a noise monitor that captures the constant hum of traffic from the Watterson Expressway. Cicha, an environmental science major, has spent the summer measuring how trees and other vegetation provide a sound buffer along heavily trafficked roadways in Louisville.
As a Summer Research Opportunity Program (SROP) participant, Cicha is one of 18 undergraduate students taking part in the 10-week funded research experience, directed by UofL's Center for Engaged Learning and the Office of Undergraduate Research and Creative Activity. She says the program has given her a new level of research independence.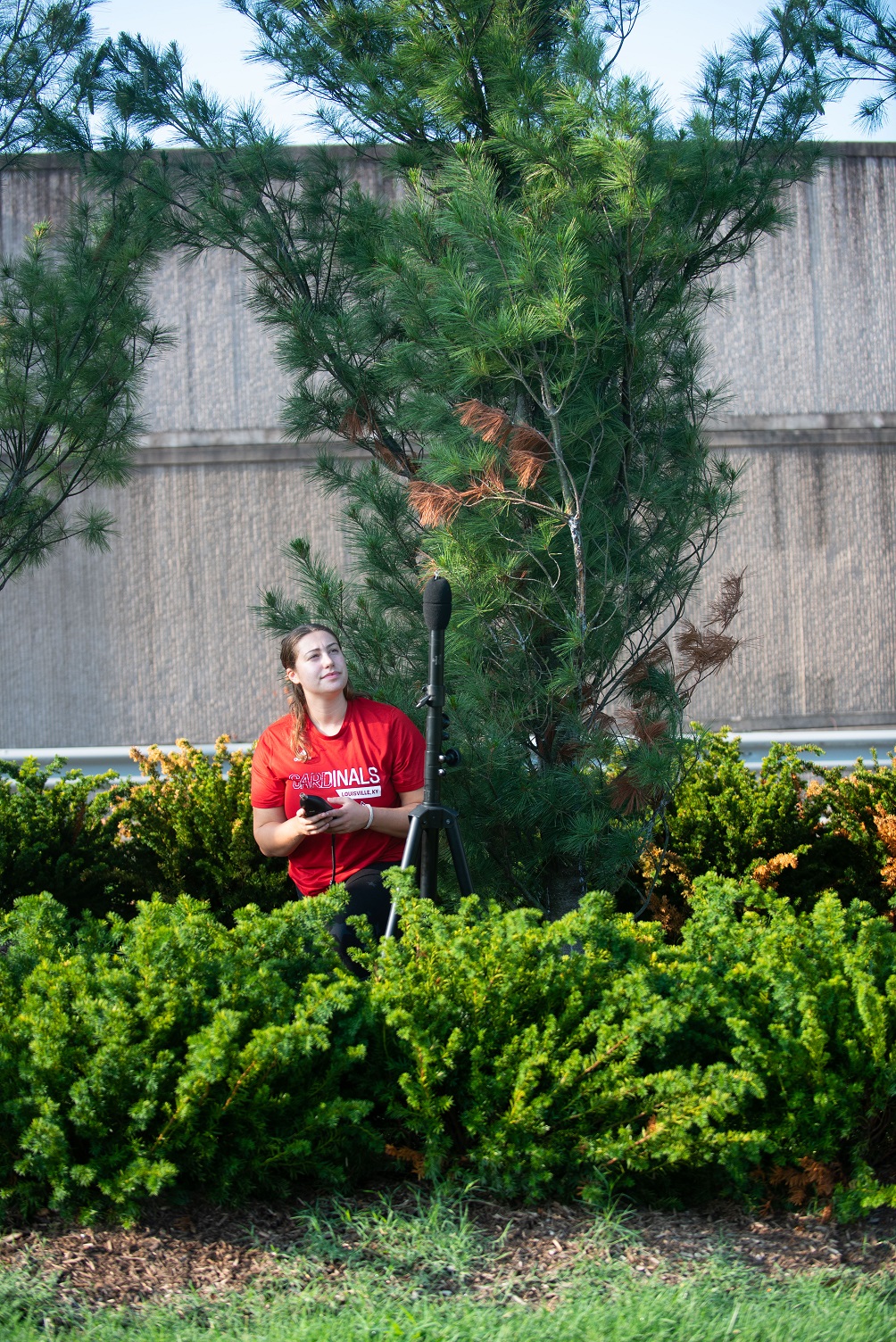 "This summer I have much more control over the study design and analysis of the data than I've had on previous projects," she said.
Ray Yeager, assistant professor, Department of Environmental Medicine, is Cicha's mentor. He says programs like SROP help undergraduate students build research understanding while also leading them toward more informed choices about research as a career path and future graduate schools.
"It is fundamentally different than sitting in class since you are participating in real research," he said.
The Summer Research Opportunity Program offers participants a living allowance of $3,500 for the 10 weeks, plus their mentors receive $500 to support student research projects. Students identify a research mentor who provides them with an individualized research project. They also benefit from group seminars on research and graduate education topics. To participate, students need to have completed their second year of undergraduate education.
"I'm a big fan of SROP because it is crucial for equity," said Yeager, who is now in his third year of providing SROP student mentorship. "If someone is from a disadvantaged background, they can't just go volunteer with a lab for the summer. Because this is a funded program it gives students who otherwise would have to work the opportunity to focus on research."
Yeager adds that the program is beneficial for undergraduates with a variety of future goals, pointing out that students don't have to desire a career in research to gain value from things like understanding data analytics and other important aspects of research.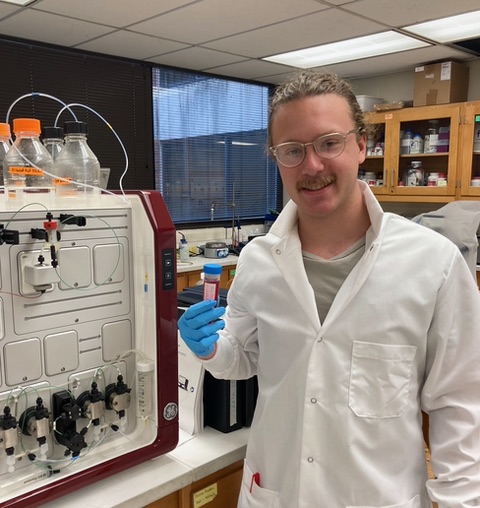 For Ethan Mills, a biology major with plans to become a trauma or critical care physician, the summer experience is helping develop essential character traits of "discipline, patience and the ability to achieve goals with a team. My critical thinking skills also have greatly improved while designing experiments and fixing issues as they arise," he said.
Mills is taking part in work that includes purifying hemoglobin from swine red blood cells, and then conducting experiments with the blood. He's participating in research within the lab of Michael Menze, professor, Department of Biology, and associate dean of research and innovation, College of Arts and Sciences. The lab hopes to develop a freeze-dried red blood cell product that would extend the shelf life of transfusible units and allow red blood cells to be stored at room temperature.
The soon-to-be fourth-year biology student says he appreciates the wisdom Menze imparted to him this summer.
"He has taught me the importance of maintaining a positive attitude despite setbacks, and carefully planning experiments before beginning them," Mills said.
Cicha also is learning time management, literature reviews and general best practices for the research world.
"In the future, I'd like to continue researching the environment, specifically climate change and solutions in that realm. This program is greatly helping me to shape those plans, as I'm able to experience what it's like presenting and reporting on my findings," Cicha said.
The SROP students, along with more than 80 additional undergraduate and graduate students taking part in summer research programs across UofL's campuses, will present their findings in the Research Showcase on Aug. 5 at the Kosair Charities Clinical & Translation Research Building.
"I think SROP is a unique experience that UofL offers undergraduates. It's great to be paired with someone who genuinely cares about the next generation of scientists and to meet other students with similar life goals," Cicha said.
Here is Cicha talking about her summer research experience: