A&S professors reflect on recent shooting deaths
UofL A&S professors react to Dallas police officer shootings and deaths in St. Paul and Baton Rouge.
Psychology professor discusses racial trauma
Prof. Monnica William (Psychology)
Prof. Monnica Williams (Psychological & Brain Sciences),a clinical psychologist and director of the Center for Mental Health Disparities,discussed her research on racial trauma in the aftermath of two deadly shootings of black men by police officers in Minnesota and Louisiana, and the shooting deaths of five police officers in Texas.
Prof. Ricky Jones meets with mayor to discuss relationships between LMPD and black residents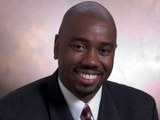 Prof. Ricky Jones
(Chair, Pan-African Studies)
Prof. Jones, (Chair, Pan-African Studies, and director of the university's Center on Race and Inequality), told The Courier-Journal he was saddened but not shocked by police shootings of black men in Minnesota and Louisiana or a sniper opening fire on officers in Dallas. He also met with Louisville Mayor Greg Fischer and Police Chief Steve Conrad to discuss strained relations between officers and black residents and concerns about police shootings. Read more.
Prof. Justin Nix dissects 'Ferguson effect'
Prof. Justin Nix (Criminal Justice)
Prof. Nix (Criminal Justice) has submitted a paper examining the so-called "War on Cops," and the idea that police are under attack due to recent high-profile shootings. As part of his research, Nix tracked data of line-of-duty police officer assault deaths before and after the August 2014 Ferguson, Mo., shooting death of Michael Brown by a police officer.
What he found was that the number of police officers killed has not significantly changed since that "key moment."
In light of the July 7 police shootings in Dallas, Nix said they'll need more data and time to determine whether police are being increasingly targeted. He further describes his research in the video below.