Artful geography: Hite Art Institute shows professor's work exploring place
Prof. Meena Khalili moved to Louisville a little over a year ago to start her job as an assistant professor of design at Hite Art Institute, she challenged herself to get to know her new home in a new way.
By Niki King
When Meena Khalili moved to Louisville a little over a year ago to start her job as an assistant professor of design at Hite Art Institute, she challenged herself to get to know her new home in a new way.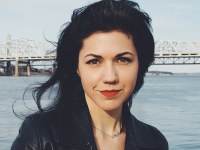 Prof. Meena Khalili
She would draw a picture a day of her life here.
"I'm new here, it's a new city, and the best way for me to understand it is to draw it," she said.
The daily practice resulted in "New in Lou," 365 drawings in seven accordion style notebooks. While the drawings are stylistically similar, subjects range from moments of reflection and snapshots of work life to sketches of many of Louisville's most beloved haunts and traditions, like the Palace Theatre and the triple crown of running. Intrinsic in the series is a sense of discovery in what Louisville long-timers would consider familiar.
One of the notebooks from the collection is on display in "New Recruits" the current exhibition of work by new Hite Art faculty at the Cressman Center, 100 E. Main St. The entire collection is also on Instagram: @newinlou365.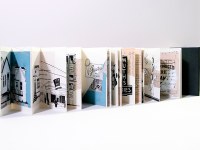 Khalili said several factors inspired the daily practice.
A Washington, D.C. native, she had lived in several cities in quick succession before landing in Louisville, including Richmond, Virginia, where she earned her BFA and MFA at Virginia Commonwealth University, School of the Arts.
"I was happy to settle down for a minute," she said.
At the time, Louisville was grieving the loss of Muhammad Ali.
The rich outpouring of respect at Cave Hill Cemetery assured her that Louisville was a special place.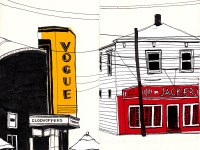 "I thought this city deserves a real homage. It deserves to be dug into and discovered and for me to understand where I landed."
She had already begun drawing intentionally as a way to discover place on motorcycle trips she had taken down the east coast.
"I wanted to take a practice I did for fun and put into daily practice," she said. "The ritual of drawing strengthens my visual skills."
Khalili's 'Type Hike' poster also on display   
Khalili's work will also be on display in an exhibition entitled "Type Hike" in Schneider Galleries Aug. 18-Sept. 22.
"Type Hike" is a collection of artistic posters that celebrate the National Park Service.
Designers David Rygiol and James Louis Walker created the project last year to raise money for national parks during its centennial celebration. They invited graphic artists from across the country to submit a poster for each national park. The resulting 60 posters reflected each park's unique landscape through highly stylized typography.
Khalili created the poster for Lassen Volcanic National Park.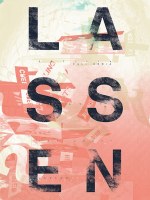 "I was honored to be included among so many award-winning, internationally recognized designers," Khalili said. "This project also allowed me to see my work do some good and that's very gratifying."
Proceeds from print sales have raised thousands of dollars for the National Park Service at a time when federal funding has been cut.
"Type Hike" has been exhibited in galleries across the country, added to the permanent collection of the Library of Congress and received considerable national media attention.
The project recently expanded to include the National Park Services' protected sea and lakeshores and endangered species.
Khalili noted that "New in Lou" and "Type Hike" both reflect geography, as is often the case with her work. As a first-generation Iranian American, she's deeply influenced by geography, impermanence and history. Her academic research explores typography and Persian calligraphy through multimodal media and focuses on design, illustration and book art. Her moving typography work will be showing in Jakarta, Indonesia this fall. 
See more of her design work here.