A&S Faculty Honored at President's Celebration of Faculty Excellence
A&S Faculty honored by President Ramsey at Celebration of Faculty Excellence
A&S Distinguished Faculty Award winners were among those honored by President Ramsey at the annual Celebration of Faculty Excellence.
"There are many neat celebrations that are part of the academy," Ramsey said. "Today's program is one of those special occasions. Today we pause to pay tribute and to honor you, our outstanding faculty who have distinguished yourselves among your peers and in your profession.

"We thank each of you for what you do for our students, our university, our community and beyond."
The ceremony recognized the following faculty of the College of Arts and Sciences:
Outstanding Scholarship, Research & Creative Activity
Career Achievement
John Gilderbloom, Urban and Public Affairs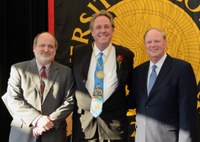 Gilderbloom ranks as one of the world's top urban thinkers, based on an international survey. He has published eight co-authored or edited books and journals, 40 academic articles and op-ed pieces in large metropolitan and national newspapers.
He also has consulted with a U.S. president, two former secretaries of Housing and Urban Development, and mayors of several cities on urban job creation, neighborhood housing trends and university-community partnerships. He has received nearly $4 million in research and service grants from HUD, the Environmental Protection Agency and the Department of Education.
---
Social Sciences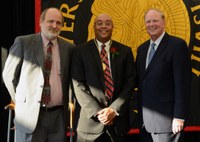 George Higgins, Justice Administration
Since Higgins' appointment to the Department of Justice Administration in 2003, he has published more than 130 peer-reviewed journal articles in the areas of criminological theory testing, racial profiling, cyber-crime and quantitative methods. His four books focus on the topics of gangs, cyber-crime, digital piracy and race and crime. He has been primary investigator or co-primary investigator for more than $1 million of external grant funding for his research.
Note: Dr. Higgins will deliver a talk on cybercrime at the November installment of the A&S "Meet the Professor" lunch and lecture series. For information on the event, see: Meet The Professor, Dr. George Higgins
---
Humanities
Brian Leung, English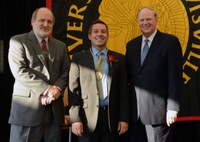 Leung has written the short story collection "World Famous Love Acts" and the novels "Lost Men" and "Take Me Home." His books have been translated into French and Italian and he has given presentations both nationally and internationally. His poetry, fiction and creative nonfiction also appear in nationally distributed journals and in numerous anthologies.
A 2012 recipient of a Lambda Literary Award for a Mid-career Novelist, Leung also has received the Mary McCarthy Award for short fiction, the Asian American Literary Award for Fiction and the Willa Award for Historical Fiction.
Note: Brian Leung is Director of the Creative Writing Program which hosts the Axton Reading Series (see: Fall 2013 schedule). Leung and the program were featured in a past edition of the e-Portal: "Creative Writing Program is Turning Pages, Turning Heads."
---
Service to the University
Russell Vandenbroucke, Theatre Arts; Peace, Justice & Conflict Transformation Program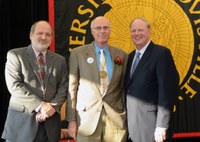 Vandenbroucke and colleagues in 2009 initiated what has become UofL's omnidisciplinary Peace, Justice & Conflict Transformation undergraduate certificate program. That initiative led to the university's annual commemoration of the United Nation's International Day of Peace, which serves as a bridge between peace and justice organizations both on and off campus.
Vandenbroucke's study of conflict and bearing witness to its history has taken him to Robben Island, Vietnam, Hiroshima and Nagasaki, Northern Ireland, Jasenovac in Croatia, Sarajevo, Srebrenica, Auschwitz and the killing fields of Cambodia. He has been a Fulbright Scholar in Australia, a Rotary World Peace Fellow in Thailand and has traveled to Finland, Romania and Germany for the U.S. State Department.
---
Distinguished Teaching
David Brown, Physics and Astronomy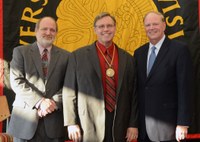 Brown serves as the undergraduate program director for the Department of Physics and Astronomy, a post he created as an assistant professor. He was adviser for the UofL chapter of the Society of Physics Students (SPS) from 1998 through 2010. The chapter won the national SPS organization's Outstanding Chapter distinction each of those years; Brown won the Outstanding Chapter Advisor Award in 2005.
Department of Energy and National Science Foundation grants have supported Brown's research and student training. In 17 years at UofL, he has been research mentor for almost 60 undergraduate or high school students, 17 graduate students and a post-doc. His students have won numerous awards, including three Goldwater Scholarships, the Hertz Scholarship and two Woodcock Medals.
---