Distance Education Students
The University Writing Center is committed to supporting the writing of distance education students. If you are taking a distance education course and cannot make a face-to-face appointment at the Writing Center, you can schedule an online consultation through our Virtual Writing Center. We provide both online Live Chat sessions or, when that's not possible, we can respond to your draft in writing Written Feedback. You can read more below about how to schedule a Virtual Writing Center appointment.
We also provide other online resources for students in distance education courses through our Writing FAQs advice, and our Handouts and Videos about a wide range of writing issues from organizing a draft, to writing an effective introduction, to questions of grammar or citation styles.
Virtual Writing Center Appointments
As a distance education student you are always welcome to schedule a face-to-face appointment in the Writing Center on the first floor of Ekstrom Library. If you are unable to attend a face-to-face writing consultation, the Virtual Writing Center allows you to receive feedback from one of our consultants. Through the Virtual Writing Center you can choose whether to have a live chat consultation or to receive a response by email. You can choose the kind of appointment you want when you make an appointment through our online scheduling system.
Making an Appointment: Use your UofL username and password to log in to our online scheduling system. The first time you log in you will be asked to fill out a brief registration form. Be sure to note when filling out the registration form that you are taking a distance education course. Once you've filled out the registration form, login and make your appointment, select the Virtual Writing Center from the schedule menu.  If you have trouble scheduling an appointment, call us at 502-852-2173.
All sessions with the Virtual Writing Center last 50 minutes.
You may schedule up to two Virtual Writing Center sessions per week during the academic year and one per week during the summer terms. 

As a Distance Education student, look for the consultant designated "for Distance Ed. Students" on the schedule.

During the fall and spring semesters, we reserve twenty hours each week for Distance Education students. During the summer, there are ten hours available weekly.
If you submit a draft for a Written Feedback appointment, we try to respond to your draft within one business day after your scheduled appointment. You will receive an email with your feedback as an attachment.  
If the schedule is full for the day, you can click on clock icon next to the day and date on the schedule to add your name to the Waiting List. The Waiting List notifies you by email or text if an appointment has become available. You would then need to go online to book the appointment.
The Virtual Writing Center is closed any time that the University of Louisville is closed, including semester breaks and holidays.
Assistant Director - Virtual Writing Center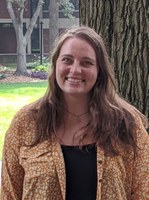 Nicole Dugan
Assistant Director of the Virtual Writing Center
Nicole graduated from UofL with an M.A. in English in 2019. Since 2013, Nicole has worked in four different writing centers and completed research on pedagogy, marketing, and identity in writing centers. Beginning at her undergraduate institution Berea College, Nicole fell in love with writing center work because of the engaging and fulfilling work with fellow student writers. Her tutoring pedagogy is based on collaboration and agency-building, helping writers access the knowledge and confidence to be effective and skillful communicators inside and outside of the classroom. Nicole also teaches first-year composition at UofL and JCTC, often theming courses around pop culture and identity.  Outside of academia, she enjoys caring for her dog, bunny, and ever-growing plant collection, listening to true crime podcasts, and watching way too much television.