Ford Hall Goes to Washington

---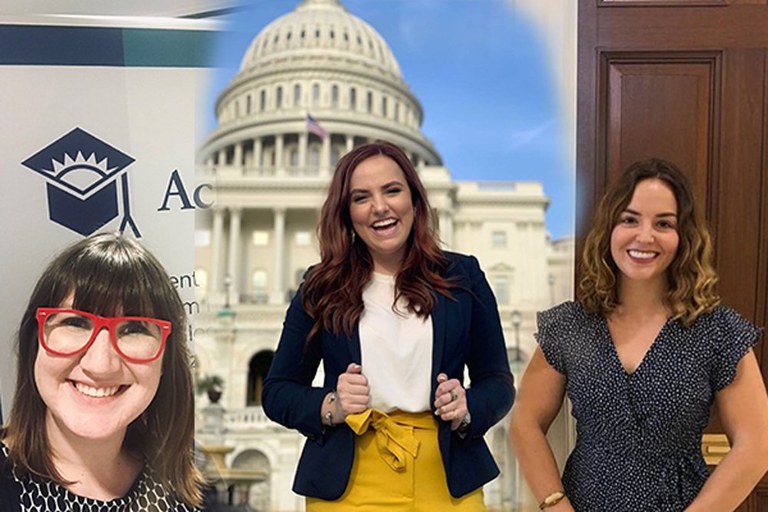 Meet Lydia, Molly, and Celia, three political science students currently participating in internships in Washington D.C. that are funded by the generosity of the Political Science Alumni Council.
More than a year ago, Department Chair and Professor Jasmine Farrier worked with a group of alumni to launch the Political Science Alumni Council through the Louisville Alumni office. One major priority of the group was expanding meaningful internship opportunities for students.
Many members of the council participated in internships during their college experiences and know firsthand how transformational these opportunities can be for students.
The group decided to develop a pilot program and secure funding to send three students to Washington D.C. offices – one Democrat, one Republican, and one non-profit placement. Paid internships can be rare, so they felt it was important to make sure the students had the resources to participate in this opportunity.
Michael Adams '06, Jim Cauley '92, and Scott Jennings '00 generously provided seed money, along with gifts from other alumni. The council also hosted a trivia-themed fundraiser to raise the remaining dollars needed to fund the internships. In the end, they raised almost $9,000 from 50 donors, including a donation from the Delta Beta Chapter of Pi Sigma Alpha, the Political Science Honor Society.
A diverse and bipartisan selection committee of alumni oversaw the application process and selected the winners from among a very competitive field. Members of the selection committee included OJ Oleka '10, Sean Southard '15, Hannah Wilson '17, Jasmine Weatherby '08, and Madison Levy '11.
The Political Science Department connected the students with other alumni in Washington D.C. to help them find placements. Molly is working for a Republican senator and is excited about immersing herself in the complex systems of government. Celia is working for the House Budget Committee and is eager to use her experience with grassroots efforts to see how that translates to national policy. Lydia comes from the rural county of Jessamine, Ky. and is working for Achieve Inc., an educational non-profit, to learn more about rural education initiatives.
Helping students build their resumes while they earn their degrees is a priority of the Political Science Department and the University of Louisville. If you would like to learn more about the Political Science Alumni Council or other ways you can get involved, you can still make a tax-deductible donation to the scholarship fund or contact POLS Coordinator Emily Clark.
The University of Louisville and the Political Science Department are proud of these student leaders. We wish them the best of luck during their internship experiences. Thank you to all the faculty in the Political Science Department for assisting with this program, the selection committee, and the alumni who helped bring this idea to life through their generosity.
You can still make a tax-deductible donation to the scholarship fund.