Welcome to the Political Science Graduate Program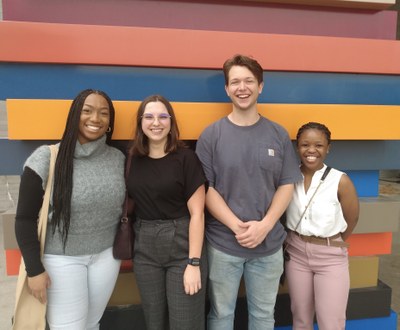 Why get a Master's degree in Political Science at UofL?
Jobs that require a Master's degree are the fastest part of the economy, and many public service jobs in local, state, and federal government pay a higher starting salary to those candidates with a Master's. Our Masters degree also provides students with training in data analysis skills that are in demand in the public and private sector and pay more. The program helps prepare students to go directly into the workforce or to pursue a PhD.
Masters students take advantage of internship opportunities, professional development and career workshops, networking events, and research collaborations with faculty members.
The department also works closely with the affiliated Center for Asian Democracy. 
---
What can I do with a Master's in Political Science?
Here is a sampling of jobs that our Masters alums have held or currently hold:
Policy Manager, Center for Health Equity (Louisville Metro)
Data and Assessment Analyst, University of Kentucky
Grants and GIS specialist at the KY Office of Energy Policy (Kentucky Energy and Environment Cabinet)
Housing Opportunity Development Director at City & County of Denver
Visual Data Analyst, ProSource360 Consulting Services
Survey Analyst, USDA National Agricultural Statistics Services
Professor, University of Nottingham (UK)
Associate Professor of Political Science, Transylvania University
UX Research Operations and Enablement Lead, Cisco
Compliance Manager, Humana
Policy Analyst, Louisville Metro Dept. of Public Health and Wellness
Executive Vice President of Policy and Chief of Staff at the National Center for Families Learning
Associate Manager, Volunteers of America – Colorado
Global Health Engagement Sr. Data Manager at the Center for Disaster and Humanitarian Assistance Medicine
Associate Director of Content, Qnary
Management Analyst, Nevada Department of Education

Lt. Governor of Kentuck

y